Mexico - The supplier is expanding its production footprint in the country as it looks to keep up with increasing demand in the US
Mexico - Webasto has recently opened a new plant in Irapuato - a town located in the central region of the state of Guanajuato. Costing around US$28m, the facility will house production of various components that will be shipped to other Webasto plants in the US.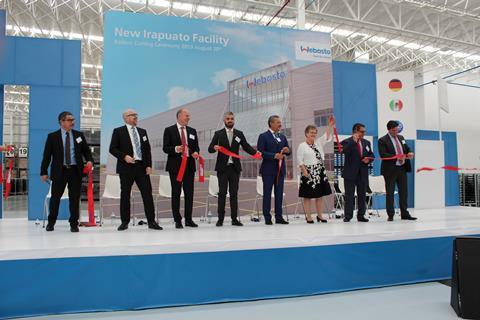 "The opening of our new Irapuato facility is an investment into our company's future, an investment in the people of Irapuato and the state of Guanajuato," commented Webasto's US CEO and president André Schoenekaes. "Not only will this expansion strengthen our relationship with Mexico, but it will help us to better collaborate with customers. Their goals become our goals and together we achieve success."
The new plant replaces an old, smaller facility in the same region. At 35,000sq.m, the new plant is approximately three times larger than the previous one. One of the advantages of this expansion is to cater for increased production for sunroofs and panaromic roofs.
Other suppliers have also recently been increasing production in Mexico, despite the fact that changes to NAFTA are imminent. Leoni, for example, is enlarging its factory in Cuauhtemoc in order to boost capacity of EV charging cables and Hivocar high voltage cables for vehicles.
OEMs, on the other hand, are witnessing demand drop. General Motors recently revealed plans to cut one of three shifts at its San Luis Potosí assembly plant, while Nissan, the top producer of vehicles in Mexico, saw sales fall for the 26th month in a row during July 2019, and production at its three Mexico plants fall by 21.6%.