When a Skoda supplier needed to find a more flexible automated aluminium machining process, it turned to Stäubli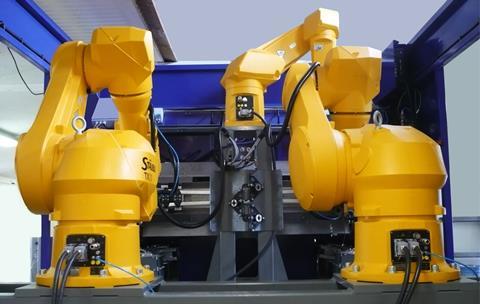 The highly competitive nature of the automotive industry constantly produces new ideas for manufacturing. And so, Czech supplier ACL Automotive has put the task of machining aluminium roof components in the nimble hands of Stäubli robots.
ACL Automotive is a well-established supplier of products such as roof rails and roof racks to the automobile industry, Skoda being one of the company's major customers. Vladimir Böhm, manager at ACL Automotive, explains: "We have many years of experience in the manufacture of roof rails. Previously, though, we could only ever produce just one version on the line, but an increase in production capacity and the manufacture of two different versions simultaneously, which was impossible with our existing plant, were already at the planning stage. So we turned to plant constructors Ultratech to find a cost-effective solution for this task."
Extensive testing under actual conditions
Ultratech had to come up with a very special solution for the new project, as CEO Libor Strejcek recalls: "We knew that construction of a classic four-axis handling system would be too costly, so we began to explore the possibilities of robotic processing." Ultratech came across the Czech Stäubli branch office in Pardubice while looking for a suitable manufacturer of robots. The branch immediately took on the task and supported Ultratech by carrying out application-specific tests with several six-axis robots.
Ultimately, the choice boiled down to two large Stäubli TX200 robots for the actual machining. Despite their considerable size, these machines easily integrated into the space available due to their compact design with in-arm cabling and very small footprint for this class of robot. Another Stäubli six-axis RX160 robot was used to carry out finishing work, so as to fully automate the entire machining process.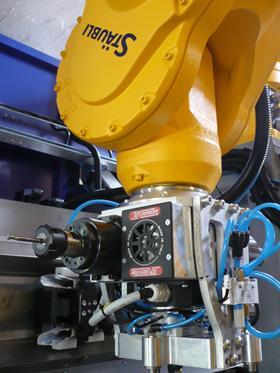 Roof rail production in four stages
The plant was designed to process two different aluminium profiles. Loading of the plant is carried out manually and during production, four pairs of pieces to be machined are normally fed to the four stations in the line. After manual insertion, one pair of profiles arrives in the lower area of the plant during the first stage, where four saws driven by a servo cut the profiles to size. The profiles then enter the working area of the two powerful TX200s in the next stage.
The two robots, working in parallel at each end of the profile, have identical tool heads with two milling spindles. They carry out rough milling to size with the larger 13mm cutter, then switch to the 6mm milling cutter for finishing. Duty time was significantly reduced thanks to processing in parallel by the two high-performance robots.
After machining, the Stäubli RX160 cleans the work pieces by blowing them with compressed air. The remaining swarf is removed by suction before the robot then takes a laser marker with its pneumatic gripper and labels each roof rail with a serial number.
After this final processing stage, the finished products return to the line's loading/unloading area to be removed by the operator. This application again shows that working together as partners and utilising an innovative design are ideal ways to increase productivity and thus competitiveness in this demanding market.
How mobile robot systems revolutionise connector assembly
With the mobile robot system HelMo, Stäubli heralds a new era for the automation of assembly and handling processes. HelMo users will be able to produce efficiently in industrial 4.0 environments and can count on a significant increase in autonomy, flexibility and productivity.
If a key operator is absent due to illness, it may result in the shutdown of an entire production line. In addition, unmanned night shifts may not be possible. In the past, this was the situation at Stäubli Electrical Connectors, a specialist for electrical connectors based in Switzerland. The company has now found the ideal solution for such scenarios: the mobile robot system HelMo from Stäubli Robotics. Once trained, HelMo can take over almost any manual activity on the assembly lines. The production assistant independently navigates to its workplace, reduces its speed or even stops whenever humans get too close to it, before continuing its intended journey.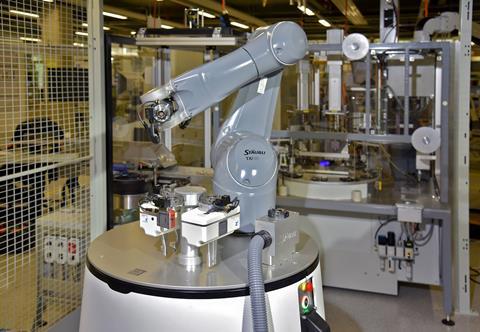 A flexible production assistant
As soon as HelMo arrives at its workplace, it spends a few minutes preparing itself for the task at hand. The robot positions itself precisely within a tenth of a millimetre by referencing three permanent orientation points at the workstation. HelMo then connects itself to the fixed electrical and compressed air supply sockets by means of a multi-coupling – also from Stäubli, of course – before commencing its shift. To enable HelMo to operate flexibly, its designers equipped it with an automatic tool change system from Stäubli Connectors. Today it could be the placement of connector housings and contact pins, whereas tomorrow it might be some other stage in the assembly process, which HelMo will perform if called upon. In the factory at Allschwil, HelMo is regarded less as a robot and more as an assistant that is flexible enough to help out where needed.
The intention is not to replace human labour with mobile robots – as this wouldn´t make any sense from either a production or an economic perspective – but to deploy HelMo as a flexible stand-in and thereby increase the availability of hybrid assembly lines or cope with peak demand. Illness-related or other unforeseen absences among the human workforce are no longer a cause for consternation at Allschwil. Thanks to HelMo, the delivery capacity of the company has been optimised significantly.
About HelMo
HelMo is a mobile robot system that is capable of navigating its way around with complete autonomy by permanently monitoring its environment with three integrated laser scanners. HelMo can perform its tasks either fully automatically or in collaboration with humans.
It is built around a six-axis standard TX2-90L robot with a payload of 15kg and a reach of 1,200mm. This six-axis machine comes with a sophisticated safety package. All safety functions are certified and fulfil the strict requirements of category SIL3/PLe.