Visit any car manufacturing plant in the world and the majority of production equipment will be similar. The real differences between factories are the human workers and the way in which technology is used to optimise their environment
Visit any car manufacturing plant in the world and the vast majority of production equipment will be similar, if not the same – that's the view of Cem Temel, head of Ford's Gölcük and Yeniköy plants in Turkey and assistant general manager for new projects at Ford Otosan. "The paint shop will come from Durr, the robots from Kuka or ABB, and the operating systems from Siemens," he mused.
The real differences between the factories, he believes, are the human workers and the way in which technology can be used to optimise their environment. One of the most obvious and widely-used approach is the use of wearables, and some companies are testing new devices that could soon be rolled out across car manufacturing plants around the world.
Wearable tools
The Hyundai vest exoskeleton (H-VEX) technology is current being tested by the Korean OEM and its sister company Kia, with the hope of using it in plants across North America. According to Hyundai, it helps workers by "adding 60kg of strength to the user when their arms are used overhead." The idea is to alleviate pressure on the workers' neck and back, minimising the chance of injury while simultaneously improving work efficiency.
"The field of robotics has the potential to usher in a new era in our industry," stated Youngcho Chi, executive vice president of strategy & technology division and chief innovation officer at Hyundai. "The possibilities for the technology are endless – from future mobility solutions and industrial productivity aids to vital military applications, we think the future is better with robots. The huge collective experience within the Hyundai Motor Group will facilitate rapid progress in the coming years. We are excited about current developments, and very optimistic for the use of this technology to improve lives around the globe."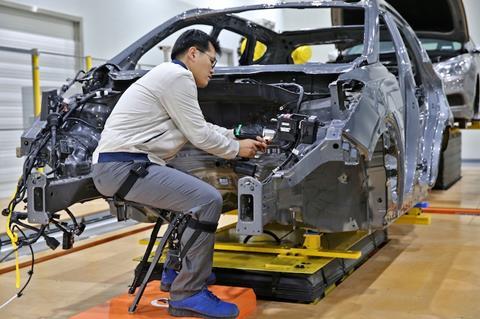 Hyundai says it is also developing a variety of other ergonomic technologies, and in August 2017, it demonstrated its first chairless exoskeleton (H-CEX) device. The fixture is strapped to the users waist, thigh and knee, and makes it easier to adopt a sitting position. It weighs 1.6kg and can withstand 150kg. It also has three different angle settings to allow the worker to position themselves appropriately. The H-CEX technology is also now being tested across the company's North American facilities.
Hyundai also recently started investing in the US-based Perceptive Automata as well as China-based DeepGlint – two companies that specialise in artificial intelligence (AI) technology. The first employs human-related logic to help build software that is used in vehicles and for robots, while DeepGlint provides 3D image analysis and pattern recognition capabilities. These two investments, says the OEM, could help it design other wearable technologies in the near future.
Various other carmakers are also looking to increase their usage of wearable ergonomic tools. After successfully carrying out trials at its Michigan and Flat Rock assembly plants in 2017, Ford said would make EksoVest technology available to help workers in 15 plants located in seven different countries. Similar to H-VEX, it works by providing 5lbs to 15lbs of lift assistance per arm, helping employees when they perform repetitive and strenuous overhead tasks such as reaching up with a power tool to screw bolts that secure the car's brace.
"Building vehicles is physically a tough job," observed Bruce Hettle, Ford group vice president, manufacturing and labour affairs. "We care about our employees and are trying to help them do their jobs with the least amount of wear and tear on their bodies possible."
As well as ensuring that workers are more comfortable, Ford believes that the technology will lower the number of injuries they obtain, and will consequently help to improve efficiency of the plants. Since 2005, incidents in Ford's global facilities that resulted in lost time have fallen by 75%.
Tracking movement
Ford is also currently trialling the use of wearable suits equipped with body tracking technology at its engine assembly plant in Valencia, Spain, where it makes 2.0-litre EcoBoost Duratec engines. The data obtained from these suits is being used to design workstations so that they are less physically stressful and more efficient.
"It's been proven on the sports field that with motion tracking technology, tiny adjustments to the way you move can have a huge benefit," commented Javier Gisbert, production area manager, Ford Valencia Engine Assembly Plant. "For our employees, changes made to work areas using similar technology can ultimately ensure that, even on a long day, they are able to work comfortably."
The suits have 15 light sensors attached to them that are connected to a wireless detection unit, while four motion-tracking cameras are placed near the worker. A variety of measurements are being taken from the employees, such as head and neck movement as well as arm reach. Ford has said that it is now thinking of using the technology at its other European manufacturing facilities. The company recently invested in its Craiova plant in Romania and started building the EcoSport at its Naberezhenye Chelny plant in Russia.
Ford is hoping to improve workstation design using data gathered from workers wearing suits equipped with body tracking technology at its engine assembly plant in Valencia, Spain
Another company hoping to improve the workplace by using tracking technology is Tobii Pro. The company's wearable eye tracking solutions can help workers at various different stages of the vehicle manufacturing process, such as in the paint shop.
"Using Pro Glasses 2 we are able to measure where people are looking as they are visually inspecting the paint finish on a vehicle while it's on the line," explained Mike Bartel, senior research director at Tobii Pro Insight. "From this we are able to do a couple of things. Firstly, we are able to create a set of best practices for the pattern of eye movement that is associated with a good performance on this particular job. Then we're able to train people to model that behaviour as their learning process."
One of the company's clients – a vehicle manufacturer based in Japan – has reported decreases in visual inspection errors after implementing eye tracking into their processes. Furthermore, Bartel suggested that the technology can be used to reduce the time it takes to train a worker.
Cobots
BMW is another company that has recently been increasing the number of worker assistance technologies used in its plants. It first started using collaborative robots, or co-bots, at its Spartanburg plant in the US back in September 2013 as part of a study with the Massachusetts Institute of Technology (MIT). These were made by Universal Robots and used to apply sound and moisture insulation on the inside of doors for the X3.
Three years later, the German OEM installed an LBR iiwa lightweight robot from Kuka at its Dingolfing plant in Germany. This carries out the repetitive task of lifting and installing differential cases for front axle transmissions. These cases can weigh up to 5.5kg and fitting them requires high precision, making it difficult for manual workers to do.
"Fitting the heavy differential case in place is an incredibly delicate task," Henning Borkeloh, vice president for advanced technology solutions for Kuka, explained to AMS. "The sensitive tooth flanks must not be damaged by impacts when meshing the gears. One of the challenges was the variation of the weight of the different parts that had to be assembled. Basically, we had to find the right parameters to adjust the torque sensitivity of the robot to the various requirements."
BMW is now using co-bots in several areas of its Dingolfing plant. Lightweight robots are used to apply adhesive to windows before they are fitted to the vehicles, while another set of robots equipped with sensors are used to automatically examine and help inspect the body-in-white before it is sent to the paint shop.
With trials performing well over recent years, BMW has said it hopes to deploy more co-bots at its facilities across the world. Other carmakers have voiced similar plans, and suppliers have also been getting in on the action.
The Spanish steel manufacturer Gestamp is currently working with Google's R&D arm, Google X, to see how co-bots could help it streamline its vast welding operation which is primarily used to create chassis parts. It's early stages for the US-based project, but the goal is for the co-bots to communicate via sensors so they can quickly change jobs.
"For example, I want this robot to make this part for GM, this part for Audi, and this part for Ford," Pablo De La Puente, Gestamp's chief information officer, told AMS. "This only works if the robots work together and understand which steps they have to do. It's something some you can't do now without stopping robots and spending a few days reprogramming."
The market for co-bots is set to grow significantly as more companies test and deploy them on production lines. According to the research firm MarketsandMarkets, the co-bot market is expected to be valued at US$12bn by 2025, marking a compound annual growth rate (CAGR) of over 50% between 2017 and 2025.
Beyond reality
As well as the use of co-bots, another area that BMW has been exploring in order to enhance the working environment for its employees is virtual reality. Whereas Ford is using data obtained by body tracking suits to enhance workstation design, the German OEM is using software to visualise production lines and workstations before they are built. They can then test the virtual lines and make sure they are efficient and worker-friendly.
Ahead of 3 Series production in Munich, the OEM used a virtual reality system to lay out each individual workstation. Matthias Schindler, responsible for Virtual Planning and Implementation in Production at BMW, provided insight.
"Virtual reality technology has enabled us to set up cockpit preassembly workstations quickly and efficiently," he stated. "Time-consuming trial installations that replicate the workstation in its actual dimensions were no longer needed. And the fact that all the specialists involved – from logistics experts to systems planners to production employees – were easily able to exchange ideas in the early stages was an important added benefit for the team. We were more transparent, more flexible and faster overall."
This has been made possible due to the fact that BMW has been capturing data on its existing production facilities for several years. 3D scanners and high-resolution cameras have been compiling information on workstation layouts within millimetre accuracy.
Virtual reality is also being used to help guide workers on production lines. A team of researchers at Renault Trucks has been examining potential benefits from 'mixed reality' technology for the heavy-vehicle maker's engine manufacturing operations. Working in cooperation with the virtual- and augmented-reality specialists Immersion, the 20-strong team designed a prototype system that uses holographic techniques in a quality control process at the Renault Trucks engine plant in Lyon, France.
Renault Trucks is hoping to leverage 'mixed reality' technology to help workers assemble engines
Whereas augmented reality transposes information over real image when shown on-screen, mixed reality technology adds virtual objects into a real environment in the form of holograms, with which users can interact. "In practice, quality control operators will wear Microsoft HoloLens smart glasses in which all the digitalised engine parts will be integrated," explained Bertrand Félix, the Renault Trucks engineer heading up the project. "Via the glasses and mixed reality interface, operators will see decision-making instructions that will guide them through the most complex control operations. At the moment, operators working on control points are still using paper instructions."
The engine parts that are digitalised and superimposed over the actual engine can be viewed separately, directing operators through the quality process stages. Operators work hands-free, and can be provided with a various snippets of information such as assembly instructions.
The technology reduces the volume quality control operations and improves them, Renault Trucks says. It also minimises the cognitive load of operators as well as helping to speed up their training. Phase one testing started in January 2018, and other applications envisaged for a second stage include assistance with assembly or repair. Renault Trucks has set itself a target of developing a paper-free, digitalised manufacturing process with the hope of rolling out the mixed reality prototype in its plants by 2020.
One step further
Several vehicle manufacturers are exploring the benefits of producing digital replicas of production lines. These can be used to help in the design phase of factories as well as to identify ways of enhancing efficiency and minimise downtime.
The Tecnomatix portfolio from Siemens allows companies to design, develop and improve their factories. "They can create a complete digital twin of the factory, including the line layout, the equipment operation, material flow and even the human operations," Dave Lauzun, vice president of automotive and transportation strategy at Siemens PLM Software explained AMS.
Siemens also has a cloud-based operating system to help connect machines and equipment inside plants, allowing them to communicate with each other and operate more efficiently. It also allows users to collect and analyse data from the equipment.
These tools, Lauzun added, can also have an impact on human workers and their environment: "We can accurately model the human-machine interactions to assess the optimal solutions for human workers. A particularly interesting trend is towards co-bots, where humans and robots interact seamlessly and closely to accomplish the intended task. Siemens has the tools to create the digital twin of both the robots and the humans, so we can create that optimal cooperation."
Todd Bengtsson, director manufacturing business group Siemens PLM Software, thinks that there are a number of different trends that will drastically impact vehicle manufacturing of the future. He lists the use of additive manufacturing techniques, increased human-robot collaboration and the incorporation of virtual and augmented reality as potential factors.
"Regarding leveraging the production data, the improved mining of production data, and the conversion of this data into useful information, will allow companies to improve their quality, flexibility and utilisation rates," he predicted.
Like what you've read? Then why not become an AMS online member!
As a member you will gain full and unlimited access to our global coverage of automotive manufacturing, including our in-depth coverage of technology, OEMs, regions, suppliers, and materials. Also included are our business intelligence reports and forecasts, and we hope you will also consider joining us at one of our webinars in 2020.
We'll also keep you up to date with regular newsletters and dedicated member only communications, so you'll be the first to know about our latest features, reports and webinars.
To gain unlimited access to the exclusive content and features of Automotive Manufacturing Solutions please SIGN-IN or REGISTER FREE today.