US - Cummins has made three million diesel engines at its plant in Columbus, Indiana
US - Cummins has recently made its three-millionth diesel engine at its Columbus mid-range engine plant (CMEP) in Indiana, US. The engines are supplied to Ram Trucks, and are part of a partnership that has lasted over three decades.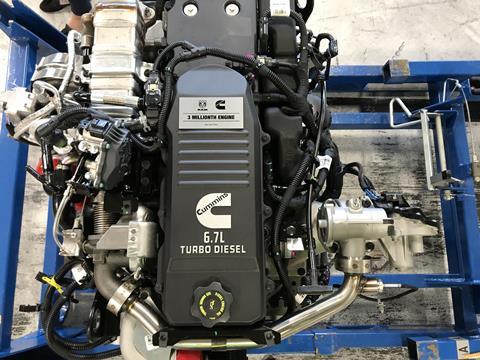 A group of 20 Cummins employees have been working on engines for Ram Trucks since the partnership began in 1988.
"We are grateful to Ram Trucks for choosing Cummins-powered engines for 30-plus years, and we look forward to a long partnership," said Melina Kennedy, executive director of Cummins pick-up business. "We are honored that these 20 employees have chosen to devote the 30-plus years to Cummins."
The plant in Columbus has the capacity to produce 168,000 engines a year. It employs 900 people and spans across an area of 600,000 sq.ft.
In May 2019 Cummins announced that Columbus would be the company's "primary North American manufacturing centre and corporate hub" for its electrified power business. This would include construction of a new facility to "serve as a hub for digital and information technology employees."
Back in 2017, Cummins formed a joint venture with Eaton to make automated transmissions for heavy-duty and medium-duty commercial vehicles. AMS recently spoke to those responsible for heading up the joint venture.