The Russian Federation has received a historic international response after launching a full-scale Ukraine invasion on February 24. As governments and supranational authorities look to macerate the Russian economy, several global vehicle manufacturers have ceased operations in Russia amid the ongoing conflict.
Volkswagen
Volkswagen announced on Thursday that it would be stopping its business in Russia as the war continues.
Production at Volkswagen's Kaluga and Nizhny Novgorod sites will be suspended until further notice, and vehicle exports to Russia have ended with immediate effect, the company said.
"With the extensive interruption of business activities in Russia, the group management board is drawing the consequences from the overall situation, which is characterised by strong uncertainty," Volkswagen said.
"The Volkswagen Group has received the news about the war in Ukraine with great dismay and shock," said the carmaker in a statement. "Volkswagen continues to hope for a cessation of hostilities and a return to diplomacy. We are convinced that a sustainable solution to the conflict can only be found on the basis of international law."
The plant in Kaluga produces the Volkswagen Tiguan, Polo and Skoda Rapid and also assembles the Audi Q7 and Q8 models from imported semi-knockdown kits (SKDs). The plant also makes engines for the vehicles supplied to the plant VW runs with Russian vehicle maker Gaz in Nizhny Novgorod. The Skoda Octavia, Skoda Karoq and Volkswagen Taos are produced there.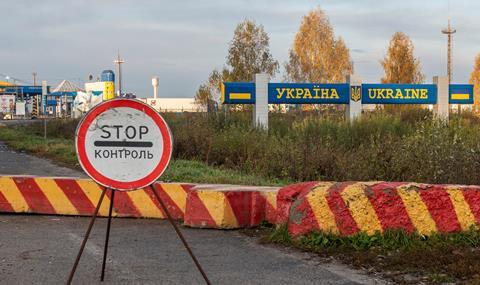 Ford
On Wednesday, Ford CEO Jim Farley said that the company would be suspending its limited operations in Russia and back charities supporting Ukraine.
"As part of the global community, Ford is deeply concerned about the invasion of Ukraine and the resultant threats to peace and stability. The situation has compelled us to reassess our operations in Russia," the company said in a statement.
The statement added that Ford had "significantly wound down its Russian operations" in recent years, which now focus exclusively on commercial van manufacturing and Russian sales through a minority interest in the Sollers Ford joint venture.
"Given the situation, we have today informed our JV partners that we are suspending our operations in Russia, effective immediately, until further notice," the company said.
It added that the company would continue to support its Ukrainian national employees and provide a $100,000 donation to the Global Giving Ukraine Relief Fund for humanitarian aid to assist Ukrainian citizens and families who have been displaced during this crisis.
Toyota
Toyota Motor is one of a number of Japanese OEMs to have ordered Russia-based employees to return home to secure their safety amid the Ukraine crisis. The company said that around 30 employees and their 20 family members are being told to leave the country on Monday.
Toyota halted its operations in Russia following the upheaval resulting from its military invasion of Ukraine. The conflict saw the shutdown of the industry in Ukraine, causing a number of negative externalities across Europe's automotive supply chain and manufacturing base.
Toyota ended output at its St Petersburg plant from Friday (March 4) and stopped vehicles' imports until further notice. Nissan Motor Co., Subaru Corp. and Mitsubishi Motors Corp. have also made similar arrangements.
Daimler Truck
Daimler Truck said it would be suspending its business activities in Russia with immediate effect at the beginning of the week, including its cooperation with Russian truck maker Kamaz.
No more trucks will be built under Daimler's partnership agreement with Kamaz, and no more components will be supplied to it, the group reportedly said in an internal memo.
Mercedes-Benz Group is also looking to divest its 15% stake in Kamaz as quickly as possible, according to the Handelsblatt newspaper.
GM
Detroit OEM General Motors has also suspended all vehicle exports to Russia over the invasion.
"Our thoughts are with the people of Ukraine at this time. The loss of life is a tragedy and our overriding concern is for the safety of people in the region," GM said in a statement.
GM doesn't have any manufacturing facilities based in Russia, but it does have a national sales team in Moscow. Around 3,000 General Motors vehicles are sold in Russia annually.
Jaguar Land Rover
Jaguar Land Rover announced that it had decided to suspend its operations due to its workforce's "well-being" and those "within our extended network". This move was met with praise from the UK government, with Business secretary Kwasi Kwarteng remarking that firms are pushing to isolate Moscow economically.
Volvo
Volvo became the first international carmaker to halt Russian sales earlier this week, citing Ukrainian sanctions and the "potential risks associated with trading material with Russia.
Last year, Volvo sold 9000 cars in Russia, importing them from factories in Sweden, China, and the US. The Swedish company's business in Russia marks about 3% of its global sales.
Renault
While the list of companies idled production for the immediate future in Russia grows, French automaker Renault restarted its manufacturing capacity on Tuesday after a brief suspension relating to semiconductor supply problems to its plant in Moscow and at the AvtoVaz plant in Togliatti.
According to a Bloomberg Intelligence report, Russia is Renault's second-biggest market, with the OEM generating about five billion euros ($5 billion) annually, roughly 12% of its automotive revenue.
Renault's majority control of Russia's AvtoVAZ and reliance on Moscow for around 12% mean that ending its relationship would see it take an enormous financial hit. While the OEM remains an outlier, the demand for more European firms to decouple from anything with proximity to the Russian state is only expected to grow.
Sanctions on deliveries of goods to Russia have been put in place by the EU and US. In addition, on February 28, Japan supported international sanctions on Russia's central bank by limiting transactions with it. As well as economic pressure from automotive producers, global transport providers are now limiting deliveries to and from Russia. Sanctions and international backlash have begun to put a considerable strain on Russian global manufacturing capacity.