The Japanese automaker said that after a shut-down of more than six months, there remained no sign that it would be able to re-open.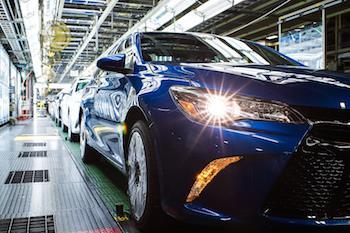 Toyota will end vehicle manufacturing in St. Petersburg, its sole plant in Russia following a six-month shutdown and no sign it would be able to resume operations in the future, the automaker said in a statement.
Operations at the plant, which produced the RAV 4 SUV and Camry sedan, were suspended on March 4, days after Russia's invasion of Ukraine. Toyota said the decision was due to the interruption in supply of key materials and parts. Vehicle imports were also suspended.
The statement did not make direct reference to Russia's invasion of Ukraine but in its early March statement the company said it was monitoring the events "with great concern for the safety of people of Ukraine and hopes for a safe return to peace as soon as possible."
"After six months, we have not been able to resume normal activities and see no indication that we can re-start in the future," Toyota's latest statement said.
"The decision to terminate production of Toyota vehicles in Russia is not one that we have taken lightly. Over the last 80 years we have developed our business and our brand with the support of stakeholders around the world."
"We must now act in a way that allows us to protect the values and principles that our predecessors built up and be confident that we can pass them on to the next generation," the company said.
Toyota had retained all of its workforce during the suspension and had kept the plant ready for a future re-start. It will now be offering the employees re-employment assistance, re-skilling and financial support above legal requirements, it said.
The automaker said it will optimise and restructure its operations in Moscow to ensure it is effective in supporting the retail network's service provision to existing Toyota and Lexus customers. The company has about 168 dealerships or retail locations in the country, according to its earlier March statement.
Separately, the company has cut its planned global production for October to about 800,000 units versus 900,000 forecast a month ago. For the October to December period, it expects global output to average 850,000 units per month.
It said there was still little clarity on how long the shortage which arose in early 2021, would continue to disrupt manufacturing but it said its production forecast for the Japanese fiscal year remained unchanged at about 9.7 million units.
"It remains difficult to look ahead due to semiconductor shortages, the spread of COVID-19, and other factors. We will continue to make every effort to deliver as many vehicles as possible to our customers at the earliest date while closely examining the situation," Toyota said.