Carmakers are potentially hostage to a halting series of restarts as the automotive industry tries to gradually restart production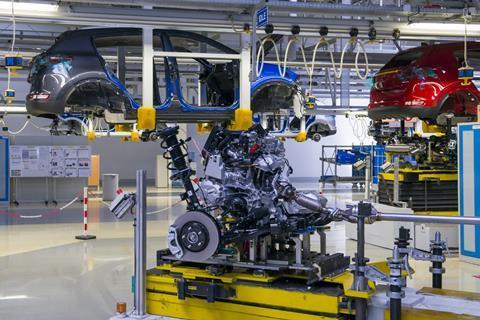 After weeks of inactivity caused by the coronavirus crisis, carmakers are potentially hostage to a halting series of restarts, according to Matteo Fini, executive director, automotive supply chain and technology, at market analyst IHS Markit.
While carmakers, such as VW Group, including Seat, Daimler and Ford have partially resumed production, with the latter confirming it is operating at 70% capacity, South Korean carmaker Kia had to halt its assembly lines in Slovakia two weeks after reopening them because of an anticipated interruption to parts supply
Speaking to Ultima Media's editor-in-chief Christopher Ludwig during the company's Livestream event last week, Fini stated: "Start and stop operations are definitely part of the new normal… [.] You have a situation whereby the tall funnel of parts that has to be delivered has been effectively shut down for several weeks. Inevitably, the longer that has been shut down, the longer it will take for it to go back up to a level that was pre-crisis."
Fini said there was an asymmetry to the supply of materials and parts in various regions. For example, OEMs in China are wondering if they will get the steel they source from Europe and parts of North America, or wiring harnesses from Mexico, for example. "This tells you the level of challenges the industry faces," he said.
As was the case with Kia, Fini added that even when OEMs say they have restarted, it is not a done deal, pointing out that "it's one thing is to have your lights and another to start actually churning out cars on your parking lot".
Highlighting this point, IHS found a "level of separation" between the theory and practice of 400 suppliers in China surveyed to assess the impact the pandemic on manufacturing and supply chain operations.
"They thought they could reach 75% of capacity utilisation, when in reality they couldn't because of either upstream parts missing or because of labour shortages," revealed Fini.
Failure to launch
The pandemic is also having a direct impact on the launch activity of OEMs because of supply chain disruption or because there is not enough demand for vehicles in the current climate, said Fini.
Global vehicle sales are forecast to plummet more than 22% this year from 2019, to 70.3m units, according to the latest IHS Markit forecasts.
This being the case, just over 1% of OEM's global launch programmes have now been impacted because of the timing adjustments IHS has forecast, bringing an average of five months delay.
From an OEM perspective, IHS predicts SAIC-General Motors-Wuling (SGMW), Ford and Fiat Chrysler Automobile (FCA) will be affected, with the Chinese-based joint venture between SAIC Motor, GM and Liuzhou Wuling Motors more at risk because it has fewer nameplates. With 24% of the company's nameplates due for launch this year, a high level of impact is predicted, with up to 6% of the OEM's total volumes affected between 2020 and 2021, stated Fini.
Ford, meanwhile, has 19% of its nameplates up for renewal this year, with models including the Bronco Sport, Mustang Mach-E and the redesigned F-150 all scheduled for launch in 2020.
Fini warned there would also be quite a few delays to electric vehicle (EV) launches, including GM's Bolt EV. As a knock-on effect, battery cell manufacturers, such as China's CATL and BYD were in a "pretty disruptive situation". However, the recent shortage of battery supplies aggravated by the coronavirus outbreak may have given Korean battery giants – LG Chem, Samsung SDI and SK Innovation – more chips with which to bargain. The Korea Herald recently reported that Poland opened its airways to allow in LG Chem employees who worked to resume the expansion of its battery plant in the country despite the general lockdown. Poland officially closed its borders until May 3.
On the subject of suppliers, IHS Markit predicts the top 50 automotive suppliers will lose on average $107m each purely out of the adjustments in launch activity the analyst has recorded over the last two weeks.
For more information on the key areas that suppliers need to consider as the automotive industry gets back to business, including sourcing considerations, digital tools and collaboration watch this week's Livestream event on Wednesday, May 6