As OEMs manage temporary plant shutdowns across their manufacturing networks, follow our updates on the latest idling and resumption of production …
UPDATE 20 May
JLR
Assembly workers give their reaction as Jaguar Land Rover's Solihull plant reopens under new social distancing measuresFollowing a two-month shutdown prompted by the coronavirus crisis, Jaguar Land Rover has reopened its Solihull plant, the home of the Range Rover.
UPDATE 15 May
Ford
Initial production at the Dagenham and Bridgend engine plants will restart from 18 May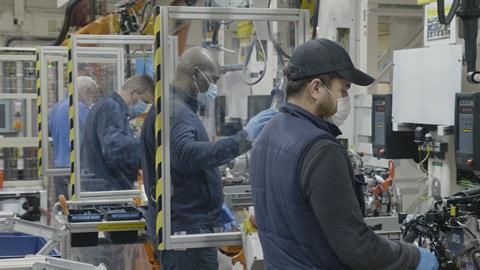 The two UK engine plants will join the Valencia engine plant in Spain, which also restarts production next week, in completing the return to work of all Ford's European manufacturing facilities. A limited number of employees have continued to work on the UK sites over recent weeks to ensure the ongoing provision of critical services. In addition, nonproduction employees whose roles require specialist equipment only available onsite, started to return to work in greater numbers from 4 May.
A comprehensive set of Ford global standards on social distancing and employee health and safety actions are being implemented across the UK facilities and the company also will provide all employees with a personal "care kit". The care kits include disposable face masks, reusable thermometer and other hygiene items.
Ford says it will continue to build ventilator sub-assemblies for the VentilatorChallengeUK Consortium. The facility used in the assembly of the ventilators is separate from the main engine plant buildings at Dagenham and has no impact on engine production.
Tata
Tata begins a calibrated restart of manufacturing operations for commercial and passenger vehicles.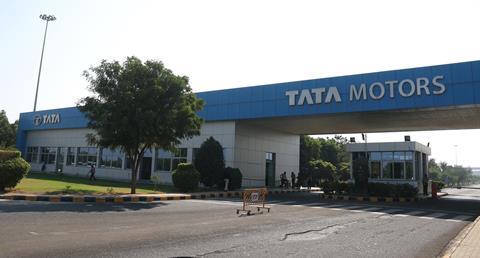 Having received the necessary approvals from relevant Government authorities, the OEM's plants located at Pantnagar and Sanand have restarted production operations, with the Lucknow, Dharwad, Jamshedpur and Pune plants expected to begin production over the next few days.
Dedicated restart teams at each location have developed guidelines and conducted training sessions for maintaining social distancing at all workplaces, shop floors and canteen facilities. Enhanced sanitisation measures are being implemented and only limited, operationally required staff are being asked to come to work.
Every employee re-joining the workplace is required to download and use the mandatory 'Aarogya Setu' app. Employees are also required to periodically check-in and declare the status of their own, as well as their family's health on the Tata Motors in-house health track portal. In addition, all employees and visitors entering and exiting the plant premises are also being screened for temperature checks.
UPDATE 13 May
FCA
As the OEM prepares to resume production, best practices from FCA plants in China and Italy are helping guide North American safety protocols.
Fiat Chrysler Automobiles (FCA) says it has developed and is implementing a comprehensive programme of enhanced safety measures to protect employees, their families and the surrounding communities from the spread and transmission of COVID-19 as and when it reopens its North American production network.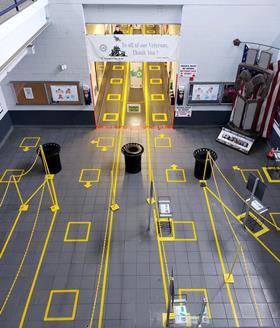 Since closing its plants in the U.S., Canada and Mexico on 18 March, FCA has been working to put in place best practices that have enabled the restart of operations at its facilities in China and Italy. Aligned with World Health Organization (WHO), Centres for Disease Control (CDC) and Occupational Safety and Health Administration (OSHA) recommendations, these protocols, along with the action's employees will be required to take to safeguard themselves and others, were communicated as part of a Return to Work package mailed to nearly 47,000 U.S. and Canadian represented employees. Mexico will share the same information through in-person training.
Bentley
Production has resumed at the company's headquarters in Crewe, England, following the implementation of 250 hygiene and social distancing guidelines.
This is the start of a phased production ramp up and prior to the return to work the workforce were given socially distanced briefing and training sessions regarding new working patterns and operations. They returned to a redesigned manufacturing facility that allows two-metre distance between workers, and one-way movement paths and traffic flows.
The now restarted Bentayga and Mulsanne production lines will be joined by the return of the Continental GT and Flying Spur line next week. On each line, production will be running at approximately 50% for a number of weeks as the takt time of each car has doubled. In addition, each production cell now spreads over two stages rather than one, ensuring adequate distance between colleagues.
The remaining 500 manufacturing workers are anticipated to return by the middle of June based on current assumptions and government guidance. During the shutdown period all members of the workforce have been kept updated with the changes through a home-issued guide, video tutorial and a newly created Employee News app.
UPDATE 11 May
Toyota
As of today, Toyota has reopened two more manufacturing plants in Europe.
In Turkey, the TMMT vehicle plant in Sakarya is welcoming team members back for an initial day of induction. Workers will be familiarised with the new protocols in preparation for a reduced-volume production to commence on 12 May.
Similarly, Toyota's engine plant (TMUK) in Deeside, Wales, has reopened. The restart comprises two days of induction on the new health protection protocols, social distancing and sanitisation. Production will gradually recommence from 13 May.
TMUK's other site – the Corolla assembly plant at Burnaston – as well as TPCA in Czech Republic and Toyota Motor Russia in St. Petersburg remain suspended. Preparations are underway to reopen these plants, however, vehicle demand and government lockdown measures will determine the timetable for return in each case.
Operations at Toyota Motor Manufacturing France (TMMF), Valenciennes, and Toyota Motor Manufacturing Poland (TMMP), in Jelcz-Laskowice and Walbrzych recommenced last month (see 21 April update).
UPDATE 8 May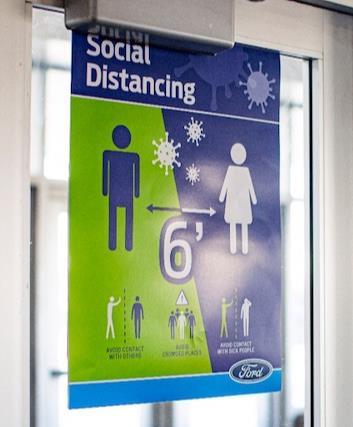 Ford North America
Following consultations with government and unions, Ford's North American manufacturing operations are set to resume. Production has been suspended in the region since 20 March when coronavirus measures forced wide-scale industrial shutdowns.
The ramp-up will be gradually undertaken given workers time to get used to new protocols and the supply chain to restore momentum, Under the phased restart, Ford's North American parts depots will resume full activities from Monday 11 May. A week later, most assembly plants will recommence.
In keeping with other OEMs reopening assembly lines, Ford is implementing a raft of robust safety and care measures across its manufacturing settings. More >>
Europe
Nissan said vehicle production at the Sunderland plant in the UK will remain suspended throughout May – a phased restart is planned for early June. However, operations have restarted in the castings and machining shops at the site.
In Russia, Nissan plans to recommence production at Saint Petersburg on 18 May. Operations in Spain, including Barcelona (Line 2 and Powertrain), Cantabria and Avila have already resumed.
North America
FCA announced that it expects to restart all of its North American operations on 18 May – with the exception of Belvidere where suspension will continue until 1 June.
As part of its presentation of Q1 results, FCA confirmed the programme of resumption in place for its global production network following the coronavirus shutdowns. Ramp-up levels will vary from plant to plant, with jobs-per-hour reduced to enable new worker-safety protocols. Initial production will be prioritised in favour of electrified products, higher-margin products, low-inventory vehicles as well as an alignment with customer demand.
FCA conducted a global supplier webinar in April to ascertain readiness of the network. Around 4,500 supplier manufacturing locations was surveyed for start-up technical readiness and compliance with a specific Covid-19 operational checklist. FCA was satisfied with the assurances provided by each plant.
General Motors aims to resume production at its vehicle assembly plants in North America on 18 May, according to press reports from Michigan. GM, whose plants in the US have been idled since March, will commence a ramp up at facilities next week in preparation for the return.
Employees have been told to expect an announcement today concerning reopenings at Lansing Delta Township Assembly and Flint Assembly, Flint Engine Operations and Flint Metal Center facilities. According to UAW, volunteer members of staff have already been working to reconfigure production facilities, installing health protection measures in anticipation of a return to work.
GM has circulated a 48-page workplace safety playbook that outlining the measures and controls it has introduced. They include body temperature readings, hand sanitizing, social distancing and staggering shifts. GM has tested and used several of the new measures at Kokomo, Indiana, where it established an impromptu production line to assemble ventilators in partnership with Ventec Life Systems.
GM has also carried out tests of the new measures with 1,000 volunteer workers at the SUV assembly plant in Arlington, Texas.
UPDATE 4 May
PSA announced today that a "gradual and secured restart of production will take place in the coming weeks." The initial wave of partial reopening begins today with the exception of French sites, which will reopen from 11 May.
From today, Ferrari will gradually resume vehicle assembly at the Maranello and Modena plants on. The OEM aims to restore full production by Friday 8 May. Ferrari has already undertaken several days of employee retraining to implement new health protection measures and has reorganised work environments at the factories.
Lamborghini is set to restart production activities today, opening assembly lines for the first time since 13 March. Teams at the Sant-Agata Bolognese plant are completing preparations to instal all necessary health protection measures.
Stefano Domenicali, Chairman and CEO of Automobili Lamborghini, said: "We are ready to restart with great energy, but also with strict protocols for safeguarding what is most precious to us: the safety of our people. This priority is why we were the first Italian automotive company to close and continues to be our guiding principle for a well-reasoned and safe recovery, because we still have not won the battle against COVID-19."
Also due to restart today is Porsche Zuffenshausen and Leipzig (see update 29 April update), Ford Cologne, Saarlouis, Craiova and Valencia Vehicle plant (see update 28 April)
UPDATE 1 May
UPDATE 30 April
ITALY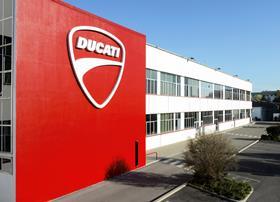 Production has resumed at Ducati's Borgo Panigale factory. The company said operations at the plant, near Bologna, are recommencing with the minimum number of employees needed to resume production and research activities … More >>
Brembo gradually reopens sites in Italy. Having suspended production at its Curno, Mapello and Sellero plants since 16 March, in response to the Covid-19 crisis, Brembo is now resuming some of its operations at these facilities… More >>
UPDATE 29 April
Porsche
The Zuffenhausen and Leipzig plants will resume production on Monday 4 May, on a gradual site- and task-specific basis. Health protection measures have been devised so that production can be increased, safely and incrementally, up to full capacity. As manufacturing is ramped up at the head factory in Zuffenhausen and at sister plant in Leipzig, all employees will resume their duties step by step.
Bentley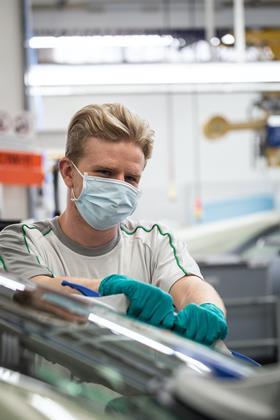 Production at Bentley's assembly plant in Crewe, UK, will resume on 11 May, the OEM announced this morning.
A comprehensive list of health protection measures will be in force as workers return to the production line. The factory in northwest England employs over 4,000 people working under Bentley's strong, hand-built ethos. Bentley's employee app now features an airline-style instructional video explaining and demonstrating the changes assembly lines staff can expect to see on their return to the plant.
The changes include reconfigurations in the manufacturing facility to allow a two-metre distances between work colleagues. For example, the vehicle production conveyors will be gapped, using only alternate skids, allowing workers room to operate and still maintain safe distance at the lineside.
Bentley anticipates full production can resume on 18 May.
More on Bentley's restart plans >>
Audi
Assembly operations at the Ingolstadt factory, Audi's main plant in Germany, have restarted today. The resumption comprises a single assembly line running on one-shift. Upstream processes – press shop, body shop and paint lines – had already returned to operation in a gradual phase at the beginning of this week. The restart sees 1,500 employees back at the plant, with measures and adaptations in place to protect workers.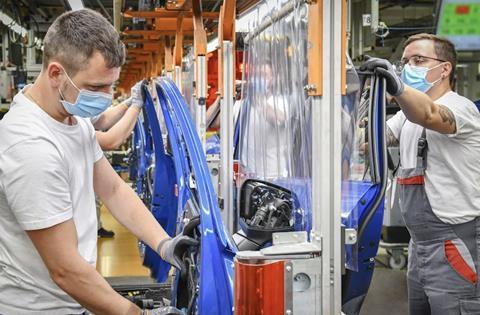 UPDATE 28 April
Ford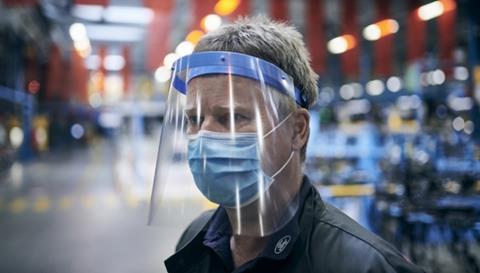 Ford said it will begin to resume operations at its main manufacturing facilities in Europe next month.
Production will resume on 4 May with a phased approach at Saarlouis Vehicle Assembly Operations and Cologne Assembly Operations and Engine Plant in Germany; Valencia Vehicle Assembly Operations in Spain; and Craiova Vehicle Assembly Operations and Engine Plant in Romania.
Valencia Engine Plant in Spain will resume production on 18 May.
Restart dates for the UK plants, Dagenham and Bridgend, have not yet been set.
Stuart Rowley, President Ford of Europe, published an announcement this afternoon to confirm the restart: "We will begin our reintegration, with vehicle and engine production resuming at our main manufacturing facilities. Production will start at a low level, prioritising sold customer vehicle orders from dealers, and will gradually be ramped-up over the next few months before full production is resumed."
Rowley emphasised that the safety and wellbeing of the workforce was naturally a priority. Ford's restart will be implemented under its set standards on social distancing and wider health and safety protocols.
He said: "What's becoming increasingly clear, however, is that there will not be a 'flick of the switch' moment where everything can to return as it once was – this will be a gradual, phased return of the working world that we are all used to."
UPDATE 27 April
FCA
FCA's Sevel in Italy has begun operations again, emerging from the long suspension under the countries stringent coronavirus lockdown.
Today marked the return to work of more than 6,000 employees to the light commercial vehicle plant in southeast of the country. At the same time, Sevel's domestic suppliers in Cassino, Pomigliano, Termoli and Mirafiori have resumed component production. More >>
Volkswagen
Earlier today, Volkswagen resumed vehicle production at the Wolfsburg plant.
Golf assembly will recommence on a one-shift basis — with reduced capacity and longer cycle times. On Wednesday (29 April) production of the Tiguan and Touran models as well as the SEAT Tarraco will recommence. The resumption means that around 8,000 employees will return to the production halls this week.
Volkswagen expects that around 1,400 vehicles are will been built by the end of this first week of resumption. A ramp up in the following weeks and the return of multi-shift operations will take volumes to more than 6,000 vehicles. This equates to 40% of production seen before the recent suspension of activity.
The return of employees to the assembly lines will be guided by a 100-point health protection plan agreed between Volkswagen and the employees' works council. To maximise information and awareness, over 8,000 posters are on display at the Wolfsburg plant alone, every employee has also received a booklet containing detailed information on the precautionary measures.
The new protocols include specific rules on distances and hygiene, walkways have been adapted and numerous distance markers on floors provide guidance. Face masks are to be worns by employees in work activities that make keeping the minimum distance of 1.5 metres unavoidable. Plexiglass partitions are in use in many areas and , where practical, materials are no longer being transferred from person to person, but placed in and collected from containers. Work teams have been allocated more time to clean their tools and several hundred additional hand washing stations have been installed throughout the factory.
Employees are called on to measure their temperature at home every morning and to go through a health checklist before they leave for work, preferably already dressed in their workwear.
To maximize information and awareness, over 8,000 posters are on display at the Wolfsburg plant alone, every employee has also received a booklet containing detailed information on the precautionary measures.
Volkswagen has shared the 100-point plan with more than 40,000 suppliers and logistics partners.
UPDATE 26 April
Jaguar Land Rover
JLR has named 18 May as its date for a gradual restart of production at Solihull in the UK, as well as in Slovakia and Austria. The statement from JLR said: "The health and wellbeing of our employees is our first priority. We are developing robust protocol and guidelines to support a safe return to work. We will adopt strict social distancing measures across our business and are currently evaluating a number of different measures to ensure we protect and reassure our workforce when they begin to return to work."
UPDATE 24 April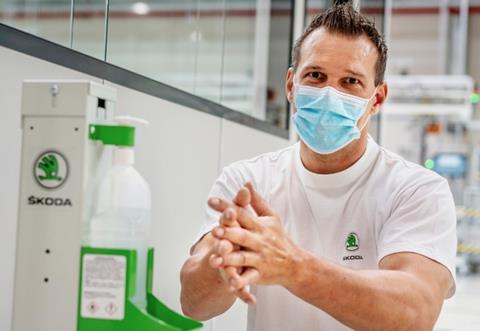 Škoda's three Czech sites will restart production on 27 April. The resumption is underpinned by a programme of health protection measures comprising more than 80 mandatory precautions, Škoda announced today.
Among the stipulations, all employees must wear a face mask when entering the factory premises. Additional time has been allocated to shifts to enable cleaning of tools, telephones, keyboards and any materials and surfaces exposed to touch. Frequency of disinfection of factory zones has been increaved. Among the daily operations staff shuttles, factory gate procedures, reception points and canteens have all been brought into line with the health protection measures.
Provisions have been made for workers in manufacturing activities to operate in smaller, fixed teams. Meanwhile, the duration of shift changeover briefings will be minimised, and additional break areas have been made available to help individuals avoid close contact with each other.
UPDATE 23 April
Video update: Producing cars, protecting people
As the lockdowns are loosened and vehicle plants in Europe return to operations, assembly workers are adapting stations to create safer environments. The teams are well accustomed to applying their own innovative solutions to keep the assembly lines running smoothly and safely. As this AMS video shows, creative and ingenious solutions are making all the difference in the automotive manufacturing network's recovery after the coronavirus crisis …
Volkswagen
Production at Zwickau is gradually restarting, Volkswagen said, its first vehicle plant in Germany to resume production since the suspensions began in mid-March. Assembly lines manufacturing the all-electric ID.31 have resumed, working to a reduced capacity and slower takt times. The steady return is supported by additional health protection measures and, Volkswagen said, will be "oriented to the gradual stabilization of international supply chains."
Volkswagen's Chemnitz engine plant also began a gradual ramp up today. A phased resumption of Golf production at Zwickau will take place on Monday, 27 April. On the same day, Dresden will restart production of the e-Golf2, at reduced capacity.
SEAT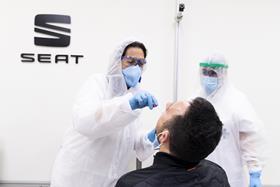 A planned production restart for Martorell from 27 April will be backed by an ambitious testing programme for thousands of SEAT workers. One production shift will resume operations at each of the three lines at SEAT Martorell in Spain, where the Ibiza, Arona, Leon and Audi A1 are assembled. The Barcelona plant and SEAT's component centres will also reopen. At the assembly lines, stations will be adapted to enable safer distancing and all employees will use face masks and hand sanitiser… More >>
UPDATE 22 April
Nissan
Vehicle production will resume in Barcelona, Montcada and Sant Andreu plants in Spain on 4 May, Nissan has announced today, with other projects in Cantabria and Avila recommencing on 27 April. The plants will operate under the new measures and procedures to ensure worker safety.
Today's statement from Nissan said: "Like the rest of the automotive industry, Nissan is looking forward to resuming business as soon as circumstances across Europe allow. The industry is currently working with very limited visibility on future market conditions, however, some activities are now being planned."
Nissan said it has spent recent weeks undertaking extensive risk assessments and benchmarking with other manufacturers, to establish protocols to protect the health and wellbeing of employees.
No date has yet been set for a resumption of production at Nissan's Sunderland facility in the UK. However, the powertrain team at the plant will take part in a pilot scheme, beginning next week, implementing the OEM's new safety measures. This pilot activity, Nissan said, will inform the return-to-work protocols for the plant in the coming weeks.
Renault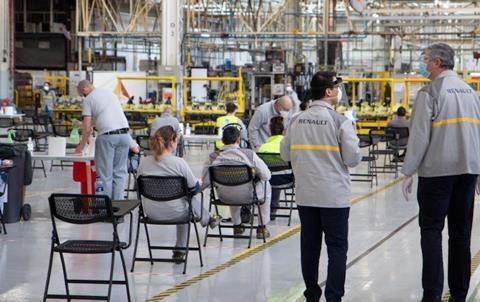 The executive vice-president for Renault manufacturing, Jose Vicente de los Mozos, confirmed that the Valladolid plant has begun a gradual resumption of production. He made a personal visit to the plant to see for himself the new health protection regimes in place. In a social media posting, he said:
"On Monday I went to this factory to meet with those who have returned to work and to check the proper implementation of all the sanitary measures defined. My first reaction is unambiguous, all the rules designed to protect employees… are not only implemented, but also respected by everyone. I was very impressed by the serenity and professionalism of the teams and am proud of our teammates working hard to revive industrial activity in Spain and elsewhere in the world. Portez-vous bien!"
The Valladolid facility in northern Spain makes 40% of the engines used by the Renault production network and also supplies Nissan and Mercedes.
The gradual restart to operations at Renault's factories in France may see some auxilliary activities at Sandouville and Flins begin next week. But, according to French media reports, unions representing assembly workers at the sites are insisting that no lineside work should take place until mid-May.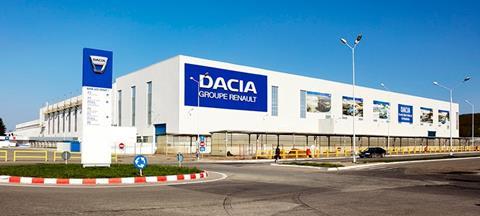 Renault Romania Group (RRG) has announced that Dacia production operations at Mioveni, Romania, has partially resumed, with "hygiene and safety measures will be rigorously applied". The mechanical and chassis plant and the assembly hall have restarted with a reduced workforce. Employees are currently attending shifts on a voluntary basis, however, RRG said it hopes to enact a full resumption of production at Mioveni from 4 May.
UPDATE 21 April
Toyota
In France, the Toyota Valenciennes plant has partially reopened, resuming production of Yaris models following a five-week shutdown. The return of 1,000 employees – 25% of the total workforce – makes Toyota the first French-based OEM to restart automotive assembly lines. PSA and Renault have yet to announce resumption dates.
In it's announcement, Toyota said: "The focus is on securing health and safety protocol's effectiveness while volume is kept low to facilitate the familiarisation with the new work environment."
At Valenciennes, new protocols for protection against infection include facemasks, hand-sanitiser dispensers for employees. Workers' body temperature can be checked at the entrance gates and non-fire-doors will remain open. Last week, Toyota announced a raft of measures that would enable a resumption in its European facilities. This includes:
employee welcome packs with a detailed brief on the new protocols
distribution of individual masks and antibacterial gel, plus further Personal Protective Equipment (PPE) depending on specific duties (eg, gloves and face shields)
briefings and meetings to be held in smaller groups, respecting distancing and for minimum duration
antibacterial gel dispensers installed
doors to remain open or able to be opened by elbow
no restaurant service, employees are asked to bring their own food
additional cleaning at communal locations, such as cloakrooms and break-out areas
work breaks to be reorganised to allow social distancing
Toyota's powertrain plants in Poland, which supplies Valenciennes, is also back in operation. The OEM says its facilities in the UK, Czech Republic (TPCA) and Turkey remain in shutdown.
UPDATE 20 April
Vauxhall
Management and unions at Vauxhall's Ellesmere Port plant are making a final review of new safety protocols in preparation for a return to production.
The protocols bring in more than 100 measures and cover Vauxhall's industrial, administrative, R&D and commercial activities. Among the measures developed for workers at the manufacturing sites are body temperature checks at the entrance gate; at the lineside workers will use safety glasses, facemasks and respect safe distancing.
To assist the distancing, red tapes hung from the assembly hall ceiling will indicate 2m areas; floor markings have also been set at the urinals. With the exception of fire exits, doorways will be left open to prevent touching of door handles. Frequent cleaning of tools and work surfaces will be undertaken and any one-to-one approaches among workers exchanging parts will be minimised.
No date has yet been set, however, for the Ellesmere Port plant to resume production.
UPDATE 17 April
Audi, Volvo and Hyundai in Europe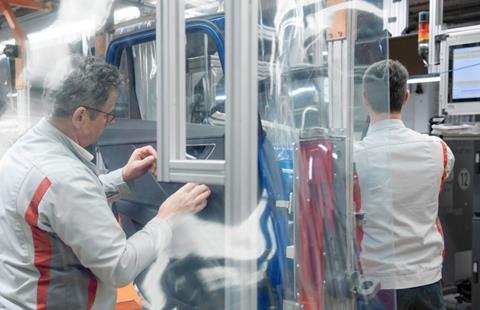 Audi and Volvo have announced plans to resume production in various sites in Europe, while Hyundai's Czech plant is already back up and running.
Vehicle production at Audi factories will gradually ramp up from the end of April and through the coming weeks. Engine assembly in Győr, Hungary, has already begun, meanwhile the rest of the network will undergo a regulated restart, interlinking with suppliers and service providers. Plans will be coordinated with the wider Volkswagen Group.
A key component of resumption is a package of health protection measures. This includes new rules on distance and hygiene, a modified shift system to minimise contact, and obligatory use of facemarks in areas where close working is unavoidable.
Audi has also installed more physical barriers at assembly stations. One example is in door pre-assembly, where two workers stand directly opposite each other across a transport rack – using plastic sheeting, the employees themselves have developed an effective, transparent barrier.
Stations are only considered "corona-ready" once all those involved are in agreement.
Next Monday, 20 April, Volvo Cars will resume production at the Torslanda plant in Sweden. The OEMs factory at Ghent in Belgium will also reopen on 20 April, but will operate at a reduced production output.
Elsewhere in Sweden, the engine plant in Skövde and the body component manufacturing site in Olofström are already in operation. Both sites will continue to plan production on a week-by-week basis, in accordance with supply chain needs.
The vehicle production plant in South Carolina remains closed but Volvo's current plan is to reopen assembly lines on Monday 11 May.
"We have a responsibility towards our employees and our suppliers to restart operations now that the situation allows it," said Volvo CEO Håkan Samuelsson. "The best thing we can do to help society is to find ways to restart the company in a safe way, thereby safeguarding people's health and their jobs."
As part of the intensified health and safety regime at Torslanda, sanitation and cleaning routines have been stepped up and Volvo has also introduced voluntary temperature checks for workers at the main entrance. Staff can also get blood oxygen levels tests, placing a finger into a pulse oximeter.

Hyundai's European production operations resumed this week, with workers returning to assembly lines on Tuesday 14 April. Speaking to AMS, the OEM confimed that the restart at Hyundai Motor Manufacturing Czech is running two-shifts – morning and afternoon – with workers operating under new health protection measures. These include mandatory face-mask use, minimum distancing of people (in canteen and rest areas) and disinfection of the plant three times per day.
Instead of running a night shift for production, the hours are being used only for intensified sanitation and cleaning routines across the site.
UPDATE 16 April 2020
Volkswagen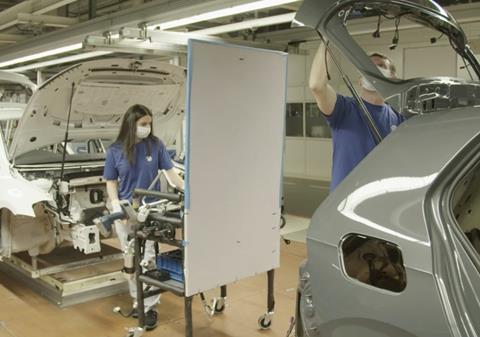 VW has set out a resumption timetable for its global production network.
Operations in Zwickau and Bratislava will restart in the week commencing 20 April. Other Volkswagen brand plants in Germany, Portugal, Spain, Russia and the US will resume production from 27 April.
A restart date for VW manufacturing operations in South Africa, Argentina, Brazil and Mexico will push into May, the OEM said. The Volkswagen Commercial Vehicles plants at Hannover, Poznań and Września will resume at reduced capacity levels from 27 April, ending a five-week shutdown.
Ralf Brandstätter, COO of Volkswagen, explained: "With the decisions by the federal and state governments in Germany and the loosening of restrictions in other European states, conditions have been established for the gradual resumption of production. Volkswagen has prepared intensively for these steps over the past three weeks. In addition to developing a comprehensive catalogue of measures for the protection of our employees' health, we have also forged ahead with the re- establishment of our supply chains."
Volkswagen Group Components had already resumed production at Brunswick and Kassel in the first week of April. This was followed soon after by Salzgitter, Chemnitz, Hannover, as well as the plants in Poland, keeping open supply lines to VW's vehicle production in China. All but one of VW's 33 plants in China have reopened productions lines. The OEMs said it is using the experience gained in China ramp-up, particularly with regard to the extensive list of health protection measures that have been successfully introduced.
UPDATE 14 April 2020
Porsche
Assembly lines at Zuffenhausen and Leipzig have been suspended since 21 March but with regard to a return to production, Porsche CEO Oliver Blume advised caution.
In line with the stance on Covid-19 taken by the authorities in Baden-Württemberg, Porsche's home federal state in Germany, he said: "We must not start to open up the country too quickly. We must proceed together circumspectly and take things step-by-step."
Interviewed by the German media, Blume said: "At the same time, we as a company are already preparing for this in detail. We are thinking through the entire working day for the factories: from temperature measurements at home, protective clothing and hygiene through to workplace organisation. The priority when restarting production is ensuring the safety of everyone."
But he raised concerns about global suppliers and Porsche's retail partners: "How stable are they, how long will their liquidity last? And how will they organise the restart? We are keeping an eye on that."
Honda-Dongfeng
A month on from resuming operations, the Honda Dongfeng JV plant in Wuhan, China, has returned production levels to pre-shutdown levels – despite new precautionary working practices, the company said.
Temperature checkpoints have been established and information boards have been posted reminding workers around on the factory floor to stay more than a metre apart. Rest areas have been rearranged with appropriately spaced seating.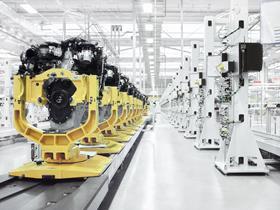 The factory – which produced 800,000 cars in 2019 – was idled in late January after authorities imposed the lockdown in Wuhan, the Chinese city at the epicentre of the coronavirus outbreak.
SInce the resumption of operations at Honda Dongfeng on March 11, the factory's 12,000 workers have been putting in overtime, extending the shift by 90 minutes. This means the standard daily target of 1,060 vehicles has been upped to 1,237.
Honda's biggest manufacturing hub US and Canada will remain suspended until May 1. Honda production is also suspended in UK and Thailand, while intermittent halts are still affecting its Japanese factories.
UPDATE 8 April 2020
Volkswagen component plants will resume production, in part, on 14 April with assembly workers operating under "comprehensive precautions", VW announced today.
Today's statement said: "Health takes priority over speed. For this reason, company management and the General Works Council have laid down clear rules and measures for the protection of employees in a works agreement."
From the Tuesday after Easter, the resumption of production applies to a selection of component lines for supplying plants in China where most VW sites have reopened. The German sites resuming include Brunswick, Kassel, Salzgitter, Chemnitz and Hannover. Some 1,700 employees will be subject to the new modes of operation – minimum distances, strict hygiene standards and protective equipment will be applied as appropriate.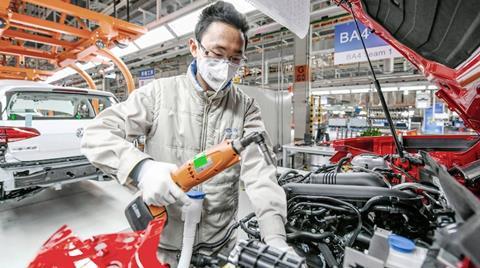 Apart from the China-supply operations, production at VW's components and vehicle plants remains suspended until April 19/20 at the earliest. VW stressed that employees must continue acting "in a disciplined way over Easter, keep your distance, stay at home and help to limit the spread of coronavirus."
UPDATE 6 April 2020
Editor's blog: Will normal service be resumed?
Come the end of lockdown, there is unlikely to be a swift return to business as usual – the lessons learned might see new approaches to manufacturing operations that go beyond the Covid-19 crisis
UPDATE 3 April 2020
As China operations resume, BMW CEO Oliver Zipse has set out the action areas aimed at steering the company's global production through the crisis.
"Just as the coronavirus had a staggered start, life after the virus will resume at different speeds in different regions. The way some countries in Asia are handling the virus is already looking very promising, and we can model what we do on their experiences," Zipse said in a BMW Group blog published today.
He added, "In China we are already back to large-scale production, and sales and marketing are also picking up speed again – despite the increased safety precautions for workers on both fronts. This gives us a good guide as to how we can resume sales and production in, say, Europe or the US as well, while at the same time minimising the risk of infection for our associates and customers."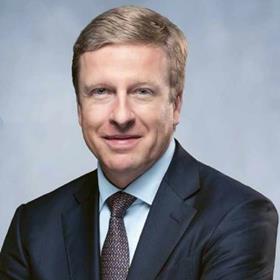 Zipse he confirmed that despite widescale suspension of automotive production in Europe and the US, BMW was using the time out for plants upgrade work, particularly in preparation for production of new electric vehicles.
Zipse also confirmed that, despite the broader shutdown, component production at BMW Landshut is still in operation and continues to supply the BMW Brilliance factory at Shenyang, China.
UPDATE 2April 2020
Kia has announced it intends to restart production at the Zilina plant in Slovakia on 6 April. Elsewhere in Slovakia, however, neither PSA Trnava nor JLR Nitra will reopen before the Easter holidays.
Volkswagen has extended its Bratislava factory shutdown until 19 April, in line with the revised timescale of its German sites.
Hyundai said it will resume production at the Nosovice, Czech Republic, on 14 April.
UPDATE 1 April 2020
Europe assesses automotive production losses as lockdowns remain in force
At least 1,110,107 Europeans directly employed by car, truck, van and bus manufacturers have been affected by production shutdowns under coronavirus measures, that's according to data compiled by the European Automobile Manufacturers' Association (ACEA).
Up to the end of March 2020, the organisation estimates EU and UK-wide production losses due to factory shutdowns amount to at least 1,231,038 motor vehicles. Average shutdown duration has been calculated at 16 working days. Much of Europe is still in lockdown measures and assembly lines remain idle as April begins.
In total 2.6 million direct manufacturing jobs are provided by the EU automotive industry, ACEA figures show, with vehicle makers operating 229 vehicle assembly and production plants across the region.
Eric-Mark Huitema, ACEA Director General said: "Right now, the primary concern of ACEA and all its members is to manage the immediate crisis facing the industry, which has essentially come to an abrupt halt – something the sector has never experienced before. Our first priority is to protect the health and jobs of the almost 14 million Europeans who work directly or indirectly in our sector."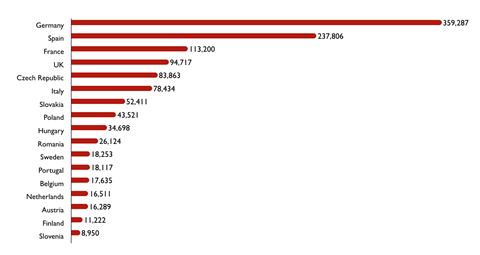 UPDATE 29 March 2020
Ferrari plans to resume production at Maranello and Modena on 14 April, subject to supply chain availability.
Toyota will halt production for seven lines in five plants starting from 3 April. The suspension period differs per plant and production line and Toyota said production lines in Japan other than those stated below, will remain its operation as usual.
Takaoka Plant, #1 production line – 3 operating days from Apr. 3 to 7.
Tsutsumi Plant, #1 and #2 production lines – 3 operating days from Apr. 3 to 7.
Tahara Plant, #1 production line – 6 operating days from Apr. 3 to 10.
Tahara Plant, #3 production line – 8 operating days from Apr. 3 to 14.
Toyota Motor Kyushu (TMK), #1 production line – 9 operating days from Apr. 3 to 15.
Hino, Hamura Plant, #1 production line – 2 operating days from Apr. 3 to 6.
UPDATE 26 March 2020
Ford – North America
Plants began a schedule 10-day halt in production on March 20, however a 30 March restart has been scuppered by many US states, Michigan among them, issuing stay-at-home measures that won't end before 13 April.
Dearborn Truck, Kentucky Truck, Kansas City Assembly and Ohio Assembly are scheduled to resume on 14 April. Other facilities due to restart 14 April include Dearborn Stamping, Dearborn Diversified Manufacturing, stamping plants at Kansas City Assembly and Kentucky Truck, Sharonville Transmission and areas of of Van Dyke Transmission, Lima Engine and Rawsonville Components.
Not yet known are the restart dates for Chicago Assembly, Flat Rock Assembly, Michigan Assembly, Louisville Assembly, Cuautitlan Assembly (Mexico) or Oakville Assembly (Canada).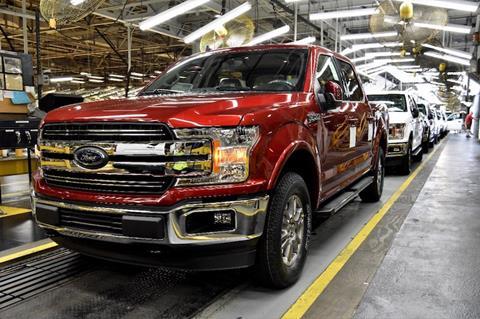 However, the Hermosillo assembly plant in Mexico is expected to reopen on 6 April.
Toyota – North America
Toyota has planned to resume North American production on 6 April however it will extend the suspention of all vehicle and components plants in US, Canada and Mexico until 17 April, scheduling output to resume 20 April.
Honda – North America
Honda will extend the shutdown of its five vehicle assembly plants in US and Canada from 30 March to 7 April.
General Motors – North America
GM has intended to resume operations at its North American facilities on 30 March but instead will prolong the shutdown to an as yet unspecified date.
Fiat Chrysler Automobiles – North America
FCA factories in the US and Canada will remain closed until 14 April. The shutdown also includes the Detroit area headquarters.
Volkswagen – North America
The shutdown of VW Chattanooga assembly plant has been extended by a further week meaning production will resume on 5 April.
Meanwhile, Volkswagen is extending the suspension of production at its German factories for a further four working days, prompted largely by the dip in customer demand for vehicles and shortfalls in the supply chain. VW plans a resumption of vehicle production on 9 April at Dresden, Emden, Hannover, Osnabrück, Wolfsburg and Zwickau, and component production at Brunswick, Kassel, Salzgitter, Chemnitz and Hannover.
UPDATE 24 March 2020
Aston Martin confirmed a temporary suspension of all manufacturing operations at its UK factories – at Newport Pagnell, Gaydon and St Athan – from end of shift today (24 March) in line with the updated UK Government measures. Aston Martin said the initial period of manufacturing suspension is planned until Monday 20 April 2020, however, "the business will continue to review the situation and will look to resume operations as soon as it is reasonable to do so."
McLaren has suspended manufacturing until the end of April at its main car production facility in Woking as well as its composite components production site.
Morgan has also closed its factory in central England for the next four weeks.
MAZDA
Mazda will suspend production for 13 days, operating daytime shifts only for eight days at the Hiroshima and Hofu plants during the period commencing March 28 through to April 30. Mazda said it "intends to transfer part of the production originally scheduled for this period to the second quarter of the fiscal year ending March 2021 or later while monitoring how the situation develops."
Outside of Japan, Mazda de Mexico Vehicle Operation, will close for approximately 10 days from March 25, and the AutoAlliance production site in Thailand will halt production for a similar period beginning 30 March.
GROUPE PSA
A statement has been released by PSA announcing suspension of production at its European factories until March 27. The plants affected include Peugeot, Citroen and DS sites, as well as Opel's facilities within Germany and Poland, and the Vauxhall factories in the UK.
PSA set out its shutdown schedule as:
March 16: Mulhouse (France), Madrid (Spain)
March 17: Poissy, Rennes, Sochaux (France), Zaragoza (Spain), Eisenach, Rüsselsheim (Germany), Ellesmere Port (United Kingdom), Gliwice (Poland)
March 18: Hordain (France), Vigo (Spain), Mangualde (Portugal)
March 19: Luton (United Kingdom), Trnava (Slovakia)
TOYOTA
After already suspending Toyota Motor Manufacturing France (TMMF) at Valenciennes, other shutdowns for the Toyota network in Europe are planned for:
March 18 Toyota Motor Manufacturing UK (TMUK) in Burnaston and Deeside
March 18 Toyota Motor Manufacturing Poland (TMMP) in Walbrzych and Jelcz-Laskowice
March 19 Toyota Peugeot Citroen Automobiles (TPCA) in Kolin, Czech Republic
March 21 Toyota Motor Manufacturing Turkey (TMMT) in Sakarya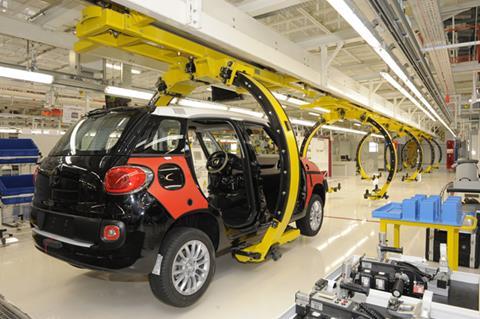 FCA
Both FCA Italy and Maserati will "temporarily suspend production across the majority of their European manufacturing plants." An updated production plan will be in effect until 27 March and will temporarily close the following plants in the meantime:
Italy: Melfi, G. Vico (Pomigliano), Cassino, Mirafiori Carrozzerie, Grugliasco, and Modena;
Serbia: Kragujevac
Poland: Tychy
The statement said that the Group will "make use of these stoppages to implement revisions to production and quality control protocols to benefit our customers and enhance overall productivity."
On 16 March, Ferrari suspended production at its Maranello and Modena in facilities until 27 March.
VOLKSWAGEN GROUP
Dr. Herbert Diess, Chairman of the VW's Board of Management, has released a statement announcing a halt in manufacturing across the group's European sites: "Given the present heightened uncertainty, production is to be suspended in the near future at factories operated by Group brands."
Diess confirmed interruptions in production for plants in Spain, at Setubal in Portugal, Bratislava in Slovakia and the Lamborghini and Ducati plants in Italy. In a separate announcement, Ducati said it had suspended production on Friday 13 March and the closure has been extended until 25 March.
Most of the VW Group's other German and European plants are currently preparing a production interruption, probably for two weeks.
VW confirmed that production in China has resumed, with the exception of the plants in Changsha and Urumqi.
A Skoda statement confirmed that it will close its Czech plants in Mladá Boleslav, Kvasiny and Vrchlabí for approximately two weeks.
As of 20 March, Bentley Motors will suspend production at its Crewe, UK, factory headquarters for four weeks. A Bentley statement confirmed: "Core business functions will continue throughout the shutdown with colleagues either based in Crewe, following social distancing policies, or working remotely. Production will not start again until 20 April."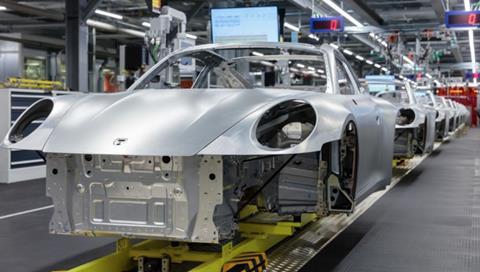 As of next week, Porsche will suspend production: parent factory Zuffenhausen as well as the Leipzig facility will close on Saturday 21 March "for an initial period of two weeks. The situation will be continuously re-assessed," Porsche confirmed in a statement.
FORD
Ford says it will temporarily suspend production at vehicle and engine plants in Europe from Thursday, 19 March. The OEM expects the shutdown to last for a number of weeks "depending on pandemic situation, national restrictions, supplier constraints and dealer stock requirements."
RENAULT
Groupe Renault has announced the cessation of production activities at its industrial sites in France "until further notice, depending on the evolution of the health situation." Renault suspended all 12 production activities at its French-based facilities on Monday 16 March, complying with measures taken by the French government. Renault said: "The Group plans to restart production activities as soon as conditions permit and will implement appropriate measures to respond effectively to commercial demand."
Dacia will stop shutdown production at the Mioveni plant in Romania from 19 March to April 5. The Romanian government declared a state of emergency earlier this week.
DAIMLER
Daimler has suspended the majority of its production in Europe, for an initial period of two weeks, the OEM said, in line with recommendations from authorities. Unable to maintain global supply chains at present, the OEM said the shutdown was a "proactive and proportionate decision to prepare for temporarily lower demand and to protect the company's financial strength." Daimler said management is monitoring the situation constantly and full operations will resume "when the situation improves."
BMW
Addressing the OEM's annual news conference in Munich, BMW CEO Oliver Zipse said the carmaker's plants in Europe and in Rosslyn, South Africa, will close until 19 April. Zipse remarked that the move was not only to protect BMW employees but also to adjust production in light of the global disruption and its effect on product demand.
Rolls-Royce Motor Cars will suspend production at the Goodwood manufacturing plant in the UK from Monday 23 March. The two-week shutdown will run into the pre-planned Easter maintenance closure.
HYUNDAI
HMMC, Hyundai's plant in Czech Republic was still operating as of Tuesday 17 March, however, the Czech press has reported delays in parts delivery and cancellation of shifts. Local sources say that the unions are keen for management to close the plant in line with other automotive factories in the country (see Skoda and TPCA) but no decision has yet been taken.
Update 20 March: Hyundai and Kia will suspend production at Czech and Slovak factories for two weeks from on Monday 23 March. National border closures throughout Europe has disrupted parts supply.
NISSAN
Plants in Barcelona were forced to halt production last Friday (13 March) and on Monday (16 March) week because of a parts shortage. The Sunderland plant in UK has now closed. A Nissan statement said: "Vehicle production has been suspended today in Nissan Sunderland Plant. Further measures are currently under study as we assess supply chain disruption and the sudden drop in market demand caused by the COVID-19 emergency."
JAGUAR LAND ROVER
JLR has annouced that its UK sites at Solihull, Castle Bromwich and Halewood "will all cease production until at least the week of April 20."
Jaguar Land Rover's plants in Brazil and India will continue operating, the announcement confirmed. JLR said: "The company's joint venture plant in China reopened in the week of 24 February as life begins to get back to normal in the country.
Local press in Slovakia reports that JLR's Nitra plant will suspend assembly lines at the end of this working week: "We will temporarily suspend vehicle production, with the last production day on Friday, March 20th. Activities related to the launch of Defender will continue to the necessary extent," JLR spokesperson Miroslava Remenárová said.
HONDA
Honda is suspending production at its factory in UK with the Swindon factory shutting after the last shift on 18 March. Honda hopes to resume production on 6 April but a resumption will depend on UK government advice, as well as supply conditions and the altered market situation. The facility is due to close permanently in 2021 as part of Honda's global restructuring.
VOLVO
A shortage of workers and advice from Belgian authorities has prompted Volvo to suspend production at its plant in Ghent until further notice. The Swedish factories – Torslanda, Skövde and Olofström – and US plant in South Carolina will be closed between 26 March and 14 April.