As the global automotive industry faces shutdowns, for who knows how long, it is worth considering how it might change or evolve once the pandemic's peak has passed. Some companies, from vehicle companies down throughout the supply chain, may well go under, owing to the financial shock which Covid-19 is causing.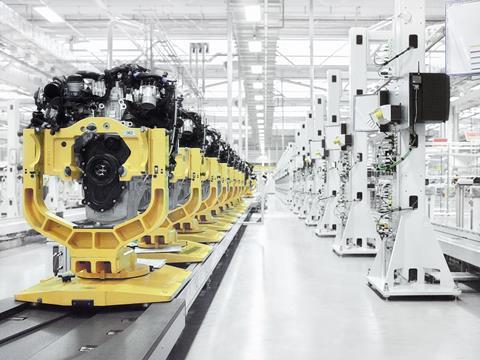 At some point in the near future it is expected that the worst of coronavirus impact will have passed. Society and the economy will then have to find 'a new normal' in terms of their daily operations.
The trend of the last couple of decades has been for supply chains to become global as manufacturers in many sectors, not just automotive, have sought economics of scale and low cost supply.
It has been entirely normal for electronics and a wide range of other parts to come out of China, Thailand and elsewhere in Asia; wiring harnesses have long been assembled for Europe by low-cost labour in North Africa.
Toyota is understood to supply all its engine bolts for every one of its global engine plants worldwide from a single plant in Japan.
Similarly, suppliers in Mexico ship into car plants in the US and Canada, while many US suppliers and vehicle plants ship into Mexican factories.
Within Europe, there is plenty of international supply; for example, Industriale Sud in southern Italy supplies several UK plants with headliners; Toyota UK sources a lot of parts from Turkish suppliers; and Volkswagen ships parts from Germany and Eastern Europe to its factories in Spain and Portugal – and vice-versa from its Spanish plants and suppliers.
Several parts cross multiple borders within Europe during their progress from raw material through semi-finished parts into final products. The Mini's crankshaft is often cited in the press as a classic example with production stages taking place in the UK, France and Germany.
As borders are erected within Europe, and potentially soon in North America (as the US may well go into lockdown soon), and global supply chains come under increasing strain, it seems likely that international companies will re-examine existing supply chain structures and whether they can be maintained.
Post-crisis, what are the opportunities for automotive suppliers?
National governments will look at the robustness and security of key supply chains to protect national economies; in the UK, for example, assuming a vehicle manufacturing sector survives and prospers post-Covid-19 disruption, investment in EV battery manufacturing and the establishment of a gigafactory may, finally, become a formal matter of government policy.
That would generate significant opportunities for local sub-suppliers.
Similarly, the Tata Steel plant in South Wales could well be designated a core national resource, in order to maintain supply chain robustness and security.
Long term, it is reasonable to expect more production throughout the supply chain, at tier 2, 3 and levels below to be located closer to the car plants.
At the start of the Covid-19 outbreak there were reports that the Italian fuse box supplier, MTA, in Codogno in the centre of the initial lockdown area, could not ship parts out, to Fiat and other car companies outside Italy, including JLR.
In the event, production with this supplier did not actually cause vehicle production to stop but it highlighted how a single company's problems could cause distant factories to grind to a halt. However, such a problem quickly emerged in Spain where supply problems caused Renault to stop its plants there ahead of the company's Europe-wide factory closures.
At the time of writing in the third week of March, just about every European car and engine plant has stopped, although some low volume producers in the UK (Lotus are reportedly soldiering on, but for how long?); factories are still accepting deliveries of components in transit, with up to six weeks supply from Asia for example on the high sea.
Space will have to be found to store these parts, with space a problem at many factories as they tend to store just a couple of days' worth of total stock at most. When production re-starts there will be excess supply of some parts and shortages of others, posing another set of challenges to supply chain managers
How long will the automotive industry take to recover?
We live in very uncertain times; vehicle production and therefore the industry's supply chain will not be back to normal for at least several months, partly because of the time it will take to recover from production disruption, but also because of much lower demand expected in the months ahead as consumers recover from their own economic hits.
While reduced activity in the auto industry seems inevitable even when the worst of Covid-19 is over, there will be significant policy issues for the government and industry to address: a restructured supply chain will surely emerge – it's a just a question of how different it will be.
The industry's economics will also have changed (if they have not changed already); with Europe shutting down for at least a month, around 1.6m vehicles will be "lost" from production, worth in the region of €40 billion at the factory gate, and much more at retail.
It is questionable whether this will be recoverable; demand will slump the longer this goes on; for every month the industry shuts down, it is likely that another month, or probably two, will be lost on top in terms of demand recovering. That may be an optimistic view; in which case it is a very sobering one.