As OEMs manage temporary plant shutdowns across their manufacturing networks, follow our updates on the latest idling and resumption of production …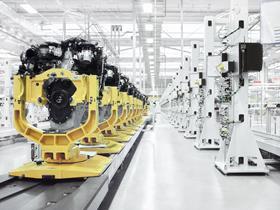 UPDATE 3 April 2020
As China operations resume, BMW CEO Oliver Zipse has set out the action areas aimed at steering the company's global production through the crisis.
"Just as the coronavirus had a staggered start, life after the virus will resume at different speeds in different regions. The way some countries in Asia are handling the virus is already looking very promising, and we can model what we do on their experiences," Zipse said in a BMW Group blog published today.
He added, "In China we are already back to large-scale production, and sales and marketing are also picking up speed again – despite the increased safety precautions for workers on both fronts. This gives us a good guide as to how we can resume sales and production in, say, Europe or the US as well, while at the same time minimising the risk of infection for our associates and customers."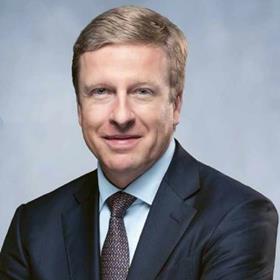 Zipse he confirmed that despite widescale suspension of automotive production in Europe and the US, BMW was using the time out for plants upgrade work, particularly in preparation for production of new electric vehicles.
Zipse also confirmed that, despite the broader shutdown, component production at BMW Landshut is still in operation and continues to supply the BMW Brilliance factory at Shenyang, China.
UPDATE 2 April 2020
Kia has announced it intends to restart production at the Zilina plant in Slovakia on 6 April. Elsewhere in Slovakia, however, neither PSA Trnava nor JLR Nitra will reopen before the Easter holidays.
Volkswagen has extended its Bratislava factory shutdown until 19 April, in line with the revised timescale of its German sites.
Hyundai said it will resume production at the Nosovice, Czech Republic, on 14 April.
UPDATE 1 April 2020
Europe assesses automotive production losses as lockdowns remain in force
At least 1,110,107 Europeans directly employed by car, truck, van and bus manufacturers have been affected by production shutdowns under coronavirus measures, that's according to data compiled by the European Automobile Manufacturers' Association (ACEA).
Up to the end of March 2020, the organisation estimates EU and UK-wide production losses due to factory shutdowns amount to at least 1,231,038 motor vehicles. Average shutdown duration has been calculated at 16 working days. Much of Europe is still in lockdown measures and assembly lines remain idle as April begins.
In total 2.6 million direct manufacturing jobs are provided by the EU automotive industry, ACEA figures show, with vehicle makers operating 229 vehicle assembly and production plants across the region.
Eric-Mark Huitema, ACEA Director General said: "Right now, the primary concern of ACEA and all its members is to manage the immediate crisis facing the industry, which has essentially come to an abrupt halt – something the sector has never experienced before. Our first priority is to protect the health and jobs of the almost 14 million Europeans who work directly or indirectly in our sector."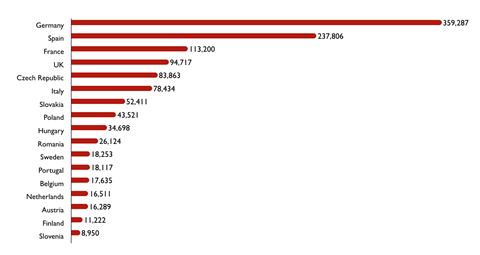 UPDATE 29 March 2020
Ferrari plans to resume production at Maranello and Modena on 14 April, subject to supply chain availability.
Toyota will halt production for seven lines in five plants starting from 3 April. The suspension period differs per plant and production line and Toyota said production lines in Japan other than those stated below, will remain its operation as usual.
Takaoka Plant, #1 production line – 3 operating days from Apr. 3 to 7.
Tsutsumi Plant, #1 and #2 production lines – 3 operating days from Apr. 3 to 7.
Tahara Plant, #1 production line – 6 operating days from Apr. 3 to 10.
Tahara Plant, #3 production line – 8 operating days from Apr. 3 to 14.
Toyota Motor Kyushu (TMK), #1 production line – 9 operating days from Apr. 3 to 15.
Hino, Hamura Plant, #1 production line – 2 operating days from Apr. 3 to 6.
UPDATE 26 March 2020
Ford – North America
Plants began a schedule 10-day halt in production on March 20, however a 30 March restart has been scuppered by many US states, Michigan among them, issuing stay-at-home measures that won't end before 13 April.
Dearborn Truck, Kentucky Truck, Kansas City Assembly and Ohio Assembly are scheduled to resume on 14 April. Other facilities due to restart 14 April include Dearborn Stamping, Dearborn Diversified Manufacturing, stamping plants at Kansas City Assembly and Kentucky Truck, Sharonville Transmission and areas of of Van Dyke Transmission, Lima Engine and Rawsonville Components.
Not yet known are the restart dates for Chicago Assembly, Flat Rock Assembly, Michigan Assembly, Louisville Assembly, Cuautitlan Assembly (Mexico) or Oakville Assembly (Canada).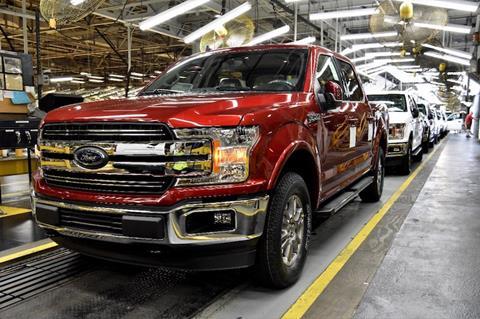 However, the Hermosillo assembly plant in Mexico is expected to reopen on 6 April.
Toyota – North America
Toyota has planned to resume North American production on 6 April however it will extend the suspention of all vehicle and components plants in US, Canada and Mexico until 17 April, scheduling output to resume 20 April.
Honda – North America
Honda will extend the shutdown of its five vehicle assembly plants in US and Canada from 30 March to 7 April.
General Motors – North America
GM has intended to resume operations at its North American facilities on 30 March but instead will prolong the shutdown to an as yet unspecified date.
Fiat Chrysler Automobiles – North America
FCA factories in the US and Canada will remain closed until 14 April. The shutdown also includes the Detroit area headquarters.
Volkswagen – North America
The shutdown of VW Chattanooga assembly plant has been extended by a further week meaning production will resume on 5 April.
Meanwhile, Volkswagen is extending the suspension of production at its German factories for a further four working days, prompted largely by the dip in customer demand for vehicles and shortfalls in the supply chain. VW plans a resumption of vehicle production on 9 April at Dresden, Emden, Hannover, Osnabrück, Wolfsburg and Zwickau, and component production at Brunswick, Kassel, Salzgitter, Chemnitz and Hannover.
UPDATE 24 March 2020
Aston Martin confirmed a temporary suspension of all manufacturing operations at its UK factories – at Newport Pagnell, Gaydon and St Athan – from end of shift today (24 March) in line with the updated UK Government measures. Aston Martin said the initial period of manufacturing suspension is planned until Monday 20 April 2020, however, "the business will continue to review the situation and will look to resume operations as soon as it is reasonable to do so."
McLaren has suspended manufacturing until the end of April at its main car production facility in Woking as well as its composite components production site.
Morgan has also closed its factory in central England for the next four weeks.
MAZDA
Mazda will suspend production for 13 days, operating daytime shifts only for eight days at the Hiroshima and Hofu plants during the period commencing March 28 through to April 30. Mazda said it "intends to transfer part of the production originally scheduled for this period to the second quarter of the fiscal year ending March 2021 or later while monitoring how the situation develops."
Outside of Japan, Mazda de Mexico Vehicle Operation, will close for approximately 10 days from March 25, and the AutoAlliance production site in Thailand will halt production for a similar period beginning 30 March.
GROUPE PSA
A statement has been released by PSA announcing suspension of production at its European factories until March 27. The plants affected include Peugeot, Citroen and DS sites, as well as Opel's facilities within Germany and Poland, and the Vauxhall factories in the UK.
PSA set out its shutdown schedule as:
March 16: Mulhouse (France), Madrid (Spain)
March 17: Poissy, Rennes, Sochaux (France), Zaragoza (Spain), Eisenach, Rüsselsheim (Germany), Ellesmere Port (United Kingdom), Gliwice (Poland)
March 18: Hordain (France), Vigo (Spain), Mangualde (Portugal)
March 19: Luton (United Kingdom), Trnava (Slovakia)
TOYOTA
After already suspending Toyota Motor Manufacturing France (TMMF) at Valenciennes, other shutdowns for the Toyota network in Europe are planned for:
March 18 Toyota Motor Manufacturing UK (TMUK) in Burnaston and Deeside
March 18 Toyota Motor Manufacturing Poland (TMMP) in Walbrzych and Jelcz-Laskowice
March 19 Toyota Peugeot Citroen Automobiles (TPCA) in Kolin, Czech Republic
March 21 Toyota Motor Manufacturing Turkey (TMMT) in Sakarya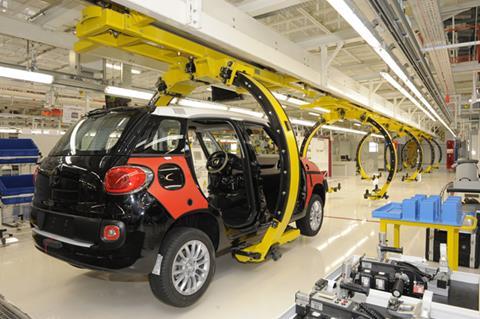 FCA
Both FCA Italy and Maserati will "temporarily suspend production across the majority of their European manufacturing plants." An updated production plan will be in effect until 27 March and will temporarily close the following plants in the meantime:
Italy: Melfi, G. Vico (Pomigliano), Cassino, Mirafiori Carrozzerie, Grugliasco, and Modena;
Serbia: Kragujevac
Poland: Tychy
The statement said that the Group will "make use of these stoppages to implement revisions to production and quality control protocols to benefit our customers and enhance overall productivity."
On 16 March, Ferrari suspended production at its Maranello and Modena in facilities until 27 March.
VOLKSWAGEN GROUP
Dr. Herbert Diess, Chairman of the VW's Board of Management, has released a statement announcing a halt in manufacturing across the group's European sites: "Given the present heightened uncertainty, production is to be suspended in the near future at factories operated by Group brands."
Diess confirmed interruptions in production for plants in Spain, at Setubal in Portugal, Bratislava in Slovakia and the Lamborghini and Ducati plants in Italy. In a separate announcement, Ducati said it had suspended production on Friday 13 March and the closure has been extended until 25 March.
Most of the VW Group's other German and European plants are currently preparing a production interruption, probably for two weeks.
VW confirmed that production in China has resumed, with the exception of the plants in Changsha and Urumqi.
A Skoda statement confirmed that it will close its Czech plants in Mladá Boleslav, Kvasiny and Vrchlabí for approximately two weeks.
As of 20 March, Bentley Motors will suspend production at its Crewe, UK, factory headquarters for four weeks. A Bentley statement confirmed: "Core business functions will continue throughout the shutdown with colleagues either based in Crewe, following social distancing policies, or working remotely. Production will not start again until 20 April."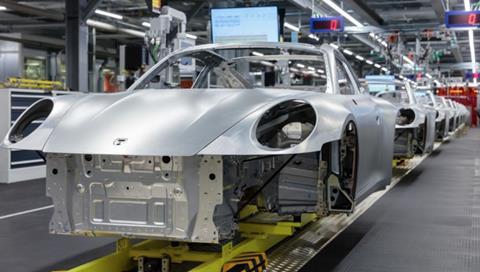 As of next week, Porsche will suspend production: parent factory Zuffenhausen as well as the Leipzig facility will close on Saturday 21 March "for an initial period of two weeks. The situation will be continuously re-assessed," Porsche confirmed in a statement.
FORD
Ford says it will temporarily suspend production at vehicle and engine plants in Europe from Thursday, 19 March. The OEM expects the shutdown to last for a number of weeks "depending on pandemic situation, national restrictions, supplier constraints and dealer stock requirements."
RENAULT
Groupe Renault has announced the cessation of production activities at its industrial sites in France "until further notice, depending on the evolution of the health situation." Renault suspended all 12 production activities at its French-based facilities on Monday 16 March, complying with measures taken by the French government. Renault said: "The Group plans to restart production activities as soon as conditions permit and will implement appropriate measures to respond effectively to commercial demand."
Dacia will stop shutdown production at the Mioveni plant in Romania from 19 March to April 5. The Romanian government declared a state of emergency earlier this week.
DAIMLER
Daimler has suspended the majority of its production in Europe, for an initial period of two weeks, the OEM said, in line with recommendations from authorities. Unable to maintain global supply chains at present, the OEM said the shutdown was a "proactive and proportionate decision to prepare for temporarily lower demand and to protect the company's financial strength." Daimler said management is monitoring the situation constantly and full operations will resume "when the situation improves."
BMW
Addressing the OEM's annual news conference in Munich, BMW CEO Oliver Zipse said the carmaker's plants in Europe and in Rosslyn, South Africa, will close until 19 April. Zipse remarked that the move was not only to protect BMW employees but also to adjust production in light of the global disruption and its effect on product demand.
Rolls-Royce Motor Cars will suspend production at the Goodwood manufacturing plant in the UK from Monday 23 March. The two-week shutdown will run into the pre-planned Easter maintenance closure.
HYUNDAI
HMMC, Hyundai's plant in Czech Republic was still operating as of Tuesday 17 March, however, the Czech press has reported delays in parts delivery and cancellation of shifts. Local sources say that the unions are keen for management to close the plant in line with other automotive factories in the country (see Skoda and TPCA) but no decision has yet been taken.
Update 20 March: Hyundai and Kia will suspend production at Czech and Slovak factories for two weeks from on Monday 23 March. National border closures throughout Europe has disrupted parts supply.
NISSAN
Plants in Barcelona were forced to halt production last Friday (13 March) and on Monday (16 March) week because of a parts shortage. The Sunderland plant in UK has now closed. A Nissan statement said: "Vehicle production has been suspended today in Nissan Sunderland Plant. Further measures are currently under study as we assess supply chain disruption and the sudden drop in market demand caused by the COVID-19 emergency."
JAGUAR LAND ROVER
JLR has annouced that its UK sites at Solihull, Castle Bromwich and Halewood "will all cease production until at least the week of April 20."
Jaguar Land Rover's plants in Brazil and India will continue operating, the announcement confirmed. JLR said: "The company's joint venture plant in China reopened in the week of 24 February as life begins to get back to normal in the country.
Local press in Slovakia reports that JLR's Nitra plant will suspend assembly lines at the end of this working week: "We will temporarily suspend vehicle production, with the last production day on Friday, March 20th. Activities related to the launch of Defender will continue to the necessary extent," JLR spokesperson Miroslava Remenárová said.
HONDA
Honda is suspending production at its factory in UK with the Swindon factory shutting after the last shift on 18 March. Honda hopes to resume production on 6 April but a resumption will depend on UK government advice, as well as supply conditions and the altered market situation. The facility is due to close permanently in 2021 as part of Honda's global restructuring.
VOLVO
A shortage of workers and advice from Belgian authorities has prompted Volvo to suspend production at its plant in Ghent until further notice. The Swedish factories – Torslanda, Skövde and Olofström – and US plant in South Carolina will be closed between 26 March and 14 April.