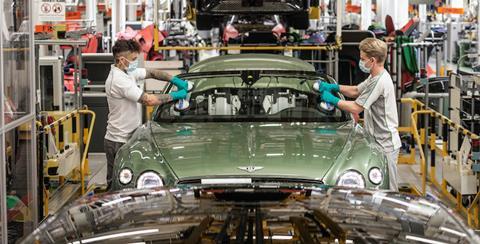 Bentley has set 11 May as the return date for production operations at its Crewe plant.
A comprehensive list of health protection measures will be in force as workers return to the production line. The factory in northwest England employs over 4,000 people working under Bentley's strong, hand-built ethos.
Adrian Hallmark, Bentley's chairman and CEO said: "The time is now right for Bentley to begin a gradual and controlled return to production, while ensuring our sites are the safest place any of us can be. Everybody will be able to play their part."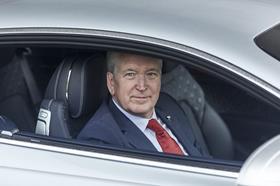 Bentley's new measures are based around seven key areas – prior to leaving work, travel, entry, preparing for work, work stations, breaks, and exiting the site.
The changes include reconfigurations in the manufacturing facility to allow a two-metre distances between work colleagues. One example, the vehicle production conveyors will be gapped, using only alternate skids, allowing workers room to operate and still maintain safe distance at the lineside.
"On the line, (there will be) massive change in the first few weeks," CEO Adrian Hallmark said.
"We think it will take us almost into summer to get back to anything like full production as long as everything stays stable until then."
There will also be different entrances at the plant with no touch required on any barriers or devices and plastic separation screens in office areas at the site, which employs over 4,000 people.
Face masks are compulsory in both the factory and office areas. Bentley is, therefore, providing face masks, gloves and goggles to its teams as necessary.
An enhanced cleaning routine is being implement and the workforce is receiving guidance on limiting the risk of infection during meetings and movement around the manufacturing areas.
Stringent new measures will control how workers come into contact with each other. Entrances and exits have been redesigned to disperse groups more safely. Controls are in place across all catering facilities to limit capacity and seating is allocated to ensure safe distancing.
A return to work guide, which covers all new hygiene and social distancing measures, is being sent to the home addresses of all employees. Bentley's employee app now features an airline-style instructional video explaining and demonstrating the changes assembly lines staff can expect to see on their return to the plant.
Bentley anticipates full production can resume on 18 May.