CEO Adrian Hallmark has led Bentley since February 2018 when he returned to the company he originally left back in 2005 as sales and marketing director. He remained in the VW Group before leaving for a seven-year stretch at Jaguar Land Rover. He retook the reigns in a dark time, presiding over the company's first loss in seven years, but as he tells AMS, he is making changes at the plant to make it more cost effective and planning for an electric future.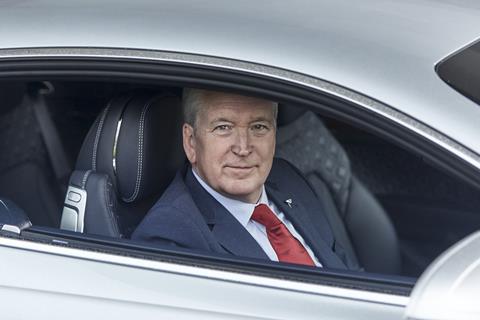 The VW annual report mentioned you had reduced costs, how was that achieved?
We've made big changes to our overhead structure and taken costs out, left, right and centre without affecting the core business. We've made a massive effort on lean and that's flowing through. It means that we can actually grow the volume and models in without increasing headcount. And we've also set the challenge to the whole organisation to do two things. One is to totally reengineer the way we do things.
We were buying the finest pieces of leather on earth and then throwing 45% of it away. We optimised algorithms on the cutting machines and now got the utilisation to over 75% – if we can get to 80% that's hundreds of pounds saved per car.

Adrian Hallmark, CEO Bentley
How have you managed that?
We've done a process optimisation activity with Porsche Consulting. They were the ones that originated the Porsche turnaround story in the 1990s. We challenged the whole organisation to think differently and now the whole workforce is pulling together and saving money wherever they can with hundreds of initiatives. The typical restructuring, top down to start with, defined what needs to get done at the big picture level and address it, particularly on the hours-per-vehicle. We've improved the takt time from over 12 minutes to nine minutes on all of the lines and in paintshop and in trimshops.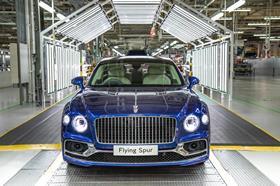 What was the second challenge?
We've had a big material cost reduction exercise, which will not affect the customer or the finished product aesthetically or functionally. We've taken lots of waste out of the supply chain. The material cost methodology has been strong as well. We've had support from outside with that too.
Was that a case of asking suppliers to reduce cost?
A lot of it isn't about challenging suppliers, actually. For example, we were buying the finest pieces of leather on earth and then throwing 45% of it away. So we made a detailed analysis of this scanning defect identification and optimised algorithms on the cutting machines. We've now got the utilisation to over 75%. If we can get to 80% that's hundreds of pounds saved per car.
Secondly we would only use pure, defect-free leather on any part. One of the biggest pieces of leather is on the back rest of the seat, and half of that is under a book tray, so we were hiding bits of defect-free leather that costs a lot per square metre. We're now saying it's okay to have a defect invisible to the human eye. That isn't going back to the supplier negotiating the cost of leather. That's looking at the process.
And yes, we've also got an arm wrestle with suppliers where we've looked at multiple parts. But I think most of the potential we have found is because we've been imprecise with our specification or we've over specified. And that has been another big lever.
You've acquired a lot of land across the road from the site. What do you plan to do with it?
There are two levels of expansion we need. One is to upgrade and professionalise what we do today and two is to prepare for new products and new technologies. And they're two very different drivers and then they're slightly different timescales.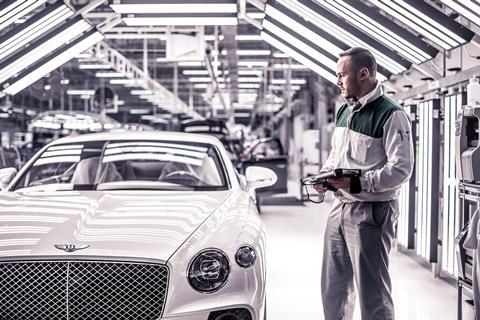 Kicking off first will be incremental workshop space, essentially. We plan to move the pilot hall and engineering workshops where we build prototypes and do materials testing. Now they're in the oldest, dimly lit buildings you can imagine. We could clear them out of where they are and use that for things like end-of-production final checks. That's phase one. We have planning permission for 90% of what we want to do over the road.
And phase 2, what does that involve?
It's all about electrification. We've held back because it's been about getting the company straight, getting it profitable and having a clear view of when the right time would be to bring the first fully electric cars to the market from Bentley. The earliest we can see that we can get a credible battery electric Bentley is in the mid 2020s. So we've said 2025 is our ambition. And so the next phase of our investment would be linked to that electrification of Bentley.
You'd need a separate production hall for that?
We can already build more than one type of vehicle on our two lines. The complexity is more about the powertrain. You need to put the batteries into the cars rather than the engine. You'd need to have a completely different facility to store huge amounts of high voltage batteries. And you need to feed into the line. Whether we do it on the same line or whether we have supplementary build areas which bring in subcomponents in a different way, we're still working on that. But it doesn't mean a full new separate line. The space we need is for battery assembly, and battery integration into the cars.
To download the full AMS January-March 2020 digital magazine click here.