General Motors is readying its Kokomo electronics components facility and training staff to begin volume production of Ventec Life Systems' critical care ventilators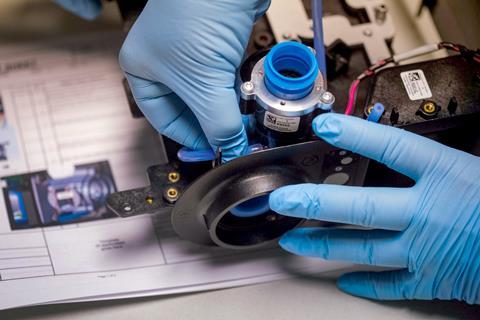 GM says it is actively training its employees at the plant in the extensive screening, cleaning and other CDC-recommended procedures that will be in place when production begins in mid-April.
The OEM highlighted some of the measures being put place. Everyone arriving for work will be required to sanitise their hands immediately upon arrival and have their temperature checked with a non-contact thermometer before entering the job site. Medical-grade protective masks (some produced at GM's Warren, Michigan facility) will have to worn by all staff during their shift.
In the work place each workstation will be manned by one person, and be spaced at least six feet apart, and signage throughout the facility will remind team members to practice social distancing. Cleaning crews will clean and sanitise common touch surfaces such as door handles, as well as common areas, at least three times per shift, and there will also be a 30-minute interval between shifts to allow employees to clean their workstations when they arrive and again before they leave.
Initial production will begin with one shift, with second and third shifts added soon thereafter. Each shift will enter and exit through a different door to minimise social contact. The production team, which will reach more than 1,000, includes people who already work for GM and new hires from the Kokomo area.
Gerald Johnson, GM executive vice president, Global Manufacturing said: "People have moved mountains to help increase production of Ventec's critical care ventilator and we are just weeks away from delivering these lifesaving devices. I have never seen anything like it in my career."
Terry Dittes, vice president, UAW-GM Department said. "The UAW has worked with GM to put in place stringent CDC health and safety protocols. Our goal is to make sure that each and every day, people return home to their families and communities safe and healthy."