Kia has had to halt the assembly lines two weeks after restarting them, demonstrating the challenges that OEMs face in restarting vehicle production during the ongoing lockdown and coronavirus crisis.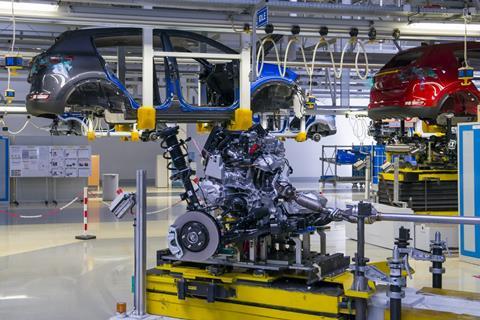 Kia, which had been the first vehicle manufacturer in the EU to resume vehicle assembly amidst the coronavirus lockdown, has temporarily suspended output at its plant once again in Zilina, Slovakia with the factory expected to encounter issues with components.
The plant, Kia's only factory in Europe, shutdown on April 20th, and will resume output on April 24th, a Kia official confirmed to AMS. The stoppage is because of an anticipated interruption to parts supply, he said.
Kia had restarted the Zilina plant on April 6th following a two-week shutdown. It was the first major vehicle manufacturer in Europe to restart production, with most carmakers halting lines in March following the imposition of lockdowns to stem the rise of the coronavirus. A number of OEMs in Europe have resumed some production this week, including Volkswagen Group, Daimler and Volvo Cars, with more expected to restart in May.
Kia had resumed operations at lower output, moving from three to two shifts in part to accommodate social distancing requirements and other measures to protect workers from possible infection.
Slovakia, along with a number of other countries in central and eastern Europe, has had one of the lower levels of coronavirus infections in Europe. According to Kia Motors Slovakia, none of its employees had contracted the disease as of April 15th.
However, the restart at the Zilina plant, which builds the Ceed and Sportage SUV, was always set to be precarious based on limits to demand and supply. At the time of reopening, Kia said production of certain model specifications would be adapted based on the supply of parts. This implied that producing more complex model types could be restricted.
Along with supplier issues, Kia was also likely to face production disruptions from highly reduced demand. Vehicle sales in Europe dropped by more than 50% in March compared to the same month in 2019 as the impacts of the crisis were felt. According the latest estimates from ECG Business Intelligence – a partnership with Automotive from Ultima Media and AMS – European demand could drop by 90% or more in April, and similarly in the following months depending on how long lockdown restrictions remained in place. In the forecasted worst-case scenario, European vehicle sales and production could fall by 30% in 2020 compared to last year.
Shortly after reopening its plant in Slovakia, Kia was reported to be considered halting output at its plants in South Korea mainly in response to the collapse in demand in Europe, North America and other markets under lockdown.
Kia confirmed that it would resume output in Zilina on April 24th on two shifts. Sister company Hyundai restarted assembly at its plant in Nosovice, in the Czech Republic on April 14th, a plant which swaps powertrain components with Zilina. The company has not yet confirmed any impact to production.
Other manufacturers in Europe have taken a slower approach to restarting output. Sources told AMS that they had been watching Kia carefully, and that its supply issues confirmed the need to start cautiously.
This week and next, however, manufacturers including Volkswagen Group, Mercedes-Benz, Toyota and Volvo Cars have begun restarting more European component and assembly plants.
Others, including Ford, BMW and FCA, were planning to resume more production in May. In most cases, additional safety, disinfection and distancing requirements are being implemented, as well as increased levels of personal protective equipment.
Supply chain and manufacturing executives admit that the production restarts could be subject to further disruption and delays depending supply, logistics and demand. ""Obviously we will not restart if the local restrictions remain," Ford Europe purchasing and supply chain director Sue Slaughter told Automotive Logistics earlier this month. "Likewise, we know every plant will restart in a reduced manner as we have to ensure the safety of our workers. We need to move workstations so they are at least two metres apart and put screens in place and masks."