The plant in Wörth will become the centre for emission-free transport within the Mercedes-Benz truck production network. Daimler Truck says it will continue to invest in the location in the coming years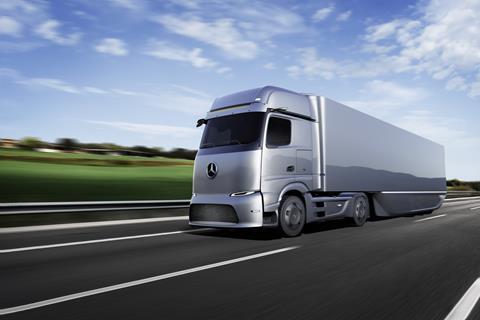 The OEM says that the plant will be producing a range of trucks with CO2-neutral drive systems in the future, including the eEconic starting next year and the battery-electric eActros LongHaul that will follow from the middle of the decade. The standard version of the eActros will start series production there in October 2021.
As part of this plan Daimler says it is putting new assembly processes in place at Wörth for the production of trucks with alternative drive systems and also preparing the workforce to work on these systems. Since 2018, around 2,000 employees have gained further qualifications in the handling of high-voltage vehicles and components at the site's training and development centre. As it transitions toward CO2-neutral trucks, Daimler says it is focusing on two all-electric drive technologies: Battery and hydrogen-based fuel-cell.
At this point Wörth will continue to produce ICE powered truck alongside the new EV and fuel cell models. The OEM says its fullflex concept makes it possible to integrate zero-emission trucks into existing production. In addition, the plant is currently preparing to increase production capacity in line with increased demand, switching from two-shift to three-shift operation before the end of this year.
Commenting on the plant's new strategic orientation Sven Gräble, head of Mercedes-Benz Trucks Operations, says: " Wörth is becoming the hub for the transport of the future in the Mercedes-Benz truck production network. We are bundling our technological know-how with fully flexible and thus even more efficient production, and all of this in a CO2-neutral, digitalized factory with corresponding logistics and infrastructure."