Mercedes-Benz German plants will begin production of central components for the battery-electric eActros, the company revealed
At Gaggenau, Kassel and Mannheim, parts including the e-axle and the battery packs, will be manufactured and assembled for use in the in the series production of the eActros, beginning on 7 October 2021 at the Mercedes-Benz plant in Wörth.
Specifically, the Mannheim site has begun to put together the 2.20 metre longe battery packs for the upcoming electric truck. Before the modules become part of an operational pack, they are first installed into a metal housing and then connected to other components such as busbars, control systems and wires.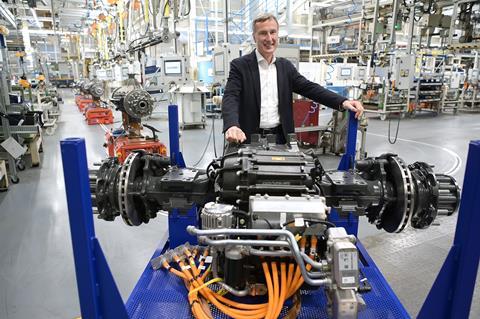 The plant in Kassel is assembling the electric axles, the electric motor and the shiftable transmission elements. Once the core axle is pre-assembled, the entire drive unit, including the two-stage transmission, is attached to the axle. Before the electric axle is prepared for shipment, function and high-voltage tests are carried out. These tests especially examine electrical safety and noise properties.
In Gaggenau, the associated transmission components will be manufactured. The parts are made as precisely as possible and specified to extremely tight tolerances. This is necessary in order to ensure the electric axle works perfectly and has sufficient noise properties.
"The launch of component production for the first series-produced all-electric truck bearing the Mercedes star is of great significance for us. Because of our battery packs, electric axle and drive system components, we are extensively involved in making the eActros a vehicle of Mercedes-Benz quality that will be locally carbon neutral out on the road," said Yaris Pürsün, head of Global Powertrain Operations Daimler Truck.
"Our first series-produced all-electric truck from Mercedes-Benz thus has impressive inner values because key components are produced at our German locations in accordance with top quality standards. This is ushering in a new era for the production and technology network of our German powertrain plants," he added.
Four near-series units of the electric truck will enter operation prior to the imminent start of series production of the eActros on 7 October. Three vehicles are in shuttle service for Logistik Schmitt, a company located the northern Black Forest, and for food logistics companies Simon Loos in the Netherlands and Tevex Logistics in North Rhine-Westphalia. Another eActros is in the pipeline for use as a waste collection vehicle annd is planned for Remondis.