The Wörth plant will begin series production of the battery-electric eActros truck alongside the existing manufacture of ICE vehicles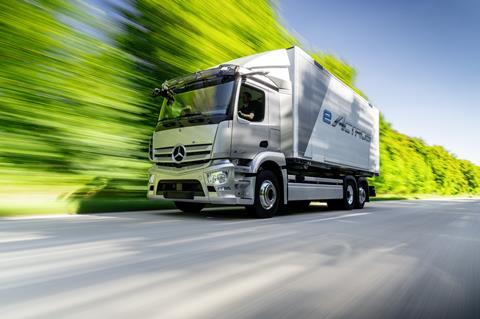 Mercedes says the construction of the different vehicle types (EV and ICE) should in principle be integrated as far as possible, with the basic vehicle structure being built on one line regardless of the type of powertrain. Work has been going on to convert building 75 at the plant and prepare it for the new production processes. This will see a new assembly line for the assembly of the electrical architecture of the eActros, in particular the high-voltage components; following this process the vehicles will be fed back into the regular production operation for finishing and final inspection.
From 2022, the battery-electric eEconic model will also be produced at Wörth. Both vehicles benefit from the OEM's global platform strategy for trucks and buses helping to extend the series production of the electric models. Production in Wörth will also be CO2-neutral.
Matthias Jurytko, head of the plant in Wörth said: "I'm delighted that we will be building the first generation of the Mercedes-Benz eActros here at Wörth. The start of series production next year is an important milestone for the plant and the region. We are expanding the portfolio of the Wörth plant and taking another positive step in the direction of CO2-neutral transport." Electromobility will also open up new opportunities for employees in the production process, as new a range of tasks and job profiles will emerge as a result. According to Matthias Jurytko: "At the site, preparations are in full swing to get our production ready for the demands associated with electric drive systems. For example, we are currently training our future specialists in the field of high-voltage systems – a fundamental area of expertise as far as the assembly of automotive batteries and the construction of electric trucks is concerned."