Challenges lie ahead as electric vehicle development accelerates. Renishaw is supporting its global customers with fast, flexible and future-proof solutions
Almost all automotive OEMs are planning to introduce or increase production of new-energy vehicles, but the journey from internal combustion engine (ICE) to electric vehicle (EV) might be shorter than previously thought, due to significant progress in Asia prompting the rest of the world into action. For global carmakers, this will result in new, and often unexpected, design challenges – not to mention a major shift in manufacturing practices.
Between conventional ICE and full battery EV, industry will see a marked increase in the design iterations of hybrid vehicles (from ICE through hybrid electric vehicles, plug-in hybrid electric vehicles and on to battery electric vehicles) as designs are continually refined. For example, motors must be increasingly compact and lightweight for higher performance and lower consumption. Designs that fall by the wayside are no reflection on the engineers' ability to produce suitable solutions, they're the expected result of rapidly changing market dynamics, government regulations, and customer perceptions on the road to an EV future.
Renishaw: manufacturing, it's our business
To reach the exacting quality requirements of the automotive industry, the measurement equipment you use must produce highly precise and repeatable results. Precision engineering and manufacturing technology specialist Renishaw has become a recognised standard in automotive manufacturing due to the speed, flexibility and ease-of-use offered by its industrial metrology products.
However, as a manufacturer itself, Renishaw understands that to truly transform operations, companies also need the ability to identify and control sources of process variation before, during and after machining. Renishaw's decades of experience in automated manufacturing and process control have helped its global customers to develop smarter processes for improved capability and productivity.
While many of the conventional ICE components, for which Renishaw solutions are now used, will remain for EVs, the next wave of componentry will require new and innovative manufacturing and inspection techniques. From multi-sensor rapid scanning of machined casings to material analysis of fuel cells, Renishaw is supporting its customers on the road from ICE through to hybrid and EV.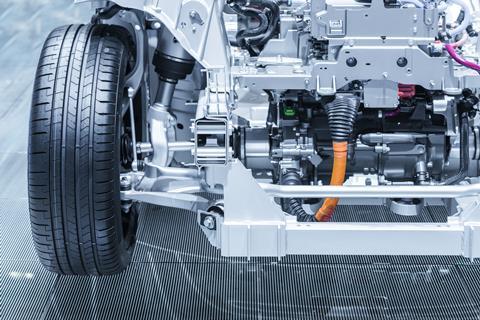 EV key components
Automotive R&D is increasingly focused on new propulsion technologies for the next generation of hybrid and electric vehicles. At the heart of EV product development is the pursuit of extended range through motor efficiency and battery effectiveness, both of which rely on highly precise component quality. Renishaw's multi-sensor capabilities on CMMs (coordinate measuring machines) allow the measurement of part dimensions and surface finish in one operation for enhanced flexibility, throughput and precision.
Also pushing the boundaries of EV and hybrid engine transmission component design, are ever changing emissions targets and fuel efficiency requirements. They are driving a major shift in automotive manufacturing practices, which is resulting in an increasingly iterative design path. Renishaw's fast and flexible metrology solutions are helping its customers to meet the exacting standards of automotive, today and tomorrow.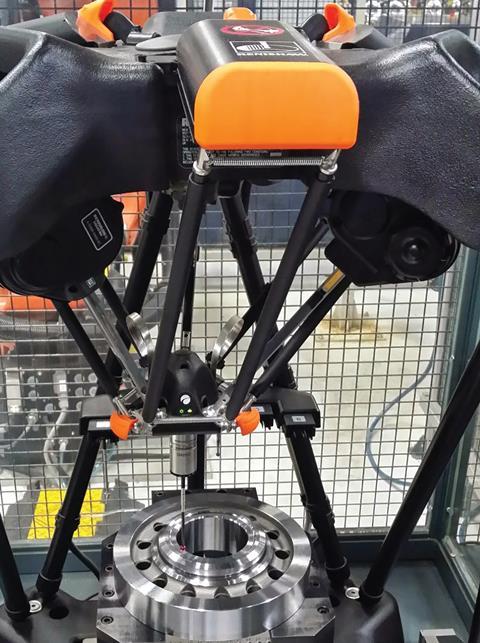 Equator in-line gauging: flexibility for a dynamic industry
The faster pace of EV product design requires manufacturers to adapt their design and inspection technologies with speed and flexibility in mind. Not only are tier one and two suppliers required to design many iterations of similar components quickly and repeatedly, but they are also expected to inspect those parts to meet the critical quality requirements demanded of this industry.
Conventional automotive gauging requires fixed setups, custom built for specific components. If the design of a part requires continual modification, such gauges are both costly to replace and take time to rebuild. To stay ahead of the EV design curve, Renishaw's customers are using its Equator gauging system for flexible in-line gauging at the point of manufacture. Unlike traditional gauging setups, Equator can quickly be redeployed/reconfigured to inspect EV and hybrid engine and transmission components by simply reprogramming the IPC (Intelligent Process Control) software.
The Equator gauging system and IPC can be integrated as part of a highly automated cell or as a flexible gauging station on the shop floor to improve manufacturing capability. IPC constantly monitors and automatically adjusts machining operations to keep part dimensions within process control limits.
Take the EV's simplified gearbox, for example. Whereas an internal combustion engine would mask noise from the gearbox, an EV requires higher precision gears, manufactured with the reduction of noise vibration and harshness in mind. Equator gauging is helping to control gearbox component tolerances for reduced noise, and improved efficiency and reliability.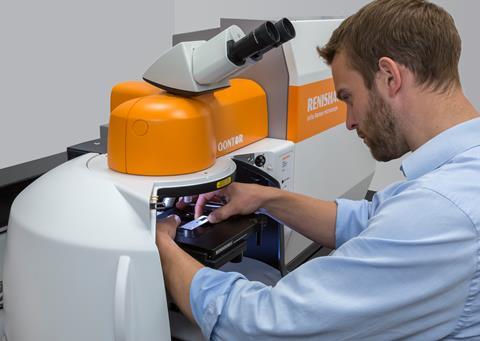 Batteries: The Raman Effect
The defining objective of EV R&D is to get the maximum performance out of the battery. Renishaw can help ensure a motor's components are manufactured with high precision for optimum efficiency, and therefore optimum range, between charges. However, when it comes to ensuring that the battery itself performs as effectively as possible, Renishaw can also support this key area of R&D. Its Raman spectroscopy systems can be used to better understand the chemical and structural make-up of materials. By monitoring and imaging battery material chemistry under a range of operating conditions, such as fast-charging and extremes of temperature, scientists can see how the battery reacts and then work out how to improve its efficiency. The Raman technique involves illuminating the sample with a laser and analysing the scattered light. Renishaw's inVia confocal Raman microscope is perfect for battery studies, ranging from fundamental work on the materials involved through to final product failure analysis.
REVO 5-axis probing: multi-sensor capabilities
Renishaw's portfolio of industrial metrology products can be used to inspect a wide range of vehicle components at various stages of the manufacturing process. The industry players who will lead the way will be those equipped to evolve the design and measurement of their parts from yesterday's ICE, through the hybrid years, and onto the pure electrified vehicles of tomorrow.
Now a staple of automotive manufacturing, Renishaw's REVO 5-axis CMM inspection technology with multi-sensor capabilities rapidly scans parts, measuring form and surface finish, on a single integrated platform. By minimising the movement of components between inspection platforms, the risk of damage to parts also reduces. Surface finish and close control of dimensional tolerances are key quality requirements for the EV's gearbox casings. All the advantages that REVO has offered conventional ICE manufacture in the past will also be true throughout the hybrid journey, all the way to battery EV.
Fast, flexible, future-proof
The successful EV manufacturers will be those who operate with the flexibility to adapt and test their designs and manufacturing processes quickly and repeatably. Renishaw provides industrial metrology solutions and material analysis techniques (see Batteries: The Raman Effect) that support the EV engineering journey from ICE to pure electrification – with key stopovers in hybrid territory. Renishaw technology has become the standard in conventional automotive manufacture due to the speed and flexibility offered by its metrology products. And with the help of Renishaw's multi-sensor capabilities, its global customers will be able to future-proof their technologies. Renishaw's unique portfolio of design and manufacturing solutions offers them the flexibility and confidence to navigate the journey ahead.