Aluminium is an important part of the multi-material mix that will form the body and chassis structures of the next generation of electric vehicles. Nick Holt reports on the welding challenges and technologies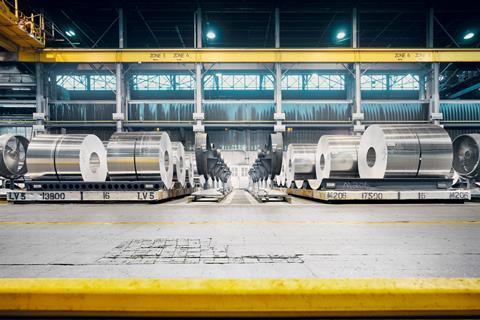 Light weighting is arguably more of a priority for battery electric vehicles (BEVs) than it has been for conventional internal combustion powered models and this is in no small part due to the fixed weight of the battery packs. OEMs and tier suppliers see aluminium as part of the solution to the weight challenge but they also need to be equipped to utilise this material in high volume production. Developers and producers of industrial welding systems, supplying the automotive market, have seen an increase in demand for aluminium welding equipment in recent years. Frank Schneider, sales manager Welding Products & Key Account Automotive at Carl Cloos, concurred that "aluminium is ideal here as this material can be optimally profiled and processed. So, the demand for aluminium welding technologies is continuously increasing."
In the context of EVs, aluminium continues play an important role in vehicle body and chassis structures, but there has been a particular focus on the design and production of the battery trays. A seemingly simple component these enclosures pose a number of engineering challenges, not least the need to provide significant structural strength in the event of an accident, as well as being lightweight. Jürgen Bruckner, head of Global Key Account Management Automotive, at Fronius noted: "We do see an increase in the demand for aluminium welding – mainly for welding battery trays."
Controlled heat is a requirement for good results
Welding aluminium in high-volume vehicle production is not without its challenges. If you consider the vehicle body, in the past the speed and volume of spot welds achieved for steel bodies has been difficult to match when this technique has been applied to aluminium; although there are now technologies that allow this technique to achieve good speed and quality of spot weld on aluminium parts. Beyond spot welding OEMs and tier suppliers have other considerations to contend with. Jürgen Bruckner said: "The welding of aluminium presents several challenges. It does not act like steel, guiding the heat flow and controlling distortion is much more challenging. Especially when it comes to welding bigger parts like battery trays or when welding die casts. Moreover, aluminium has to be welded in clean, dry environment, which can be challenging in a production environment".
The use of cast aluminium parts does present an additional joining challenge and recently Tesla announced that they will be using very large, single piece, cast aluminium units for the front and rear vehicle sections, as the company seeks to improve its process.
Frank Schneider added: "Aluminium is a demanding material. In addition, special demands are made on the weld surface and appearance in the automotive sector. Therefore, an optimised heat input is of essential importance for good welding results. Spatter and component distortion can be minimised. In addition to pure aluminium materials, there is also a wide variety of different materials. Mixed connections of aluminium and steel bring new challenges for the welding process".
Developing multiple weld processes to meet materials challenges
To meet the increasing demand for improved aluminium welding operations, existing processes have further developed and refined to offer great control over the weld process. Dr Stephan Egerland of the Technology Publication Board at Fronius offered some examples of these developments: "Arc welding processes and its variants are consistently evolving. Laser-MIG-Hybrid Welding (LHW), especially for structural components, but also single wire or tandem wire MIG processes, both with (CMT or CMT Tandem) or without reversing electrodes, are at the cutting edge of the development chain. The latter preferentially find application because they allow the user to raise productivity, whilst process control and parameter adjustment are easy to deploy for the process user, applying custom made synergic lines, specifically tailored for the application on hand. That finally allows arc welding processes to also be ahead of interesting developments in thermal aluminium joining.
"Considering aluminium welding holistically, it has to mentioned that interesting developments can also be recognised in the fields of resistance spot welding (RSW) and friction stir welding (FSW). For example, advanced RSW is being implemented using conventional copper electrodes and where structural parts, such as battery trays, are concerned, FSW finds meaningful application, showing acceptable results economically and qualitatively.
"However, practices show that part complexity (e.g. cast- paired with wrought parent materials) and quantitative requirements, often demand combinations of more than just one single joining process in order to produce the parts successfully."
"Though at the very beginning yet in this field, digitisation in welding and joining is raising its impact. Not only in aluminium welding, digitally controlled arc processes permit the user to beneficially implement the welding system in to a superimposed environment…" – Dr Stephan Egerland, Fronius
Big data and digitalisation refine the welding process
As noted, refined control of the weld process is critical for efficiency and quality, and the digitalisation of the process is proving invaluable. "Industry 4.0 is fundamentally an important topic and has a major influence on welding technology," noted Schneider. Cloos has developed a system to gather and process the data from welding operations, offering greater visibility and control over the process. Schneider pointed out that there are other benefits to the digitalisation of operations: "Smaller companies and workshops in particular are facing new challenges in aluminium applications. On the one hand, they need other machines. On the other hand, the personnel must have the necessary skills. Digitisation also considerably simplifies the training of employees."
Egerland concurred: "Though at an early stage in this field, digitisation in welding and joining is making an impact. Not only in aluminium welding, digitally controlled arc processes permit the user to beneficially implement the welding system in to a superimposed environment. This helps companies to achieve end-to-end process control, comprehensive documentation capabilities, and continuous process improvement." And in relation to improving the service and maintenance of welding systems he added: "Having a complete documentation system available, tailormade to the welding system applied, mainly in robotic arc welding, the user may easily adjust system maintenance intervals by achieving thorough analyses from the process data collected throughout the specific weld sequence. Hence, combining advanced welding processes with peripheral system tools e.g. for deriving meaningful fabrication analysis, has significantly improved the entire maintenance and service environment – especially where aluminium is involved".
"Lightweight construction will continue to play an important role in the electric vehicle sector in the future. In addition, there are more and more 3D printed components. This results in new challenges for welding…" – Frank Schneider, Carl Cloos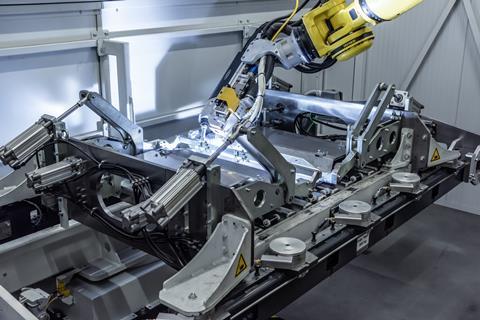 What are the next big development steps in this area?
Going forward, the shift to electric vehicle production, along with a greater need for efficiency and reduced costs, will further influence developments in aluminium welding. Frank Schneider noted: "Lightweight construction will continue to play an important role in the electric vehicle sector in the future. In addition, there are more and more 3D printed components. This results in new challenges for welding. In addition, the demands on quality, productivity and economy are increasing. Therefore, even more precise monitoring systems and sensor technologies are required to detect deviations at an early stage. Combinations of different welding processes will also become increasingly important in the future."