The expansion of the tool shop paves the way to produce more Lamborghini and Bentley models as well as some exclusive Audi cars.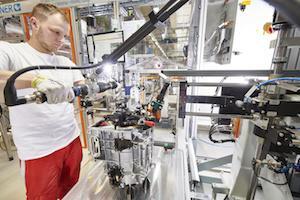 Audi has expanded its tool shop in Győr, Hungary, by 6,300 square meters paving the way for increased production of Lamborghini and Bentley models as well as more Audi models, the automaker said.
The tool shop, which employs around 700 people, produces tools, appliances and equipment. It has expanded its product and service portfolio to include manufacturing simulation, design and manufacture of production equipment and exclusive series production of body parts, Audi said.
The site which now covers 58,300 square metres, has a highly flexible press line, laser cutting equipment and flexible robot cells.
"Our investment in the expansion of the tool shop testifies our commitment to the production site in Győr. We have invested a double-digit euro million amount in this project, which we have successfully carried out over the past two years," said Gerd Walker, Audi's head of Production and Logistics and Audi Hungaria's chairman of the board.
Aluminum is the main material used for highly complex body parts in exclusive series production, such as tailgates, bonnets, doors, fenders, roofs and side panels. The experience and expertise gained over many years in exclusive series production in Győr benefits the premium brands of the brand group: Audi, Lamborghini and Bentley.