Digital over physical: Audi is making progress in production through virtual reality, AI and software prototype builds, modular assembly, quality control and energy conservation. AMS gets a tour of manufacturing digitalisation in Ingolstadt, and learns what keeps production chief Gerd Walker up at night.
It's a mesmerising sight to watch the stamping press at Audi's Ingolstadt plant thunder down with 3,800 tonnes of force onto a metal sheet before retracting to reveal a pristine car door while the machine spits metal off-cuts into a pit below.
A robotic arm has only a few seconds to retrieve the new body part while more sheet steel is fed in and the press descends again.
But during a July demonstration of its latest innovations in manufacturing, Audi's focus was much more on the virtual than the physical, with digital technology now at the heart of the automaker's path forward – and key to its ambition of halving the cost of running its factories in 10 years.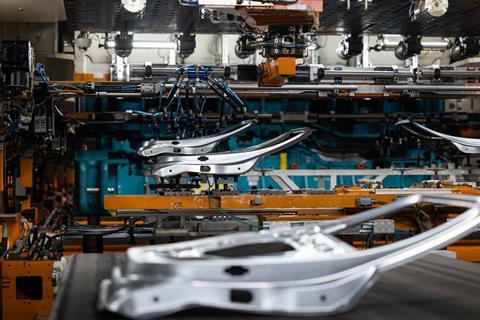 When it comes to manufacturing at Audi in 2022, the software developer is now the custodian of the time-honoured mantra Vorsprung durch Technik – or leaping ahead through technology. And this digitalisation will be essential to Audi adapting to rapid changes in its production.
"Flexibility is something that really keeps us awake at night," said Audi boardmember for production and logistics Gerd Walker. "Virtual reality will also really see us head into uncharted territories starting with a first plant planned on a computer to the first car virtually designed.
"(Flexibility) refers to speed of processes but also to management and how quickly we can change to new products," added Walker.
And managing change will be essential, especially in the shift to electrification. Audi is planning a deluge of new EV models, including at Ingolstadt, which will start producing its first electric vehicle next year, the Q6 e-tron SUV. The company has announced that it will introduce only EVs to its range starting from 2026 and Ingolstadt will produce only zero emission cars from 2028. Audi's plants in Neckarsulm, Germany, Gyor, Hungary and San José Chiapa, Mexico will follow suit in the years to come based on local conditions.
"Flexibility is something that really keeps us awake at night…it the speed of processes but also management and how quickly we can change to new products."
-Gerd Walker, Audi
Virtual prototypes
To make this electric leap, Walker and his team expect to benefit from digital advances in manufacturing. During Audi's Tech Day, it opened its doors to show reporters new production and IT technologies in development or already in use. Manufacturing executives suggest that these systems will give Audi and the Volkswagen Group more broadly a competitive edge in one of the most challenging decades in the history of the car industry.
The visit took in the display room where key decisions are taken on forthcoming models. Here managers gather at a 'Power Wall' screen (pictured) to discuss the styling attributes and potential manufacturing challenges of a design. They can debate headlight shape for example, swapping between different potential designs on the car at the click of a button.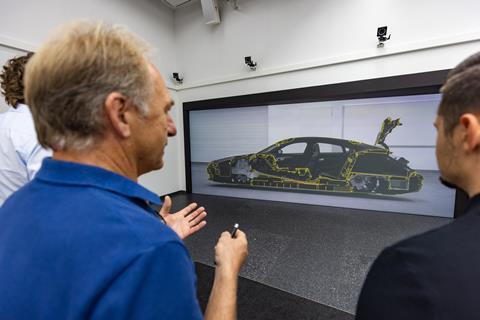 The system reduces the need to produce physical prototypes and critical early-stage input can be gathered from colleagues at Audi sites in other countries joining remotely, enabling any tooling limitations to be factored in from the outset.
The use of virtual reality goggles makes it possible to simulate sitting inside the car to inspect dashboard layout and cabin finish while giving a sense of its proportions.
Rather than a technological breakthrough, these computerised visualisations are instead a vastly more powerful iteration of a graphics technology that has been steadily improved over 25 years of use at the carmaker.
Gamification of the garage
Virtual simulations are also finding new applications in assembly planning. Andres Kohler, Audi head virtual assembly planning, donned a pair of goggles to virtually fit rear light clusters to an Audi estate car. As observers watched the movements of his hands through the air advance the cluster installation on the screen, a continuous red line traced his steps, totting up the number of meters walked back and forth from a workbench to the car to collect the clusters and tools.
That metric gives planners a basis upon which to re-think the task and shopfloor layout to cut time and effort involved. It has already been used in the development of the e-tron GT and the technology has also been transferred for use at Volkswagen.
"It takes a while to get used to it and motion sickness can happen," Kohler said. "We developed this software ourselves and we're collaborating to take it forward."
The same thinking lies at the heart of a pilot program for modular production that makes use of autonomous guided vehicles (AGVs), also known as AMRs, to streamline some pre-assembly processes, such as fitment of optional extras, a step that has long-defied improvements in efficiency in line assembly.
This program, under development by Wolfgang Kern an Audi product manager who studied modular production first as a PhD project, could proceed to series production by 2025 starting with a forthcoming model, with potential to expand to more of the range and other VW Group brands.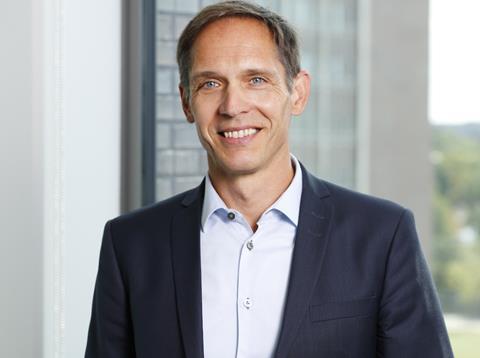 A microscope for energy management
Energy consumption has shot up the list of priorities for efficiency gains as Europe's leading industrial state grapples with the prospect of even more tightly restricted supplies of gas from Russia, which many fear could turn off the taps to Germany and Europe altogether this winter. It's an issue Audi is monitoring closely through close contact with the energy industry.
Energy use of plants like Ingolstadt is enormous. Each of Ingolstadt's five stamping presses, which shape several dozen kilometres of rolled steel into car bodies each day, consumes 3m kilowatt hours (KWh) of power a year, the same amount consumed by about 800 homes or collectively that of a small town.
On the factory floor, a data analyst demonstrated a computer program which charts electricity consumption at Ingolstadt. The software makes it possible to track energy consumption over time with graphs that make it simple to investigate spikes in consumption by identifying the equipment involved and date and time of the surge.
"We are setting up an automated warning system to alert us to anomalies. This is the next step to deal with excess consumption," said Friedrich-Uwe Tontsch, data dnalyst in energy management.
An example of this system's effectiveness is the uncovering of sub-optimal settings for ventilation systems at the plant, which have resulted in a €190,000 ($193,000) financial saving while the energy saved will facilitate a switch to renewables to meet a VW Group 2050 carbon neutrality target. The potential savings have made it worthwhile for Audi to dedicate three workers to the task of analysing energy consumption with this system.
Gerd Walker stressed to AMS the importance of Audi shows its workers that it cares about reducing emissions and energy, as it is increasingly an important criteria in how these employees view the company. "Decarbonisation is really important in society and our workers think the same so it's really important to have an employer that is thinking about greener solutions, greener cars and products," he said.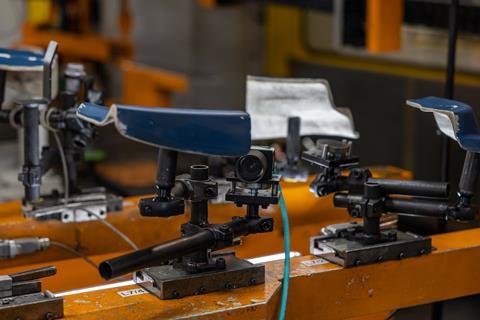 Crack detection
Digital solutions are finding new applications for stamping and press shop too, as Audi uses software to process images taken as panels leave the press and to detect cracks in the steel through an artificial intelligence-based algorithm. Such a defect has become a bigger risk amid a trend for sharper creases in car doors and wings.
Panels are illuminated and photographed as they are mechanically retrieved from the press. The images are analysed by software for defects which are then displayed on a screen, circled in red. Operators can then investigate further if the flaw starts to recur.
The artificial intelligence element of the system is indifferent to variance in lighting conditions that could previously have resulted in a crack going undetected until further down the production line.
At the carmaker's P-Lab, a production and IT innovation centre in Ingolstadt, Audi has been trialling the use of a server-based system to automate the control of worker flows in cycle-based production. Following its success, it is now using a mixture of centralised and local servers for its assembly line in Böllinger Höfe, part of its plant in Neckarsulm, to replace expensive industrial PCs.
"We have to communicate more because we have a lot of technology, a lot of products, a lot of methods which are worth talking about. I think it's a little bit easier to talk about the product and car itself for engineers, but production is really interesting."
-Gerd Walker, Audi
The system, known as Edge 4 Cloud Production, helps control spikes in demand, and will help make change management more efficient as Audi would just need to update or replace software applications rather than buying new hardware, something production chief Gerd Walker heralded as a "revolution".
If the servers prove to be reliable, Audi executives suggest that this type of automation could be rolled out in serial production across the entire Volkswagen Group. According to Henning Löser, who heads up the P-Lab, such software-based IT infrastructures are already proven in data processing centres, and he's convinced they will be robust enough to hold up in production.
Audi is determined that more of these innovations in digital production are discussed and understood across the company and the industry. Gerd Walker admitted that the integration of virtual reality and software can create challenges in company-wide discussion of processes that have traditionally been more physical and tangible.
"We have to communicate more because we have a lot of technology, a lot of products, a lot of methods which are worth talking about," said Walker. "I think it's a little bit easier to talk about the product and car itself for engineers, but production is really interesting."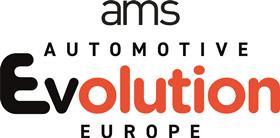 AMS will bring together key industry figures, including from Audi, BMW, Polestar and others, to discuss flexibility and digitalisation in electric vehicle and battery production at its Dec. 7 Automotive Evolution Europe Summit in Munich
See more details