The German premium carmaker is applying the efficiency focus that has fine-tuned production lines over many years to the more bespoke tasks in modular assembly as EV and supply complexity increases. AMS visited Audi's Ingolstadt plant for a chance to see the technology in action.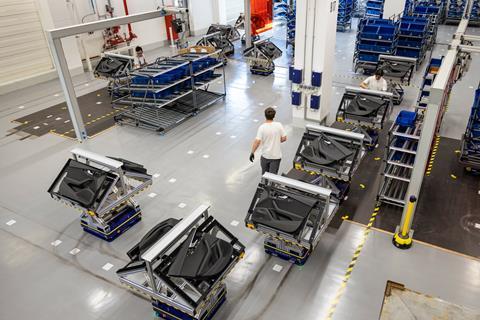 The car industry's pursuit of efficiency in manufacturing as a response to the relentless competitive challenges it faces has reached an almost-forensic level with individual components added within a pre-determined precise number of seconds.
Personalisation of cars tends to elude this effort with the need for individualised attention from assembly workers to fit additional and highly specific equipment to a car. As significant profit generators and drivers of consumer appeal, optional extras remain important for carmakers and even more so for premium brands. The rise in electric vehicle and battery production, meanwhile, is set to further increase parts variation for as long as OEMs build EVs alongside other engine types.
This rising variety, combined with ongoing supply volatility, has in many ways stretched the limits of efficiency for traditional assembly and logistics processes.
That's why Audi is developing a modular assembly approach that uses new capabilities within data analytics and artificial intelligence to make this manpower-intensive work more efficient.
A pilot that began in 2019 has raised worker productivity on some processes by 20%. Ongoing development work and testing could see this modular approach deployed to the factory in series production from 2025, starting with a forthcoming Audi model.
"Production today is geared towards premium vehicles. In modular assembly, we see an opportunity to be even more flexible," Gerd Walker, board member for production and logistics at Audi, told reporters on an Ingolstadt factory visit on its July 21 Tech Day.
"We are a premium OEM and therefore flexibility is much more important than maximum unit numbers."
The digitally-controlled modular assembly Audi is developing aims to ensure customers can add a broad range of exclusive finishing touches to their cars while ensuring throughput remains swift at the factory.
"Simplification of the cars is still a target for production but not for customers. For our customers, the choices will be as broad as possible but in production we want to reduce variances as much as possible by software solutions," Walker said.
Flexibility has become a top priority within manufacturing as automakers grapple with unprecedented disruption in global supply chains, which has prompted OEMs to shuffle production schedules prioritised according to parts availability and in many cases other factors such as profit margin and electrification targets. More broadly, the transition to electrification will further expand the matrix of products offered, for several years at least, as more hybrid and battery-electric products join gasoline and diesel offerings.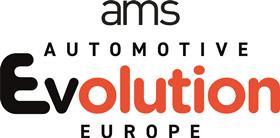 AMS will bring together key industry figures, including from Audi, BMW, ZF, CATL and others, to discuss flexibility and digitalisation in EV and battery production at its Dec. 7 Automotive Evolution Europe Summit in Munich
See more details
These additional complexities increase the urgency of safeguarding efficiency in production even as OEMs grapple with supply variety and uncertainty. As such, carmakers such as Audi are seeking more flexible forms of automation in production, as well as pursuing digital opportunities to reduce cost and planning times. This automation can also help control cost increases, which come on top of sharply rising energy prices in a sector that consumes huge amounts of electricity.
Automotive Manufacturing Solutions had the chance to see a demonstration of the pilot during which a new generation of automated guided vehicles (AGVs) ­­– also referred to as autonomous mobile robots (AMRs) – would travel between assembly stations, guided autonomously over a radio network, to deliver parts in a plastic tub placed atop (see video demonstration below).
While that might not sound ground-breaking, its sophistication lies in its wireless liaison with assembly systems that enable it to to-and-fro between the factory parts 'supermarket' and the workstation making parts to deliver the correct specification of an individual car. The AGVs can skip workstations with no part orders pending.
"Production today is geared towards premium vehicles. In modular assembly, we see an opportunity to be even more flexible…flexibility is even more important than maximun production units."
-Gerd Walker, Board member for production, Audi
A fundamental change in sub-assembly processes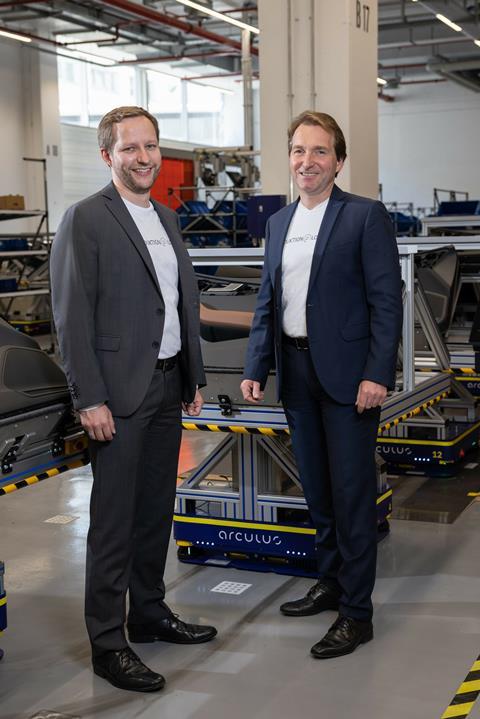 On the day AMS saw the operation at Audi's Ingolstadt plant, AGVs were carrying wires pre-fitted to terminal blocks to stations where interior door panels were laid out for the fitting of optional LED entry lights, which can beam downwards the four-ring Audi logo or even the emblem of Bayern Munich football club. Other examples of where the modular assembly could be applied include optional electric boot lid operation and the fitment of optional sun blinds. The latter typically requires two to three workers with conventional assembly, but with modular production, just one.
The idea arose from a PhD project in modular assembly by Audi project manager Wolfgang Kern, who is assisted by a team of developers as the pilot enters its latter stages.
"We get the right part to the right worker and then the next part can come. The worker can have time to deal with the quality issues right away and not later," said Kern.
The automated delivery of parts to workers or 'goods to person' is not a new concept however, having been in use at Audi's Ingolstadt plant and at the FAW-Volkswagen joint venture in Fushan, China since 2020 after smaller-scale trials that began in 2015. Kern's innovations extend the use of this process, which Audi dubbed 'Supermarket 2.0', beyond the main assembly line to sub-assembly processes.
"It is a fundamental change," said Kern, addressing why part-automated modular production has been a lengthy project to advance.
"We are both efficient and flexible."
There is an inclusivity benefit on top of the efficiency one, and on that could support ageing workforces. Audi's head of manufacturing engineering assembly, Josef Weinzierl, said modular production created opportunity within the company to reassign workers who develop mobility difficulties later in life that can create challenges on the main assembly line.
"We can integrate these people into the work process. This won't solve the demographic problem in society, but it can be a small contribution towards that," said Weinzierl, alluding to Europe's aging population and simultaneous rising pensionable ages.
Audi expects that further digital innovations will help it to accelerate efficient production and flexibility even further, including the use of virtual factory planning, along with cloud and edge computing systems that it is also piloting. Such systems have the potential to move into Audi serial production and to become standards across the Volkswagen Group. Audi has also been developing further AI-based manufacturing quality and planning systems, including as part of its Production Lab innovation centre.
Audi says the final decision to commit to modular assembly is not a trivial one as it would be difficult to reverse once baked into manufacturing plans of future products. However, having cleared multiple development milestones, its future deployment appears likely.
"We must carefully think through that step into series production because there's no going back at that point," Weinzierl said.
Further coverage of Audi's modular production and digitalisation advances in manufacturing, including more comments from board member for production Gerd Walker, will be published this week on AMS.
Audi's modular production pilot is in door panel pre-assembly, but could expand to serial production
Factory footage courtesy of Audi