Sames Kremlin and Eisenmann Intec have joined forces to meet the future production challenges of the adhesive market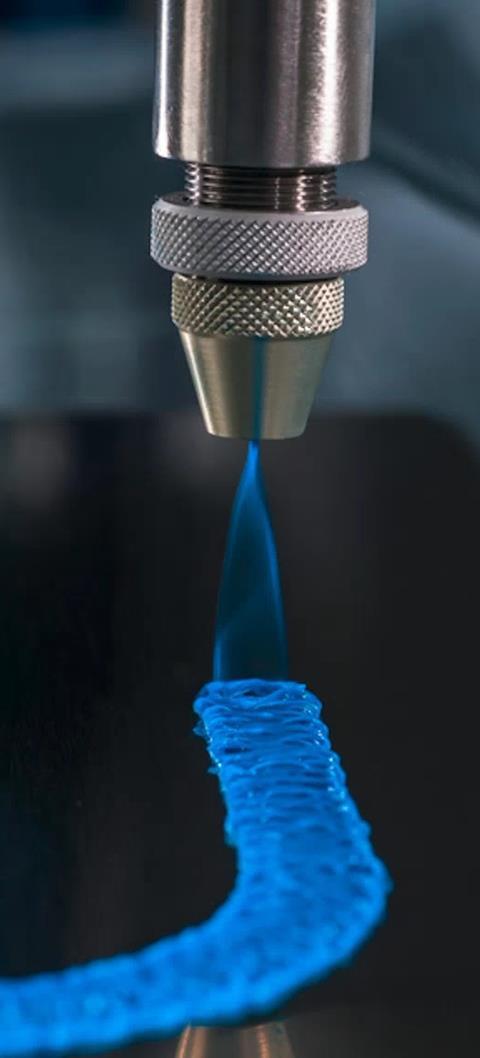 The automotive market faces complex challenges in terms of production. In a very competitive environment, the production efficiency as well as the investment and operating costs reduction are strategic. Bonding technology presents one of the main challenges for a supply chain. Adhesives are still complex to transfer, to heat and to apply. These materials present chemical and mechanical challenges.
There are many applications for applying adhesives: inside the flange (inner panel is placed onto the outer panel), flange crimping over (hemmed), drops and beads for bonding panels, anti-flutter for keeping the panels from vibrating and sound deadener for absorbing wind vibrations and road noise.
How to overcome the application challenges
OEMs are seeking precise reproducibility, efficient functionality and fast application at the lowest possible cost. The introduction of smart functions and the integration of inspection systems are examples of important additional functions.
The application systems must offer the necessary flexibility to be able to react to customer requirements at any time.
Customers worldwide, in almost all key industries, rely on highly functional, fast and precise system technology. Above all, in the automotive sector, hundreds of thousands of components are being bonded by adhesives by numerous OEMs and tier ones using state-of-the-art systems.
"This acquisition allows us to provide a complete commercial offer in the field of the application of sealants and adhesives"

Cedric Perres CEO, Sames Kremlin
In the past, materials had to be welded together in complex welding operations but modern adhesive joining processes today fulfil the highest requirements in connection with widely differing materials and components. In this way, production processes can be made to run more economically, faster and with improved safety. Moreover, innovative materials can be used which offer positive material properties, thus opening up new design avenues.
Acquisition provides opportunity for OEMs
To meet the future challenges in the body-in-white (BIW) market, Sames Kremlin, which specialises in the application of liquid paint and viscous material, has acquired Eisenmann Intec, a major manufacturer of bonding equipment. Eisenmann Intec, located near Cologne in Germany, designs, produces and sells sealant and adhesive equipment for the automotive industry. Eisenmann Intec becomes Intec Sames Kremlin.
Sames Kremlin and Eisenmann Intec are key players in the automotive market, for both OEMs and tier ones, and suppliers of equipment dedicated to bodyshops and paintshops worldwide - supplying flexible solutions and smart systems at leading car manufacturers in all continents.
"We had the opportunity to make this acquisition allowing us to provide a complete commercial offer in the field of the application of sealants and adhesives for our automotive customers,: says Cedric Perres, Sames Kremlin and Intec Sames Kremlin CEO. "This also allows us to gain several years of development for our dispense product mix because Intec's offer is complementary to ours."
What do we mean by complementarity?
From pump to applicator, the customer has a single supplier on high viscosity fluid handling system and application skills.
Complementarity in dispensing: In terms of adhesive applications, Sames Kremlin has just designed a new high-volume shot meter complementary to the very high performing low- and medium-volume range of Intec. Both companies are now able to supply a large range of dispensing applicators in order to cover all the adhesives applications in OEMs or tier ones (seam sealing, wide slot, swirl application, bead, multipoint, flat stream). It's a door opener for Intec products in the actual Sames Kremlin customer portfolio.
Complementarity in controllers: On one hand, Intec has controllers perfectly adapted to their BIW shot meters; on the other hand, Sames Kremlin has developed regulation concepts dedicated to robotic paint shop processes. It permits us to propose a full range of applications from assembly to finishing.
Complementarity in extrusion: Sames Kremlin is pretty famous for the high performing extrusion pumps that will complement the Intec low flow, high-pressure pumping solutions. This enlarged catalogue will suit the needs of all automotive and general industry applications (full chemical compatibility, all range of flows and pressures).
Complementarity in accessories: The Intec products range will benefit from the Sames Kremlin regulators, easy to maintain and highly precise as well as a large range of filters and heated hoses; an enriched global offer.
Complementarity in 2K adhesives: It's clearly a strength of the joined teams. Intec patented a mixing head in partnership with BMW. It's a door opener for plastic and composite part assembly where Sames Kremlin traditionally has solutions for the paint process.
Complementarity in support and services: This acquisition also allows us to better support OEMs and tier one customers with teams ready to provide a supportive service to customers in all automotive countries around the world, thanks to the 15 subsidiaries and the hundreds of partners in the Sames Kremlin global sales network.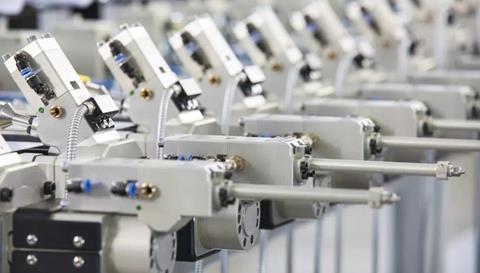 "Being part of Sames Kremlin opens up strategic doors and expands our international network and it's a fantastic opportunity," says Prachanda Thapa, Intec Sames Kremlin CEO. "The shift towards electrical vehicles and new customer experiences changes the meaning of adhesive applications.
"When it comes to battery gluing, sound deadening and lightweight materials, automotive OEMs face real challenges which will impact the choice of solutions they choose to implement. We are ready to address those challenges and serve the market with innovative solutions and dedicated teams fully focused on industrial process excellence and customer satisfaction."