Beginning in 2019, Volta Trucks is a newcomer in the EV truck market but has seen rapid growth in recent years. Since its inception, the OEM has constructed offices across Europe.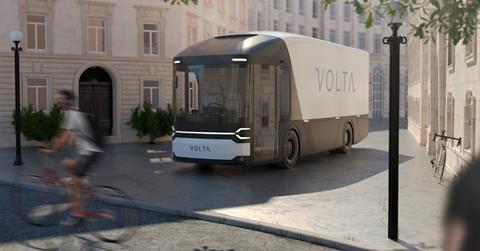 Electric vehicle start-up Volta Trucks announced that its first units will be manufactured at a plant in Austria under Steyr Automotive, with production set to begin in late 2022.
Steyr Automotive, which is run by former Canadian auto supplier Magna International executive Siegfried Wolf, took over the site in Steyr, Austria from Volkswagen AG unit producer MAN.
Volta, a Swedish full-electric commercial vehicle manufacturer and services provider, which also operates in the UK, plans to start producing the Volta Zero, a 16-tonne electric truck in just over a year. It hopes to roll out 5,000 vehicles in 2023, just before a diesel truck ban comes into effect in Paris in 2024.
Four electric truck models of different sizes are in the works and the company expects to produce more than 27,000 units annually by 2025. A company spokesperson said that this volume could either be achieved through the expansion of the Steyr Automotive facility or by bringing additional manufacturing facilities on line, depending on the geographical spread of sales by that point.
"Logistics is an expensive component of the build programme, and the environmental footprint of our operations is also a very significant consideration for manufacturing, so many options are open to us," the spokesperson said.
The Stockholm-based company opted to hire Steyr Automotive to build its first vehicles, instead of constructing the plant and formulating its electric trucks at scale on its own.
"The team at Steyr Automotive has demonstrable capability to manufacture the Volta Zero with decades of previous premium truck-building experience," said co-Founder and CTO of Volta Trucks, Kjell Waloen.
He added that Austria is at "the heart of our European launch region" and will allow the company to accelerate its time to market and "minimise the environmental footprint of our operations".
"The partnership will now allow Volta Trucks to quickly ramp up our production as we look to meet the demands of our customers who need to replace their fleets with zero-emission vehicles as soon as possible."
As part of its 'road-to-zero emissions strategy', Volta Trucks plans to build vehicles close to the countries where they are sold. For example, units produced in Austria will be used by customers in Paris and London.
The entire production process, including body, paint, and assembly will take place in Austria. According to the company, the EV battery will be provided by Proterra, and the Volta Zero is the first commercial vehicle in Europe to use an innovative eAxle (motor, transmission and axle) from Meritor.
Volta said they are also working with a large number of suppliers, and the appointment processes are ongoing.
Developing their own production operation is a possibility in the future, the company said. However, working with experienced partners allows them to access the market more quickly, and with the highest levels of quality, which would take longer to achieve on their own at this early stage.
Volta Trucks was started in 2019 and has grown rapidly, setting up offices in Sweden, France and the UK. The company says it is working "with a number of global leaders in the supply chain for the development and production of the Volta Zero."
Earlier this year, Waloen said the company was considering producing its Volta Zero electric truck in Barcelona, Spain.
Volta Trucks plans to expand globally, citing Europe, followed by the North American and Asian markets. To achieve this, it says it is considering "further worldwide production sites".
Similarly, REE Automotive and Fisker have teamed up with Magna for EV construction, while Fisker has a similar agreement with Taiwan's Foxconn Technology.