As part of the company's broader plans to develop global reach, Volvo has acquired Chinese truckmaker JMC Heavy Duty Vehicle to produce and sell more heavy-duty trucks in China.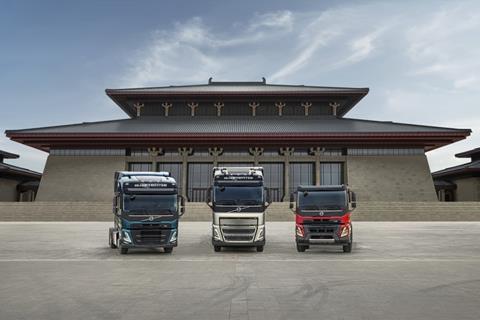 Volvo Trucks has signed an agreement with JMC Heavy Duty Vehicle, a subsidiary of Jiangling Motors, which will see the Swedish OEM secure a new production plant in China.
For RMB 0.8 billion ($123.5m), the company will acquire a manufacturing site in Taiyuan, Shanxi province, where it plans to begin production of the new heavy-duty Volvo FH, Volvo FM and Volvo FMX trucks for Chinese customers from the end of 2022.
Significant growth of logistics services, such as e-commerce, has seen a surge in the sale of Volvo trucks in China, with over 4,500 heavy-duty Volvo trucks being imported and purchased by consumers last year. In alignment with Volvo Group's overall long-term objectives, Volvo Trucks is following suit by expanding its business operation in the Chinese market.
Roger Alm, president of Volvo Trucks said the company is committed "to shaping the future of sustainable transport solutions".
"With our long-standing presence in China, we are growing our sales, and we are expanding our strong network of sales and service points together with our private dealer partners," he added.
Citing the fast development of the logistics markets and increasing demand for Volvo's premium trucks and services, Alm said that the time is right for the carmaker to establish a regional value chain with its own heavy-duty truck manufacturing in China to meet the demand from Chinese transport operators.
A Volvo Trucks spokesperson said that this announcement marks the beginning of the process that will take around one year of a refurbishment of the plant and equipment until production starts towards the end of 2022. The company added that it has seen a continuously positive volume development in China during recent years and expects this trend to continue long term.
Recent changes in the Chinese regulatory framework for foreign investments have also made it possible for Volvo to begin the manufacturing of its trucks in China.
Previous rules meant that foreign companies were not permitted to set up this kind of production on their own. Typically, foreign OEMs in China operated joint ventures with a large degree of Chinese ownership, but now the rules have changed.
The Taiyuan operation will include stamping, welding, manufacturing of cabs, painting and the final assembly of Volvo trucks. Following some investment, Volvo hopes that the plant will have the capacity to produce 15,000 trucks per year with potential increased capacity in the future.
Volvo trucks are used all over China