Karthik Krishnamurthy, global strategy and business development leader, Automotive, AWS, discusses the development and application of cloud-based services and solutions for the automotive industry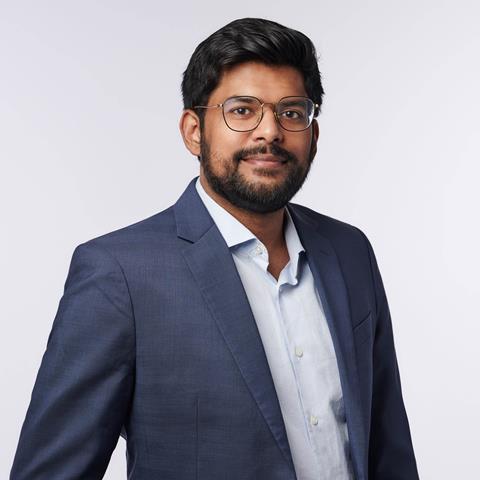 Could you give us some insight into Amazon Web Services (AWS) Automotive and how you're supporting your clients?
Karthik Krishnamurthy (KK): We launched AWS for Automotive in 2021 during our yearly event called Re:Invent, with the aim to bring all our automotive and mobility offerings under a single go-to-market strategy. The aim was to make it easier for our automotive customers – OEMs, suppliers, dealerships, the logistics service providers and start-ups – to access AWS from a solutions and services perspective, relevant to the challenges that they are trying to address, whether it is Line of Business leaders or IT leaders.
Under this initiative, we bring together our purpose-built solutions, services and partners for the eight core areas that we have, which are Software-Defined Vehicle, Connected Mobility, ADAS/AV, Digital Customer Engagement, Product Engineering, Manufacturing, Supply Chain and Sustainability.
Over the past 15 years, AWS has been engaged with a number of automotive customers, including OEMs like Audi, BMW, Daimler, Denso, Toyota, Volkswagen, Volvo, and suppliers like Continental and Denso as well as other customers serving the industry. So, we are already working with them in those eight different areas in some way. And, within the past five years, we have been bringing experts from the automotive industry, such as VPs, SVPs or CSOs, over to AWS so they bring domain knowledge and expertise that then helps us to develop solutions and services that are more relevant for those customers.
The automotive industry is very complex. Is a big part of your work to help simplify a lot of your client's operational challenges?
KK: Yes, totally. Volkswagen is one example where we started working with them at one plant, focussing on gathering machine/assets data from shopfloor systems, integrating disparate siloed systems beyond their proprietary protocols to organise unstructured data for insights. The challenge was how could we take that one step above, start gathering all those datapoints in the right way? And from there, leverage AI/ML services that we have at AWS, to create insights for them and clarify what the business outcomes they are trying to achieve.
With Volkswagen, there is now a project that is going across their brands , where we are working across hundreds of their plants, looking at production efficiency and operational efficiency use cases, that will help VW benchmark between their plants and generate viewpoints relevant to different personas such as plant leaders that matter the most to them. So, we are looking at achieving a productivity improvement of 30% across more than a hundred plants. That's an ongoing project, a multi-effort called a Digital Production Platform that we are creating for them.
Another example is Apollo Tyres, a tyre company based out of India, and they are using AWS from the perspective of leveraging our IoT services and our ability to gather data from the silos of systems and bring it up and leverage IoT to create insights and continue that Industry 4.0 journey.
What would you see as the biggest challenges for carmakers and tier suppliers as they continue to develop those smart factory concepts?
KK: If you think of it, there have been modernisation initiatives, digital transformation initiatives happening in the automotive industry for some time, but that effort has been more focused on deciding what systems can be upgraded. Is it an Enterprise Resource Planning (ERP) system? Can I go to the next version of it? Or is it a Manufacturing Execution System (MES ) or a Programmable Logic Controller (PLC )? How are we looking at upgrading that to the next generation?
The difficulty our customers say they are facing is when they want to look at all these different levels of Operational Technology (OT) and Information Technology (IT) systems , and typically in an automotive industry we are looking at systems that were put in place more than 20 years ago, many of which Have reached or are reaching end of life. They don't have companies managing them at this point because they were customised, coded for that specific plant at some point in the past.
The issue there is that these are all standalone applications, what we call "data silos," which do not have any upstream or downstream communications happening. Then there's the big challenge of the proprietary protocols that all these systems came with, and as much as manufacturers have been trying to go towards Industry 4.0, the challenge has been how do you go past these protocols and potentially start building a platform that is going to link all these different data silos together.
With the cloud, and the scalability and reliability that cloud offers, along with the services and solutions that are being worked on, we can move past that and potentially create that flexible shop floor connectivity, going beyond the protocols and system integration, and create that data transparency layer which is going beyond that IT/OT border.
Do you feel that the move to developing and producing electric vehicles has accelerated the need for the digitalisation of manufacturing processes and operations?
KK: Yes, I believe that is big driver for digitalisation. Almost all the OEMs are right now in a race to release as many EV models as possible.
So much so, that there's a lot of activity happening around the development of new factories to produce EVs and how OEMs can also leverage existing plants, used for manufacturing and assembling ICE vehicles, to now pivot and manufacture electric vehicles
When we look this, the challenge that comes up is how to build a blueprint of a scalable architecture that will bring together all these silos so the OEM has a schematic that can be leveraged to quickly expand and create more greenfield plants that will help them move towards production goals.
We are also seeing our customers talk about technology partnerships. The EV revolution has created a viewpoint that OEMs and Tier 1 suppliers must look at technology partnerships in a way where they can differentiate themselves with their core expertise and partner for undifferentiated lift. The challenge here is how do you choose the right partners and solution providers and quickly move towards deploying in the right way?
How early are you getting involved with those kinds of companies now in terms of their planning process for these operational systems?
KK: The way I see the automotive industry evolving right now is when OEMs are considering a new plant, they are already thinking about at least the next 10 years and looking at potential partnerships that need to be in place and the potential blueprint that is needed. We work, right at the start of that moment, in their planning phase, with the OEMs and Tier 1s who are focused on greenfield plants.
We are engaging much earlier in the process. Take, for example, our work with Northvolt. Throughout the battery manufacturing process, they are starting to track and trace the overall manufacturing data logs so they can track for quality, safety, productivity and efficiency. They have also built something called "cloud factory module" on AWS, which is a digital blueprint that will help them scale and launch new factories as per demand from OEMs. All that is done on AWS with our services and solutions .
What do you feel are the key digital tools and competencies that carmakers are going to need to meet sustainability and electrification goals?
KK: When we talk to our customers about this, the end-to-end journey, the way we explain it to them is, to run factory, running real-time production, you need to have all those OT layers (such as MES, PLM, ERP, MRO, etc.), linked up with the IT layer.
So how do you start thinking about a blueprint considering all these systems and what can be brought over to the cloud? How can that be done more efficiently so you're able to collate the data together in the right fashion, label it, and scale on it in the right fashion?
Building a blueprint, that's going to eventually help towards this connected tool chain, that's where we are bringing in tools, services and solutions that are available with AWS and partner solutions, and which we are already working on with companies such as Volkswagen.
We also bring the expertise of Amazon, who we have supported, as a customer. More than 90% of Amazon's infrastructure runs on AWS. From there we have learnt and built expertise around how to manage big industrial operations across this overall blueprint that I just mentioned. We're bringing that expertise, that toolset in a fashion that is relevant to the automotive industry so we can help them scale.
Looking forward, what do you think are the next big technology and application steps for cloud-based systems in this automotive manufacturing context that we've been discussing?
KK: A few technologies I can mention. The basis of everything in the future, for me, is going to be a connected enterprise that will have AI/ML layers built into it, which goes towards recommendation engines and workflow automations. This is a layer that's going to act as a foundation for gathering all data and making it readily available so our customers, OEMs and Tier 1s, can quickly build applications, microservices, as we call them, on top of that foundational layer.
And in the next two to three years, I would say AR/VR, blockchain and industrial metaverse are also going to be important technologies.