The company says operations are being restarted with the minimum number of employees needed to resume production and research activities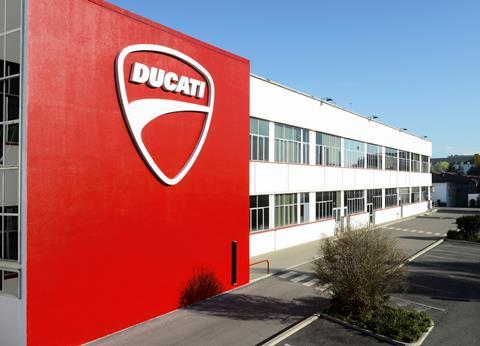 All returning workers are required to comply with a rigid safety protocol that Ducati has developed together with the RSU (unified worker representation body) and subject to a specific agreement. Masks will be mandatory for everyone, regardless of distancing.
CEO Claudio Domenicali said: "It is absolutely essential to pay close attention to strict compliance with safety procedures; the virus has not disappeared. The work done jointly with the Emilia-Romagna Region has been important."
Ducati temporarily suspended operations at its Bologna plant on 13 March to reorganise production schedules, in compliance with the regulatory protocol for measures to combat and contain the spread of the Covid-19 virus in the workplace, but the decree that suspended all non-essential activities meant that despite the organisation being ready, production did not restart.
Phased return to production
A phased return to production operations sees workshop staff starting first, then engine assembly workers followed by the motorcycle assembly workers. Ducati says use of smart working will remain mandatory, only those who are not in a position to carry out their work from home will be allowed to access the factory.
The production has been reorganised, going from an eight-hour shift to two seven-hour shifts to allow the minimum number of people to be inside the plant at the same time and so minimise possible contact. The canteen will be active but with one seat for every four chairs.
The entire Ducati protocol is the result of the work of a joint commission between the company and the RSU. The company says it has been analysing the protocols used in the Chinese plants of the VW Group, in particular the FAW-VW of Chanchung, where production was suspended only for one week, but where strict protection, distancing and sanitising measures are still in force.
"We are ready to go, we have worked hard over the past few weeks to minimise any risk," said Domenicali, but he added "despite this we will have to be extremely cautious and rigorous. The virus is still in circulation and we must therefore be careful to combat any possible form of transmission. This is the reason why all the people present in the factory will wear masks, we must protect the population from the presence of asymptomatic positives who, although in a very small percentage, are present today and will not be identified by the mandatory temperature test".
Domenicali noted that there was now a shortage of product to meet recovering demand for Ducati motorcycles in China, Korea and Japan.