As electrification brings its fair share of challenges, Renishaw is ready to transform future production with fast, flexible, and programmable powertrain manufacturing solutions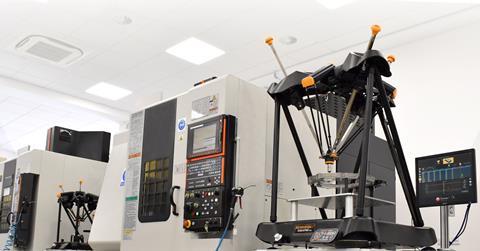 Powertrain electrification poses a significant challenge for automotive suppliers as electric vehicles (EVs) break into the mainstream. EVs have far simpler mechanics and fewer complex parts than those with internal combustion engines (ICEs), so it's the manufacturers of exhaust systems, fuel systems, and transmissions who will face the greatest disruption.
The automotive industry is characterised by its complex network of tiered global supply chains. Over the next decade, companies operating within each tier of this system will be challenged to demonstrate innovation and adaptability in the face of new design and production challenges.
As electrification causes a gradual decline in demand for vehicles powered by internal combustion engines, hybrid solutions will emerge to bridge the technological gap between ICE and full battery electric vehicles (BEVs). If suppliers are to keep pace with advances in vehicle design, they must partner with knowledgeable specialists whose expertise and experience will help them to pioneer new production processes and competencies.
Precision engineering and manufacturing technology specialist, Renishaw, is an experienced automotive partner with expertise in improving the efficiency of manufacturing processes and speeding up part inspection throughout production. Renishaw's global customers in the tier supplier market draw maximum value from existing technologies by deploying them in innovative ways to meet future production needs.
Control the production process
Renishaw technologies are underpinned by the company's own experience as a global precision manufacturer. Machine shops throughout the automotive supply chain have worked with Renishaw to adapt and improve their manufacturing processes and transform their production capabilities.
As EVs enter the mainstream over the next five to ten years, suppliers – particularly those who specialise in the manufacture of ICE components – must be ready to adapt to new EV component production requirements.
New, complex parts with higher design specifications require advanced measurement technologies with more process control and capability. Renishaw's solutions for the manufacture of EV components include ensuring that your machines are capable of making parts true to their design specifications and developing capable manufacturing processes that allow you to control the machining of components, with in-process measurement providing immediate feedback.
As vehicle designers pursue extended range through motor efficiency and battery effectiveness, the quality requirements of each component are higher than ever. The ability to create parts with tightly toleranced features is vital for the performance, and often the safety, of finished products. Renishaw's EV component inspection technologies can provide detailed reporting on the geometric characteristics and surface finish profiles in key areas.
Take REVO 5-axis CMM inspection technology with multi-sensor capabilities, for example. This system scans parts rapidly, measuring form and surface finish on a single integrated platform, providing fast acquisition and reporting of component dimensions and surface data.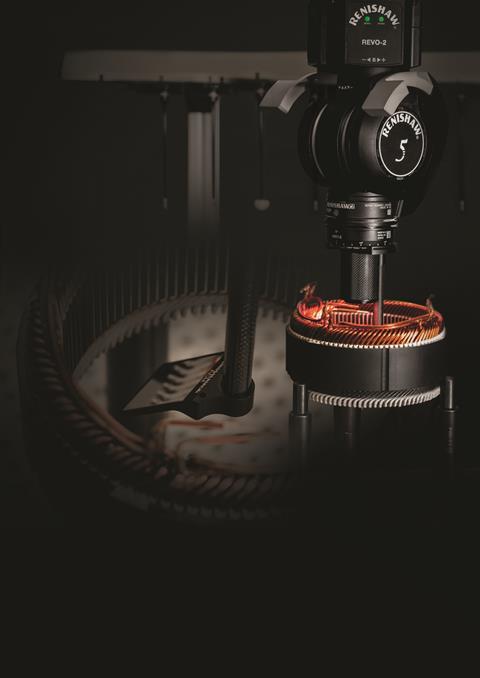 Renishaw's diverse range of machine tool products for set up, automation and process control include highly repeatable sensors, which provide reliable data about parts, processes and machines. Gathering data and information from different areas of the manufacturing workflow enables you to identify and control sources of variation for increased throughput with reduced rework, concessions and scrap.
Integrating improved process control into your operations means that you can use data to develop and implement robust manufacturing processes that perform as required. Process optimisation allows suppliers to push new parts, which meet design intent, into production quickly.
Adapt for changes in design and respond to variations in production volumes
The shift towards electrification is causing an increase in the design iterations of hybrid and electric vehicles as prevailing technologies continue to be defined and refined. To manage incremental component modifications as well as more significant step-changes in EV design, supplier operations need to be resilient and agile. This calls for a new breed of flexible machining and measurement solutions.
A faster pace of automotive product development means that, increasingly, automotive manufacturers are looking to invest in versatile equipment, which can be re-programmed or re-purposed to produce incremental product versions. Removing the need to reinvest in tooling and equipment every time the design of a part changes enables suppliers to stay competitive.
Automotive production has evolved from fixed transfer lines to more flexible CNC-configured automated lines, which can respond and adapt quickly to changes in the volumes and designs of EV products. Flexibility is important throughout the product development lifecycle, and flexible manufacturing requires greater control over more variables. Renishaw technologies can control upstream processes and enable the reprogramming and repurposing of equipment with ease.
Conventional automotive fixed gauging, for example, requires fixed setups, custom built for each component. If the design of a part requires continual, incremental modification, such gauges are both costly to replace and take time to rebuild. Renishaw's Equator gauging system for flexible in-line gauging at the point of manufacture can be redeployed or reconfigured quickly to inspect EV and hybrid engine and transmission components.
Renishaw's 5-axis CMM technologies allow you to inspect components fully in a single operation, on a single machine, without the need for expensive rotary tables. The REVO system can orientate sensors to infinite angles and automatically swap between tactile scanning and non-contact sensors. This speeds up inspection time as only one program is used to inspect everything.
Renishaw represents a recognised standard in automotive manufacturing due to the speed, flexibility and ease of use of its products. You, too, can manage frequent design iterations and variations in production volumes by taking a flexible approach to part measurement. Supply chain companies that adopt flexible technologies, practices and processes into their manufacturing will be equipped to tackle the key challenges of electrification.
Securing the vehicles of the future
As automotive primes prepare to future-proof their supply chains, there's an expectation on tier suppliers to act now to demonstrate their ability to deliver on future production requirements. While suppliers can align their capabilities with the needs and technology priorities of the prime manufacturer as best as possible, it's not an exact science. The industry's trajectory towards electrification is clear but attempting to predict how EV production will evolve and change over time would be costly and impractical. Instead, developing adaptable production processes and flexible systems will be key to future success.
Some companies are shifting from global to regional supply chains in order to serve their customers in a more agile way, taking advantage of the opportunities presented by the digitalisation of industry. The importance of data, automation, process development and using process control to manage costs will come into its own as EV is established in the mainstream.
Programmable manufacturing technologies with multi-sensor capabilities support the production of both ICE and hybrid powertrain parts. Renishaw's 5-axis inspection technologies already offer cost savings on the manufacture of conventional ICE components, and these parts will continue to be essential for hybrid vehicles for some time to come.
The in-house manufacture of cylinder heads, blocks and cranks was once the secret to the success of the automotive prime, but as we move towards powertrain electrification, more and more Tier 1 companies are expanding their businesses into fundamental machining operations. As prime manufacturers focus on developing full battery electric vehicles, many Tier 1 suppliers have started to design, manufacture and market their own hybrid vehicle sub-systems, such as integrated electric motor and gear mechanisms known as eAxles or eDrives. This shake up of the automotive supply chain is seeing Tier 1 companies consolidate, collaborate and merge to improve economies of scale.
To transform operations requires the ability to identify and control sources of process variation before, during and after machining. The digital transformation of manufacturing industries means that you, too, can analyse and optimise your processes easier than ever before.
For more on Renishaw's powertrain manufacturing solutions, download the brochure