FCA's restructuring has proved successful and the Jeep brand continues prosper with new models on the way, but there are still challenges to overcome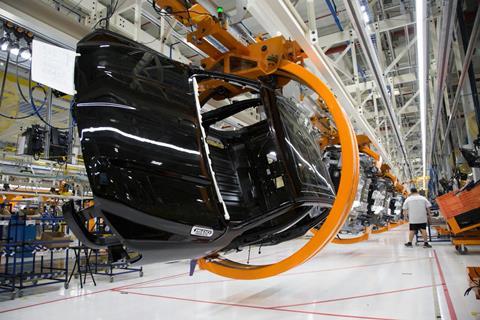 At the end of May this year, FCA made a formal merger offer to Renault, a deal which had some notable industrial logic. The proposal, however, foundered on a series of political and corporate rocks, notably the tardiness of the French government in appearing to accept the idea, and Nissan's own lack of enthusiasm for it. The proposed merger may yet be revived, but for now FCA's ambition to achieve global status, which the merger with Renault would have produced through its shareholdings in Nissan, Mitsubishi, AvtoVAZ and Samsung, are on hold.
As a result, FCA remains essentially a North American-European operation, with the former side of the business focused on Jeep SUVs and Ram pickups, along with a dwindling Dodge and Chrysler range, and the latter operating in Europe and Brazil. The company has only a fledgling business in China, and almost none in India, nor in the rest of Asia – and that is why the idea of merging with Renault, which through its Japanese affiliates is strong across Asia, was so attractive.
Successful restructuring in recent years
FCA has had a chequered history in recent times but following extensive restructuring under the leadership of Sergio Marchionne, until his untimely passing in 2018, it is now financially stronger than it has been for many years. Indeed, in 2018 the OEM reported the fifth consecutive year of record results with a global revenue of around €115 billion ($130 billion), selling 4.8m vehicles. This included record global sales of Jeep and Ram products, up 14% and 5% respectively on the previous year. FCA also reported an EBIT of €7.3 billion and a margin of 6.3%. Despite the strong EBIT result and better than average margin for the sector, its results could have been even better. Like other car companies, FCA has faced high emissions testing charges in recent times, and its 2018 results also reflected high launch costs for new the Jeep model, totalling €406m.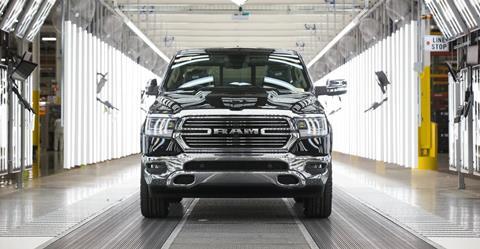 The restructuring process begun under Marchionne is still under way; the most recent significant move in this regard was the recent completion of the sale of its components division, Magneti Marelli, including a leading market share position in lighting, to Calsonic Kansei for €5.8 billion. This deal was completed in in May, generating an extraordinary dividend of €2 billion. Ahead of this, such had been the recent improvement in FCA's financial standing that Fitch rated it as Investment Grade, albeit only at BBB-, up from BB. There is still a long way to go to achieve higher investment grade ratings.
FCA expects its full-year 2019 results to be even better than those for 2018, although early 2019 production numbers in North America have been somewhat impacted by the end of production of the old Wrangler, which had been produced alongside the new model, and realignment of new Wrangler production volumes to allow for re-tooling for the hybrid version, which will be introduced in early 2020.
In terms of Q1/2019 results, North America volumes were down at c.568,000 against 594,000 in Q1/2018. Similarly, EMEA volumes were c.344,000 compared to 390,000, while Asia Pacific was down at c.42,000 from c.62,000. Latin America volumes were 121,000 versus 127,000, reflecting a strong Brazilian market, but collapse in Argentina. Globally, in Q1, overall shipments were down 14%, while net revenues were down 5% and quarterly EBIT down 29%, due to new model launch costs, changes to its US tax rate and market conditions; FCA claims these figures were in line with expectations, reflecting a negative swing in the model mix, with more lower price models sold than in 2018.
In China, Q1 saw volumes down by around 30%, while Europe saw volumes drop 12% and net revenues down 10%. In Europe, the lower volumes were somewhat offset by a favourable model mix reflected in a rise in higher priced vehicle sales.
Even so, FCA says it will achieve an adjusted EBIT for 2019 of over 6.7%, above the 6.3% for 2018. The anticipated EBIT improvement is expected to come from volume boosts by the Jeep Gladiator and Ram pickups as well as all-round improved industrial efficiency and improvements in China and EMEA in general, especially at Maserati.
Other challenges remain, especially with FCA's fledgling China business, as well as in Europe and at the Maserati unit. Under new CEO Mike Manley, the company is changing and simplifying its management structures, reorganising its manufacturing footprint in Europe, cutting costs in China and Europe, and consolidating, particularly at Maserati, after expensive and extensive new model activity in recent years. In Q1, Maserati volumes were down approximately 32% year-on-year, following the decision to cut inventory, and therefore also production.
Investment growing in the US
There have also been several important developments within FCA's manufacturing activities across North America, underpinned by the launch of the new Ram 1500 pickup. In addition, signalling the likely future direction of the company and overall market trends, FCA has launched a new partnership with Waymo in autonomous vehicles, an activity that uses modified Pacifica Hybrid minivans; in Europe it has also started a joint venture with BMW for autonomous driving at Maserati.
There will be extensive investment of around $4.5 billion in North American factories, mainly for the Jeep and Ram brands, building on the recent success of the new Gladiator and Ram 1500 especially; FCA will also add at least two new Jeeps, both in new segments or white spaces.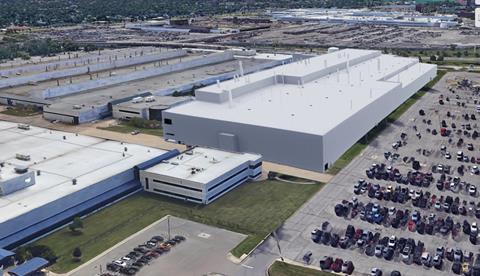 Most of this investment will take place in the Detroit area, creating up to 6,500 jobs, boosting current Ram volumes, adding Jeep Wagoneer production, replacing the Grand Cherokee and adding a range of plug-in hybrids. This will centre on a new plant to be built at Mack and St Jean on the east side of Detroit, and is being supported by significant tax incentives from local government. The new plant will receive $1.6 billion, creating around 3,900 jobs. This will be accompanied by spending at the nearby Jefferson North plant where $901m will be set aside to create 1,100 new jobs.
The key model to be made in the new plant is the new three-row version of the Grand Cherokee, which will be produced in 2020, followed by the replacement for the existing two-row version in the first half of 2021.
The new plant required the local authorities to consolidate a number of separately owned plots of land into a single 215-acre entity to allow what has been reported as the largest single North American automotive assembly plant deal in a decade to proceed. In terms of financial incentives, the project will involve: $99m advanced rebate on local income tax for 10 years; the "awarding" of land worth $50.06m; $35m for administrative and site clearance costs; and around another $100m in miscellaneous grants and tax exemptions.
Investment is also taking place at the Warren Truck plant, which will make the new Wagoneer and Grand Wagoneer SUVs (in both petrol engine and electrified versions), alongside the existing Ram 1500 pickup; $1.5 billion will be spent on retooling and expansion, adding 500,000 sq.ft (46,500 sq.m) to the existing 3m sq. ft site.
Some $169m will be spent at the Sterling Heights stamping plant near Detroit, while $119m will be spent at the Dundee engine plant to allow production of Pentastar 3.0, 3.2 and 3.6-litre engines to move there. These will be made alongside the existing 2.4-litre World Gas and Tigershark engines. Also, some Ram pickup production will move to Warren from the Saltillo plant in Mexico.
Differing views from Chicago and Toledo
While good news has emerged for Michigan, uncertainty has recently surrounded the Belvidere plant, near Chicago, which makes the Cherokee SUV. Nearly 1,400 workers were laid off when the weekend shift was cancelled in early 2019, and further cuts are expected. Some Chicago area workers have been told that temporary alternative employment is available for them at the Wrangler plant in Toledo, Ohio, some 300 miles or over a five-hour drive away.
The reason for employment being available in Toledo is the success of the Wrangler and Gladiator SUV and pickup range. Here the production workforce has trebled since 2009 to around 5,700. Following a $273m investment for the Gladiator, production has been running 24/7 for much of the last year, and there is every sign that this will continue for some time to come, especially now that the re-tooling for the new hybrid version has been completed. An innovative union agreement has given the workforce new flexible arrangements that mean they can can work between four and seven days a week, with a number of temporary jobs created to provide the requisite flexibility.
Major worries for FCA Canada
On the other side of the Great Lakes there is some concern over the future of FCA's two plants in Ontario after the OEM closed both the Windsor and Brampton factories for two weeks in April due to declining volumes. At Brampton, this was due to a drop in production of the Chrysler 300 and Dodge Challenger and Charger; meanwhile at Windsor, production has switched from three to two shifts owing to a permanent fall in demand, with 1,500 jobs set to be lost.
In January 2019, local politicians said FCA was promising long-term commitment to Brampton, but nothing official has actually been said about the plant's future. The Challenger and Charger have been described by Mike Manley as core to the Dodge brand's DNA, suggesting that as long as Dodge is retained within FCA, then these models will continue to be produced. However, the Brampton factory's biggest problem is that it makes only sedans, and the market is moving to crossovers and SUVs. The Challenger and Charger will also be the last remaining models made on the RWD LX platform when production of the Chrysler 300 stops; it seems unlikely that these two models alone will generate sufficient volumes to be economic in the long run.
At Windsor, the recent temporary closure and anticipated loss of 1,500 jobs when the plant moves to two shifts from September 2019 came at the same time as news of $355m investment to keep minivan production in Canada. The Windsor plant had been working on a three-shift basis since 1993, a remarkable run that reflected the success of the minivans made there, which is now coming to an end.

Realignment of production in Europe
Meanwhile, in Europe, FCA essentially comprises the Fiat operation in Italy, Poland and Turkey. This includes production of some Jeeps, an activity that will soon be expanded with two or possibly three new models, a production joint venture with PSA in large vans, and a shareholding in Tofas, in Turkey, where small vans are made.
At present, several changes to FCA's European manufacturing footprint are underway, and, as is always the case with Fiat, they remain subject to change. More specifically, there will be an increase in the scale of the LCV joint venture with Groupe PSA, including increased production at Sevel in Italy. It is worth noting that PSA will also make vans based on the Ducato model in Poland.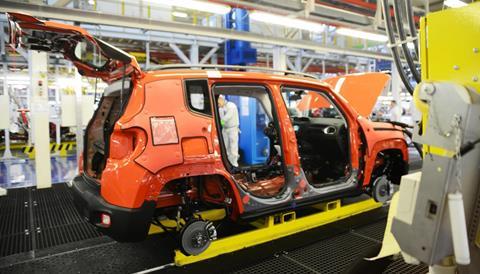 In addition, in Italy, performance Maserati and Alfa vehicles are made at Modena, while the Maserati Ghibli and Quattroporte are produced at Grugliasco.
In broad terms, FCA plans to focus more on Alfa and Jeep, reducing the traditional dependence on the Fiat range, as well as right-sizing the company's inventory by building fewer vehicles for stock. It also wants to look for more platform and technology sharing opportunities, but who with remains to be seen now the Renault proposal has fallen through. Elsewhere, it will continue to increase utilisation, but how it will achieve this remains to be seen. There are many questions outstanding, most of which may have been answerable had the Renault merger been seen as viable.