Trading challenges and dwindling investment is putting Canada's automotive manufacturers under pressure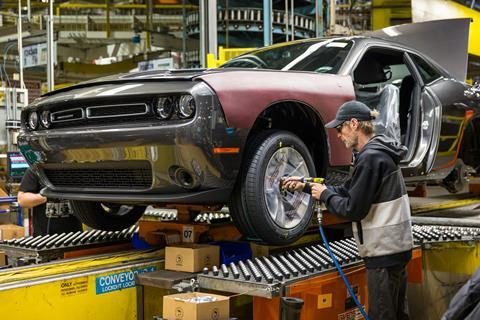 Last year came the blow Canada's automotive industry had been expecting for a while; GM announced it was shutting its Oshawa, Ontario, plant in 2019 with the loss of 2,600 jobs. Then earlier this year came an announcement from Fiat Chrysler that it was axing the third shift at its Windsor, Ontario, plant with the loss of 1,500 jobs. The outlook for Canadian automotive industry looks gloomy indeed. Canada has for a long time produced more cars than are sold in the country, thanks to demand from the US. Its automotive industry has always been concentrated in the central state of Ontario, largely situated between the capital of Toronto and Detroit to the west. This geographic proximity to the established carmaking industry in the US Midwest has meant the two are closely intertwined. Indeed, long-standing factories in Windsor, Ontario, are just miles from Detroit itself, separated only by a river and a border.
Diverging fortunes
However, it means that problems in the heartland of the US automotive industry are also those of Canada's, with the added disadvantage that automakers in the US are being coerced by the protectionist policies of President Donald Trump into focusing new investment in the country, leaving Canada looking isolated. The Canadian market itself is sizeable – last year country bought almost 2m light vehicles. Despite that, however, 83% of the 2.01m light vehicles Canada produced, across five different automakers, last year were exported to the US, illustrating just how dependent its automotive industry is on the US market.
For a long time, Canada was the biggest exporter of vehicles to the US, but that's no longer the case. The 2.02m vehicles it shipped there in 2014 made it number one, but a year later it had been overtaken by Mexico, while last year it was pushed into third place by Japan, according to figures from the US Department of Commerce. Canada's overall production of vehicles has fallen by almost a million in the last 20 years, from just over 3m in 1999, to 2.57m in 2006 and 2.01m last year. In that time, it fell from the world's fifth largest vehicle manufacturer to 11th.
A big reason for the fall has been the closure of assembly plants, some as a result of the financial crisis of 2008-9. For example, Ford shut its St Thomas assembly plant in Talbotville in 2011 when it was the last plant making Crown Victoria sedans for the police. In 2009, Daimler shut the Sterling heavy truck plant in St Thomas, and in 2011 truck-maker Navistar closed its Chatham plant after it lay idle for two years. In 2003, Chrysler closed its Pilette Road plant in Windsor after it failed to secure a replacement for the Ram van and wagon commercials.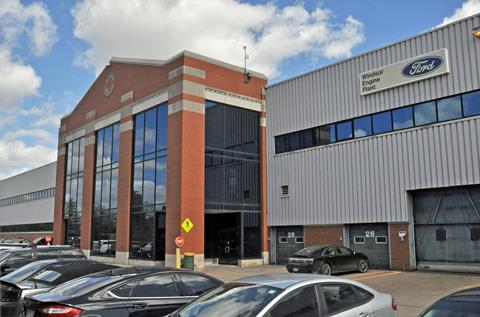 Challenges from the south
Meanwhile, Ford shut its Essex engine plant in 2009 after demolishing its casting plant in Windsor in 2007, and GM shut its Windsor transmission plant in 2010. The prospect of the loss of GM's Oshawa plant caused Canadian production to drop 20% this year, according to a study by Fitch Solutions Macro Research in December. That would put light vehicle production at 1.6m, below projected Canadian vehicle sales of 1.9m.
So where has Canada lost out to? "The centre of gravity of assembly capacity has been shifting southward within the NAFTA region," wrote Charlotte Yates and John Holmes in a report published in February, entitled 'The Future of the Canadian Auto Industry'. Yates, Provost at the University of Guelph, and Holmes, Professor Emeritus at Queen's University, calculated that since 2004 Canada has received only $1 billion of investment in greenfield vehicle assembly operations compared to $15 billion in Mexico.
"Of the 17 new North American assembly plants announced since 2006, 10 have gone to Mexico, seven to the southern United States and none to the Great Lakes region," Yates and Holmes wrote. The Great Lakes region referred to here is the US and Canada's traditional carmaking region, encompassing Michigan, Ohio, Indiana and Ontario.
The pair point out that the closeness of plants in the Great Lakes region has linked them in terms of parts sourcing, with 65% of the $91m worth of parts Canada exported in 2017 heading for the three US states in the region, mainly to GM, Ford and FCA. This means that GM's decision last year to also shut its Youngstown, Ohio, plant and as well as Detroit-Hamtramck, has a knock-on effect on Canadian suppliers.
Of the seven light vehicle assembly plants that remain in Canada, some look shaky. FCA's plant in Windsor, which is already losing a shift, makes the Pacifica minivan, a rare survivor of an increasingly unloved segment. FCA's other Canadian plant in Brampton, a suburb of Toronto, has question marks over its future too. It builds the Chrysler 300 large sedan, and the Dodge Challenger and Charger muscle cars. FCA's recent decision to invest in plants in Michigan, to make the forthcoming Jeep Wagoneer, next-generation Jeep Cherokee and new Ram pickups, leaves Brampton's future uncertain, John Holmes told Automotive News Canada in May. "After GM Oshawa, we saw Chrysler Brampton as being the most vulnerable plant in Canada. The market has gone really soft for cars, especially for sedans," Holmes said. The plant has 3,564 workers, according to FCA's website. Windsor employs 6,104, which will drop to around 4,600 in September when the third shift goes.
Meanwhile Ford's engine plant in Windsor is poised to cut its shifts from three to two after demand fell for the V8 engine it makes there. Customers for the automaker's F-150 pickup are buying more of the turbocharged V6 engine. The automaker said no jobs would be lost.
Ford also has a vehicle assembly plant in Windsor, home of the Ford Edge and related Lincoln MKX midsize SUVs. The Ford Flex and related Lincoln MKT are also built there, but both are low-volume and expected to end production in 2020. On top of that, the Edge is not selling well in its export market of Europe, where sales have been pulled in certain countries, including Ford's biggest European market, the UK. Of the 12 vehicles Canada currently builds, five are also assembled in the US or Mexico, with no pickups fully assembled in Canada.
Renegotiating NAFTA
The North American free trade agreement, NAFTA, has arguably hurt Canada by making Mexico more attractive to automakers looking to invest in the region. President Trump has come to the same conclusion, but the danger for Canada is that his 'America-first' policies could harm its northern neighbour even more as he pressures US automakers to invest within the country's borders. The rewritten version of NAFTA, called USMCA (US, Mexico, Canada agreement), has yet to be ratified but initially called for all cars imported from Canada to be built with 50% US-made parts. This threatened Canada's important parts industry, and Canada successfully lobbied for this to be changed.
The final version of the agreement calls for 75% of the 'regional value content' to originate in three countries. Holmes and Yates argue that Canadian automakers, including Honda and Toyota, are already on around 71% regional content and therefore could easily hit the 75% target. What's more, Canada could benefit from the new 'labour value content' clause, which states that 40-45% of the content of vehicles exported within NAFTA has to be built in factories where the labour rate is $16/hr or more. That erodes Mexico's cost advantage and potentially benefits Canada, which generally considered to be a cheaper place to build than the US states in the Great Lakes region.
"Without the retention of existing assembly capacity and the attraction of new investment in the Great Lakes region, the locus of North American automotive production will continue to shift southward"
Not all bad for Canada
There has been one new plant for Canada this century – Toyota's second in Ontario, which was built in 2005 in Woodstock, 140km south-west of Toronto and very close to GM's second plant in Ingersoll. Costing almost $2 billion, it increased Toyota's workforce in Canada to 8,000. The plant now makes the Rav4 SUV.
There was good news too, recently, for Toyota's other plant, in Cambridge, 100km west of Toronto. Built in 1988, it made headlines in 2003 when it became the first plant outside of Japan to build a Lexus model. It currently makes the Lexus RX450h and RX350 large SUV but will expand to include the smaller NX SUV model starting in 2022, it was announced in April this year.
Honda's plant in Alliston, 90km north of Toronto, meanwhile could get a boost from the planned closure of the carmaker's Swindon, UK, plant, which makes the Civic 5-door for Europe and North America. Alliston is actually three plants, with one making the Civic sedan, a second making the CR-V SUV and the third making engines for both models. The engine plant is another recent addition to Canada's automotive network, opening in 2008.
Oshawa could remain open in some form, despite hopes that Canada's biggest automotive supplier, Magna, could turn it into a contract manufacturing hub, as it does in Austria, being dashed by Magna itself. The current plan is to use the plant's stamping equipment and supply other GM factories, although this would only retain 300 of the 2,800 staff. The loss of Oshawa has a knock-off effect on suppliers as well – for example, metal parts supplier Martinrea International has said it will have to shut a plant in nearby Ajax.
GM, however, still runs its plant in Ingersoll, aka CAMI (Canadian Automotive Manufacturing Inc), where it makes the Equinox compact SUV. This plant was set up in 1988 in partnership with Suzuki but is now fully GM. Ingersoll was at the centre of a bitter strike in 2017 when its 2,800 workers walked out over fears that GM would move more Equinox production to Mexico. The carmaker also has an engine plant in St. Catharines where a staff of 1,320 make V6 and V8 engines, as well as six-speed transmissions for 11 different GM assembly plants.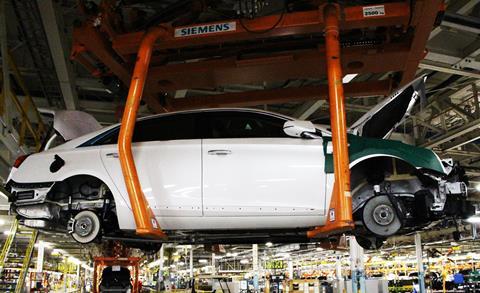 Reversing Canada's falling vehicle production
The debate on how to attract investment back to Canada is consuming legislators. It's still incredibly important to the country. Automotive is Canada's second largest manufacturing industry, bringing $18.28 billion a year to the country's GDP, and $86.58 billion a year to Canadian exports, according to Yates and Holmes' study. It employs over 126,000 people directly and half a million people indirectly.
"We have to understand and remove barriers for investors because in order for Canada to win investments we cannot just be competitive – we need to be better than other jurisdictions south of the border," Ray Tanguay, automotive advisor to the Ontario government and former chairman of Toyota manufacturing in Canada, wrote in a report published at the beginning of 2018. "In the end, it's all about selling our value proposition to the world," he continued.
In June this year, the Ontario government announced a series of regulatory changes to cut red tape for business, including removing the need for automakers to notify the province for onsite construction projects if it is below $250,000, up from $50,000 now. It said it wants to cut red tape for businesses by 25% by 2020. Canadian companies argue that Canada lost out when the US cut its corporate tax from 35% to 21% in 2017. Canada's corporate tax is actually lower but state taxes bump that up, so, for example, automakers in Ontario pay the equivalent of 26.5%. Despite the gloom, Canada is still home to metal-parts specialist Magna, the third-largest automotive supplier globally, as per the latest Automotive News Top 100 Supplier chart. Other key suppliers include engine parts-maker Linamar (57th in the chart) and Martinrea, another metal parts specialist (78th on the chart). In total, Canada has 700 parts manufacturing plants in Canada, according to the Yates and Holmes study.
But competition from both the southern US and Mexico remains the greatest threat to both Canada's automotive industry and the neighbouring industry across the border on which it relies. The report concluded: "Without the retention of existing assembly capacity and the attraction of new investment in the Great Lakes region, the locus of North American automotive production will continue to shift southward."