The third edition of the French automotive forum offered insights into the region's production footprint and OEM e-mobility strategies. Nick Holt reports
The 3rd FEAL Auto forum placed its focus on the Hauts-de-France, seen as a primary region for automotive manufacturing. The event highlighted the strong commitment from both regional government, business organisations and local population; also, from vehicle-makers and tier suppliers, with seven major OEM plants in the region and the sector directly employing 55,000 people. The companies based in region have invested over €400m ($464m) to modernise operations and maintain competitiveness, and also to innovate for future mobility solutions.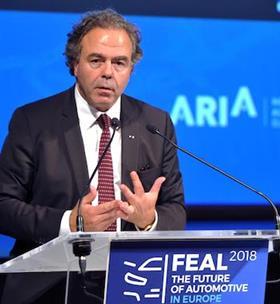 Something else made clear at the event was the sense of national pride in the automotive sector, which is seen as important to France both in the nation's consciousness and from a historical perspective, with the country's carmakers seen as great innovators, and high levels of success for French brands in global motorsport over the years.
Luc Chatel, president of PFA and former government minister, commented on this during his presentation, noting how important the support of the state has been to the country's automotive sector: "I have observed this on two separate occasions in the last 10 years. In 2008, during the financial crash, the state stepped in to save the French automotive sector, and again in 2013 supporting PSA.
"The automotive sector is currently undergoing one of the biggest upheavals in its history, and the challenge for France is to remain an important player in the industry in the coming years. The global auto market has grown despite slow recovery in the major vehicle manufacturing regions (US, Europe and Japan) with China's rapid economic growth being key to this. This and other emerging economies are now important gateways to growth in the global auto market."
Managing the big changes
Chatel noted that as well as the shift in the geographic centre for the auto market towards Asia and other emerging markets, the industry was also experiencing significant change driven by a number of disruptors.
"The technological breakaway in the form of electric vehicles [EV], the digital revolution bringing us connected cars and, in the near future, autonomous vehicles, and also the way these technologies will change our relationship to cars. This will see huge changes for the major vehicle manufacturers who will need to evolve to become service providers," he stated.
"I see there being three key factors for continued success in the face of these changes; the first being the need for innovation. Carlos Ghosn has said that the Renault-Nissan Alliance would be investing €50 billion in innovation over the next five years and Valeo has predicted that only 50% of the products it sells today will be being sold in three years," he continued. "The second key to success is collaboration. In order to meet these future mobility challenges manufacturers will need to work closely with new technology providers.
"Lastly there is a need to ensure we have a workforce that is trained and skilled in these new technologies and it's predicted that this sector will have to recruit 25,000 people to meet this demand over the next five years. This requires the development of training programmes to help meet this shift in technologies and demand."
These changing market trends can be seen in the recent steep decline in demand for diesel-powered cars (due to concerns over emissions pollution) and the increased momentum in the various forms of electrified vehicles. This undoubtedly impacts on current powertrain production operations. It is reported that an electric motor requires seven times less people to build than and ICE unit.
Automotive market continues to grow
Although global automotive sales growth was forecast to slow during 2018, Ronan Noizet, senior analyst at IHS Markit, noted during his presentation that they would still remain at record levels. However, forecasting was made more complicated by new mobility trends.
"We use a 'sales-to-production methodology based on macro economy, using sales to forecast outcome on production operations," said Noizet. "The forecast is limited to 2025 as beyond this the model becomes more complex, less linear and there is a snowball effect where the new mobility and electrification trends combine.
"At first glance it appears that China has been the main driver for growth but looking more closely it's more complex than that. I don't like to put all these markets [BRICS] into one category as it gives a perception that the roots of these countries' growth is essentially the same. However, in China the economy has been largely based on exports, Russia has prospered in the energy markets, and in India there are some structural issues [with the economy].
"We need to look deeper and distinguish between the various markets. Between now and 2025 about 40% of global growth will come from the Chinese economy, which is growing at approximately 2.5% per year, which is slightly less than GDP but still huge. However, this growth isn't reflected in the performance of companies such as PSA or Ford [in China]. The product is important in China and there is a lack of [brand] loyalty from Chinese consumers as it is a very fragmented [automotive] market. For example, in the US there are about 45 brands, whereas in China there are 165 brands. Every month we are seeing new brands emerging in electrification or autonomous vehicles and it's becoming an increasingly competitive market and it will be hard for new newcomers.
"Over the years [the auto industry in] Europe has been supported by exports, particularly to the Chinese and NAFTA markets. However, in 2017 there was an increase in domestic sales and imports into Europe. There were two main reasons for this; firstly, in 2015 the Russian automotive market crashed which saw a loss in vehicle exports of around 200,000 units per year. Also, the relocation of some production to countries outside of Europe had an impact on exports. This year will rely on the success of exports of SUVs produced in Europe. However, most growth has been seen in central Europe.
"Outside of Europe, India shows the greatest potential for growth and will see increasing production output, while both the Russian and South American [Brazil] markets are showing signs of recovery. Overall signs are positive for growth in the global automotive industry, however, there are still some geopolitical risks, namely the NAFTA renegotiation and the question mark as to the Brexit outcome and the dangers of escalating trade wars."
Developing electric vehicle platforms
Noizet also offered an overview of European vehicle-makers' EV platform strategies: "Alternative fuel vehicles [representing various levels of electrification of the powertrain] are receiving increasing investment for the major OEMs in Europe. We predict a rapid decrease in the production of traditional internal combustion engines (ICE).
"We see EV platform development towards full BEV models moving through two stages. The first employs conversion programmes, using conventional ICE models but replacing the engine with some form of electric powertrain that fits the existing architecture, for example the e-Golf."The second stage is a pilot programme, which changes an existing platform to better suit EV powertrains [using Renault Cleo platform to produce the Zoé] or develops a standalone bespoke platform, such as the Audi e-tron.
"Conversion programmes won't represent a high percentage of development in the future, probably mainly being used for LCV applications. Also, pilot programmes will diminish as OEMs' move to develop dedicated platforms for both HEV and BEV.
"So now, in the context of new electric vehicles, the focus has shifted to developing a platform upon which to build multiple models [as per ICE vehicles] rather than single vehicle projects. There have been two different approaches to this. One strategy has been to develop a multi-fuel platform to cater for both ICE and EV powertrains. The other approach is to create a platform purely for BEV applications.
2020 will see VW launch its MEB platform which has been designed for pure BEV applications
"VW and Renault-Nissan represent the two different approaches to this. 2020 will see VW launch its MEB platform, which has been designed for pure BEV applications. This will be split into three versions; 31, 41 and 51. Europe will mainly see the 31 version that will offer two models for each of the three brands (SEAT, Skoda and VW).
"With regards to Audi and Porsche there will be a dedicated platform strategy. The first step is called G1, designed to build electric sports cars. In 2021, the next step will see a new platform called PPE that will support a broader range of electrified models across the Audi range. Porsche will also use this platform for electric versions of the Macan, Cayenne and Panamera.
"Adopting a different approach, Renault-Nissan offers BEVs through its Leaf and Zoé pilot programmes. From 2022 the alliance's next generation of BEVs will use a flat-floor, scalable platform. This CMF-EV architecture will be used for new a model and Renault will use its plant at Douai as its CMF-EV production hub in Europe."
Other OEMs have taken an alternative view on this, noted Noizet: "Daimler's strategy is slightly different. This will see different technical solutions being offered under the EQ brand. The EQC pilot programme will start production of a crossover at Bremen in 2019, but the company's MFA-2 platform will also be able to be used for full electric applications, with production of models on this platform starting at Rastatt and Hambach from 2020.
"From 2021 the EQ models will use the EVA-2 platform, a scalable architecture for BEVs. Mercedes will produce two standalone sedans at Sindelfingen and two large SUV's in the US. The EVA-2 platform will also be used in China.
"PSA aim to have an electric variant of all of its core models sold in Europe available by 2024. They will do this using a variant of their current CMP platform, called e-CMP, which allows for battery installation without changing the vehicle interior.
"This will start in 2019 and using this multi-fuel platform provides some flexibility in production, depending on demand. BMW's pilot programme i3 was based on a bespoke architecture but the German OEM will now invest in more flexible, multi-fuel platforms.
"So, vehicle-makers' electrification strategies and investments are transitioning away from standalone pilot programmes to more scalable and profitable platforms that allow for a broader range of models and the flexibility in production to meet demand," he concluded.