Continued disruption to the automotive supply chain caused by the coronavirus outbreak in China is leading many carmakers to extend plant closures by two weeks beyond the average ten days allocated for closure over the Chinese New Year holiday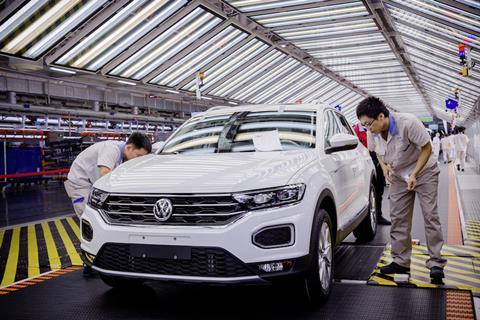 With restrictions on supply routes are growing by the day as the virus spreads, carmakers in China have prolonged plant closures, disrupting production for a further week.
Volkswagen Group, which has a strong presence in China, is asking workers in the most affected regions in China to observe a two-week self-quarantine period before returning to their workplaces.
VW has around 20 production locations for vehicle assembly, engine and parts manufacturing in China with local partners SAIC and FAW. That includes five assembly plants. Last year, It made 4.03m vehicles in China but is now facing a production shortfall of roughly 150,000 for every additional week car assembly is delayed.
VW Group China's joint ventures in China have updated production schedules and are endeavouring to get processes back to normal. However, the OEM said it was facing challenges because of delays to the restart of supply chain operations after the Chinese New Year holiday, and the limited travel options for workers, both of which have been caused by the coronavirus.
"Both the joint ventures expect to resume production at all their plants by the beginning of next week (17 February) at the latest," said a spokesperson for VW Group China.
"The production feasibility of each plant is checked individually, leading to different starting times in the coming days. While each of the FAW-Volkswagen factories plans to resume individually within the week, most SAIC Volkswagen plants will start again by February 17."
Government guidelines
Toyota said it would not start production at its four vehicle assembly plants in China until 17 February, though it said some personnel would return to work this week to prepare for the production restart. Team members in non-plant divisions of the company are also returning from the beginning of this week subject to local government guidelines.
"After considering various factors, including guidelines from local and regional governments, parts supply, and logistics, we are treating the week starting from February 10 as a period for our teams to prepare for the return to normal operation from next week and beyond," said a spokesperson for the carmaker.
Toyota production beyond 17 February will depend on each particular plant's situation and the supply of parts to it, something that again was subject to guidelines from local and region governments.
Toyota said it was still investigating the impact on global operations that sourced parts from China. The supply of engines and parts from Toyota facilities in China effects plants in Japan, but the spokesperson said that so far there has been no impact and production is running normally this week in both Japan and Europe.
BMW's joint venture in China – BMW Brilliance Automotive – also said following government guidelines was a priority for the health of its employees and it required staff to strictly follow measures issued by government authorities.
Like other carmakers, BMW has extended the shutdown of its two assembly plants and high voltage battery centre by two weeks and currently plans to restart production on 17 February. At the moment the joint venture makes six BMW models – BMW 1- 3- and 5 Series, and the BMW X1, X2 and X3 – for the domestic market.
"In China, our purchasing, production and sales experts are closely monitoring the situation regarding parts supply, production and vehicle delivery to customers in China," a BMW spokesperson said. "Thanks to our flexible production system, we will be able to react to further developments at short notice."
Wider global impact
FCA said it was continuing to monitor its global supply chain, but said there was no immediate impact on the group: "If the situation in China continues to worsen, FCA has identified potential risk within the next two to four weeks at one manufacturing facility in Europe," a spokesperson said. "The group will continue to monitor the situation and continues to develop contingency plans to support its global manufacturing."
BMW said that outside of China purchasing experts were monitoring the situation but there was currently no impact on the security of supply.