Such is the nature of the global automotive supply chain, it is inevitable that the knock-on effects of idle assembly lines in China soon reach Japan, Korea and beyond
Fiat has warned that one of its European plants is at risk of imminent closure owing to supply problems from China as a result of the coronavirus.
Renault-Samsung has closed its Busan plant In Korea for four days, citing Chinese supply problems. Nissan will also temporarily shut its plant in Kyushu, Japan, cutting production of 3,000 Rogue SUVs and Serena vans. And back in Korea, Hyundai was the first non-Chinese companies to suspend production owing to component shortages from China.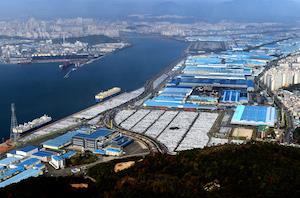 One of the Hyundai plants affected is at Ulsan, the world's largest car plant with five factories on the site making 1.4m units a year.
Ulsan's closure was down to a lack of wiring harnesses, with reports suggesting that a five day shutdown has cost Hyundai 600bn won (US$500m).
It's not known yet what part or parts have caused the Nissan closure, nor which might cause a Fiat closure; it could be one or more of several hundred sourced in China, including wheels or electronic components, products with very high levels of Chinese sourcing across the industry. Further back along the supply chain, seat or airbag fabric supply may be at risk although because of the longer supply chains involved here it will take more time for such disruption to take effect.
To some the idea of European factories grinding to a halt because of long distance supply problems has come as a surprise; while many in the UK have been worrying about the disruption to just-in-time supply chains from Europe post the Brexit transition period, the reality of potential problems in the global supply chain have come to the fore.
This is exactly what happened in the immediate aftermath of the Japanese tsunami and Thai floods in 2011; within a week of the tsunami, the supply of black paint to the world's car factories ran out as the only factory capable of making automotive grade black pigment was located within the earthquake zone; on a very local basis, the Luton van plant also ground to a halt because of a lack of an electronic component supplied from a Japanese tier 3 supplier which had been flooded. Similarly, the start of production of the (the new) Honda Civic and CRV in Swindon was delayed because Honda's Thai electronics factory was under water.
Within a few weeks, however, the auto industry had calibrated supply chains; cars could be painted black, Vauxhall Vivaros were assembled once again and Honda's Swindon plant was busy again, albeit not forever, but that's another story.
The tsunami and floods of 2011 led to a re-evaluation in supply chains; not a complete revolution, but greater analysis of where tier 2 and 3 suppliers were located so that vulnerabilities in supply chains could be quickly identified. Some parts were re-sourced back to Europe or to locations deemed less vulnerable to natural disasters, such as flooding or earthquakes. Some of this business went to China. And now this too is being re-evaluated and will probably be re-sourced too. One of my car company clients has asked me (as well as all its UK suppliers) how much I source in China for example.
There will be more cases of production disruption; for new vehicles this will undoubtedly be costly as vehicle companies will risk missing out on potential sales as production ramps up. For some vehicle programmes – possibly including a Fiat model line or two – production disruption may even be "helpful", enabling vehicle companies to run down stocks of poor-selling lines.
For sure, the coronavirus is serious, especially for those with the disease. China's economy will be hit; European and American consumers may find clothing and consumer electronics in short supply, although pro-environmental groups may see benefits in such a development. And for the automotive industry, supply problems will emerge, highlighting the continued global nature of the supply chain; the pressure to re-source parts back closer to the car plants where they are actually used will intensify, with potential benefits for some automotive component suppliers in Europe, the US and elsewhere.
The law of unexpected consequences will soon be in play.