Nissan has announced a massive £13bn fund for developing electric vehicles and plans to expand the model of its Sunderland plant globally.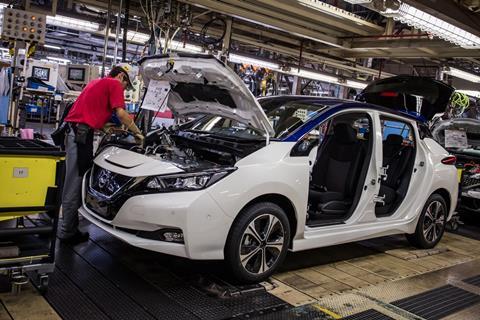 At a news conference, the Japanese OEM said it would be developing 23 new electric models and aims to see global output made up of EVs by 2030.
Nissan said it will spend ¥2 trillion (£13.2bn) on electric vehicles over the next five years.
Nissan chief operating officer Ashwani Gupta stressed the importance of the Sunderland plant for their plans.
He said: "Europe will take the lead on electrification around the world for Nissan. In Europe, Sunderland is the one which will take the lead towards electrification."
The Nissan boss also said that the firm is leading in battery manufacture and green power, with its flagship EV36Zero hub, financed largely by battery manufacturer Envision AESC.
The Tokyo-based project is hosted in Sunderland and launched last year through a partnership between Nissan and Envision AESC for core markets.
The plan sees Nissan and Envision AESC working with local authorities to develop renewable energy production and other systems near the Sunderland plant to produce EVs and their internal batteries – run entirely by renewable energy.
Mr Gupta said: "Sunderland is the leader, in collaboration with the Government, suppliers, dealers and most importantly, our employees."
Nissan intends to introduce all-solid-state batteries by 2028, which will be one-third quicker to charge. Three-quarters of the car sales in Europe are set to be electric by 2026, though lower targets have been established for China, Japan, and the US.
While Nissan's LEAF model is already being rolled out at Sunderland, it also unveiled further detail surrounding the crossover EV produced at the UK plant. Concept images of what has been dubbed the 'Nissan Chill-Out' were revealed, although that will not be its real name.
Mr Gupta described this new generation EV as representing "the shape of things to come."
Widening output
While the Sunderland plant has become central to Nissan's global plans, the carmaker also appears to be ramping up its manufacturing capabilities on multiple fronts.
Nissan Motor said in August that it plans to build a lithium-ion battery plant in Japan to support EV production as part of a joint investment project with Envision AESC, indicating that the Japanese-based firm is increasing battery production at home.
This follows Envision AESC's announcement in July that it would be investing £1 billion in constructing the EV36Zero 9 GWh-capacity gigafactory next to the Sunderland assembly plant.
Nissan intends to make lithium-ion batteries for 100,000 Nissan EVs annually at the plant. Envision AESC has also been making batteries at an existing battery making facility for the Nissan Leaf and e-NV200 EVs at Sunderland since 2012.
During the first stage of investment, the Sunderland factory is planned for an annual capacity of 9 GWh, increasing to 25 GWh following at the second stage, eventually reaching a total of up to 35 GWh.