The fourth-generation MDX, has been designed, developed and manufactured by a team of associates in Ohio and California, and is underpinned by an all-new light truck platform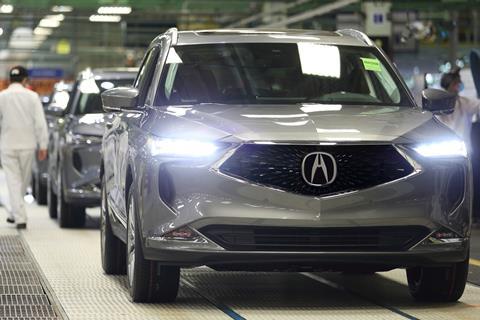 The OEM notes that production team at the East Liberty Auto plant have implemented sophisticated manufacturing technologies to ensure a high-level of build quality and refinement for the 2022 MDX. It is the first model launched exclusively on the plant's new 5,000-ton servo (stamping) press, which it's claimed allows for sharper sculpting of the hood and body panels while forming steel and increased amounts of aluminium.
The company's engine plant in Anna, Ohio, will build the 3.5-litre V6 engine for the new MDX as well as the 3.0-litre turbocharged V6 that will power the Type S high performance variant, set to arrive in the summer.
Honda employs more than 15,000 associates in Ohio, across five plants with the capacity to produce 680,000 Honda and Acura vehicles, 1.18m car engines and 1m transmissions, two-motor hybrid systems, and Sport Hybrid All-wheel Drive systems annually, using domestic and globally sourced parts.