AMS gets under the skin of Canoo's EV concept to discover how the design became a production ready vehicle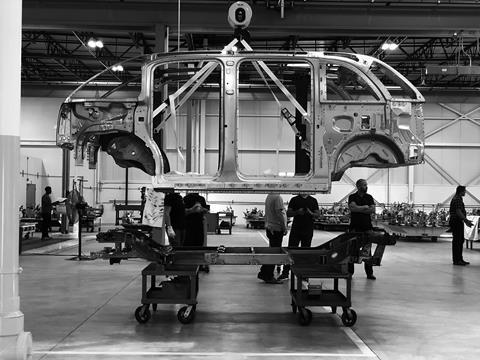 Nick Holt spoke with Clemens Schmitz-Justen, In Charge of Manufacturing and Bill Strickland, In Charge of Vehicle Programmes to gain a unique insight into taking their innovative concept from design to a production ready platform. Schmitz-Justen worked at BMW for over 20 years, including leading the OEM's production operations at Spartanburg, South Carolina, US. Strickland has a similarly impressive automotive background with over 12 years at Ford, much of which running vehicle programmes, plus other roles with FCA and Faraday Future.
The body-in-white that you have presented is really interesting and looks ready to produce. Could you offer some insight on its development?
Clemens Schmitz-Justen: We were very fortunate in that we did not have to consider a [design] carryover. A lot of new [EV] concepts being generated now, mostly through the OEMs, live with the context of ICE vehicles that they've been producing for a long time, and a lot of them are conversions. We worked in a very different situation, being able to start from scratch and coming up with a design and then with the body engineering concept that was optimised and tailored to the needs of an electric vehicle.
Making the body itself may be a challenge but it's not rocket science. The secret is in how you translate the necessities of the EV concept into the manufacturing concept for that vehicle, and then execute it.
So, we translated the separation of a cabin and a skateboard into a manufacturing concept. If you look at the structural concept of this vehicle as not a three-box, but as a one-box vehicle, then a lot of torsional stiffness is required. We achieved this through the material choices we made (high-strength steel), the processing technology of roll-forming and also welding technologies.
Another part of our production concept is that we do not completely paint the vehicle, we just run it through an e-coat and the normal sealing process for [steel] bodies. The coloured outer body skins are thermoplastic and we add them to the vehicle at the end of the assembly process. Having a separate body and skateboard [chassis] offers advantages in term of assembly.
There is more access as you can approach the vehicle structure from all kinds of angles, making the assembly process more ergonomic. Also, the skateboard is completely functional and operational before it's married to the cabin, which gives us another manufacturing advantage. We can add a variety of cabins easily to the same skateboard, which keeps our manufacturing concept very flexible.
Going back to the materials choice, could you give us an indication of what percentage of high strength steel is used in the body?
Bill Strickland: I don't want to give a specific number, but I would say a very high percentage of the vehicle uses a higher strength, more exotic material. As you look to reduce the vehicle's weight, there is either high-strength steel or aluminium, and we're finding that the cost and the strength advantages of high-strength steel outweighed working with aluminium in this case.
Clemens Schmitz-Justen: And also, it should be noted, that we have used high-strength steel for its functionality. As Bill says, we have a high content [of high-strength steel], but it's dedicated to the locations needed in the safety concept for that particular body shape.
"Making the body itself may be a challenge but it's not rocket science. The secret is in how you translate the necessities of the EV concept into the manufacturing concept for that vehicle, and then execute it – Clemens Schmitz-Justen, Canoo"
Have you used more high-strength steel to strengthen the body and the skateboard because you have lost those traditional front and rear crumple zone areas that feature in ICE vehicle architectures?
Bill Strickland: Well, let's start with the safety aspect. We are designing for five-star crash performance all round and moving that big, uncompressible engine block out of the path between the occupant and whatever they're running into, is a big step. But, if you look at the physics, theoretically, we've got enough crumple zone to reach the five-star safety target that we need.
We are using high-strength steels, and there are a lot of Tier 1 suppliers experimenting with dual-phase 1700 martensitic kinds of steel profiles, and the processing of those is difficult. So, you can imagine that if you're an OEM and you've got a carryover platform and you've got a traditional launch window and you need to come up to speed with 1500 units per day in a typical assembly plant, your willingness to take risks on hard-to-process materials is going to be limited.
Since we are growing this business, and with our subscription model, the thought is we'd grow volume as we need to grow volume, but we don't have the same kind of constraints. I think if OEMs were released from those constraints they would start to use these high-strength materials in greater quantities.
"The combination of the experience on the team in both traditional auto and start-up auto has enabled us to execute the vision for the design. Richard Kim is one of the most innovative designers, and the relationship between his design team and our engineering team was the best I've seen – Bill Strickland, Canoo"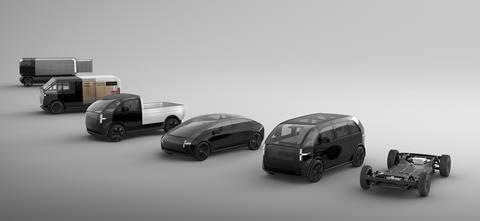 Clemens Schmitz-Justen: And let me add one thing to what Bill just said. You have two inputs into this material and processing choice. One is what your modelling tells you in terms of the strengths that you need for any safety concepts that you have. And the other side is the manufacturability of that material.
The interesting thing you see in conventional vehicles is panels made out of high-strength steel. The situation that we have is different to a certain extent in that we use roll-formed profiles that are significant elements of the body concept, and we use them in various strengths.
So, you can call it high-strength steel from somewhere in the 900 range to the 1700 range, and we explored this entire range from the point of view saying 'what do we need and where' in terms of strength, and how does that translate into the formability of the material, and that is not easy.
We had excellent modelling tools available, that we used to look into the crash requirements and what we would need, and then into the manufacturing simulation. We have a variety of steel grades spread out over the profiles of that vehicle, but this does not look conspicuous on the car.
Having been at BMW for 20 years you have these evolutionary steps from generation one to two to three to four, and it was a fascinating journey. With this new project we had the challenge but also the great opportunity to start from scratch and not being constrained by traditional thinking and traditional structures in the manufacturing.
Did you at any point consider using aluminium for the body?
Bill Strickland: Yes, we did investigate it, but one of the tenets that we've laid out is that we need the car to be affordable, and adding that much aluminium pushed us in the direction of not being affordable, especially when you're using aluminium for structural members. We find there's more bang for the buck and weight saving opportunities with the high strength steels, and as the processing ability grows and the predictability of getting parts that meet specs and have the correct properties grows, it makes it easier to move in that direction.
Clemens Schmitz-Justen: And also, if you look at the shape of the vehicle, the bending of the profiles that we need is more easily accomplished with steel than with aluminium, which requires a lot more wall thickness for the same strength.
Bill Strickland: One of the things I'd like to back up on just a little bit is you asked about the transition from design to engineering to manufacture. One of the things that I'm very happy that you noticed was that the body was pretty complete, and if you look at the detail and the stamping, you can't fake that. Those are all real stampings and that's a real body that we put together. The [vapourware] criticism is one that, you know, those of us who've been in start-up companies and in OEMs have had levied against us, so it was very important that when we revealed the show car, we also had the engineering to back it up. The combination of the experience on the team in both traditional auto and start-up auto has enabled us to execute the vision for the design. Richard Kim is one of the most innovative designers, and the relationship between his design team and our engineering team was the best I've seen.
We had that plan and, working with experienced guys who know which materials to use, kind of instinctively, combined with the simulation ability and the close relationship with the team, was a really big part of getting to the point of producing a driving vehicle.
Clemens Schmitz-Justen: And let me add one more facet to this. You asked how we managed to accomplish this? You need to establish a very close collaboration between product and manufacturing engineering right from the start, and avoid operating in a way where you first engineer the product and then look into how you can manufacture it. I call it the 'zipper' model because the increments of sequential work have to be much smaller and you really need to have manufacturing and product engineering engaged like a zipper.
As Bill said, having the experience of the people here, who have gone through these things a couple of times in their careers, and insist on working together from the beginning, meant the car was always engineered with manufacturing as a partner. A congenial approach between those two areas I think that makes the difference here and this is also what is needed to be successful with developing and producing a new concept.
Working with Hyundai
Earlier this year Hyundai Motor Group announced that it had engaged Canoo to jointly develop an electric vehicle (EV) platform based on Canoo's proprietary skateboard design for upcoming Hyundai and Kia models. As part of the collaboration, Canoo is providing engineering services to help develop a fully scalable, all-electric platform to meet Hyundai and Kia specifications.
The design of Canoo's skateboard platform places a strong emphasis on functional integration, meaning all components fulfil as many functions as possible. This feat of engineering reduces the skateboard size, weight and total number of parts, which ultimately provides more interior cabin space and a more cost-effective EV offering. In addition, the Canoo skateboard is a self-contained unit that can be paired with any cabin design.
Hyundai expects an adaptable all-electric platform using Canoo's scalable skateboard architecture to allow for a simplified and standardised development process for Hyundai and Kia electrified vehicles, which is expected to help reduce cost to the consumer and reduce the complexity of its EV assembly line.
"We were highly impressed by the speed and efficiency in which Canoo developed their innovative EV architecture, making them the perfect engineering partner for us as we transition to become a frontrunner in the future mobility industry," said Albert Biermann, Head of Research & Development, Hyundai Motor Group. "We will collaborate with Canoo engineers to develop a cost-effective Hyundai platform concept that is autonomous ready and suitable for mass adoption."
"We have been working diligently to develop a bold new electric vehicle and partnering with a global leader like Hyundai is a validating moment for our young company," said Ulrich Kranz, In Charge of Canoo.