The off-highway sector is now seeing the introduction of electric powertrains. AMS visited Hyperdrive to look at the development and production of battery packs for construction equipment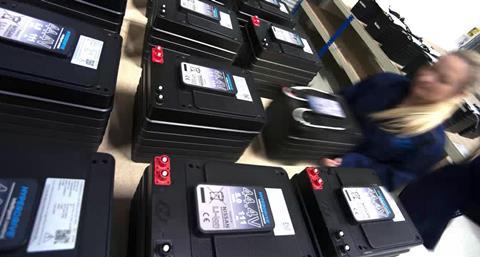 Based just outside Sunderland, UK, Hyperdrive has been developing battery solutions for various applications since 2012. In 2017, the company signed a supply agreement with construction machinery manufacturer JCB to develop and produce battery packs for the OEM's first fully electrically powered mini excavator.
Hyperdrive says one of its key services is tailoring the management of the battery performance in the control unit to meet the customer's application requirements. As part of the JCB's E-Tec project, the company had to fit the batteries into the existing mini excavator replacing the diesel power unit, and also fine-tune how they performed in the application.
"It was quite a long, complex process as the machine didn't undergo a big redesign, so, we had to fit the batteries into the space where the diesel power unit had been," explains Hyperdrive's production manager, Keith Hind. "This meant some adjustment to the battery packs. There was also a very short delivery time scale for the project. From prototype to start of production was 14 months."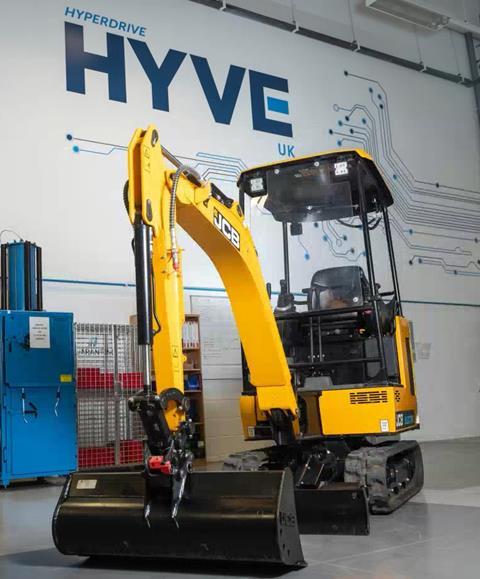 Full cycle testing
The design of the battery packs for JCB also had to consider their harsh operating conditions, so they had to be robust and water-tight. JCB is now shipping these models all over the world to locations ranging from Texas, US to India where conditions can be very hot. Hyperdrive does as much of the testing as possible in-house, and has installed some thermal chambers. These can test through a temperature range from -40°C up to 70°C. "We run all the battery cells we receive though a full computer-controlled discharge-recharge cycle," described Hind. "So, once we have built the cells into the specified battery pack, we run the packs through a full cycle; the cells we receive from [supplier] Envision come in a 50% state of charge, and we will discharge them down to a safe level then recharge back up to 50% charge. Those from Korean supplier Kokam are air freighted so they come in at 30% charged. Again, the same cycling procedure, but we take them up to 50% charge before shipping to customers.
"We have made our assembly process transferable, very much a 'plug and play' set up… At this facility we could set a completely new line up and running with a trained operator in under five weeks."

Keith Hind, Hyperdrive
The battery stacks themselves are highly modular but each different configuration requires a specific management programme depending on the number of cells and the application. Hyperdrive says a big part of its IP is the software and firmware and tailoring these to meet customer requirements is one of the biggest challenges.
"With every customer there is always a different set of requirements depending on the application," notes Hind. "It would be nice to have a 'one-size-fits-all' solution, [but] that's not the case, so our engineers are always fine-tuning the software and firmware to suit."
The battery pack assembly area is, at present, split into two areas. The modular pack assembly operation currently produces between 4,000-5,000 units per year, the older AGV section is up to 8,000 units per year. However, this production area has space to expand the assembly operations to six cells and could produce up to 30,000 units.
"The current set up is a mixture of old and new production," explains Hind. "This started with production for the AGVs and the lessons learned on that project have been applied to the two new modular production cells. In each those we have one operative with all the parts and tooling required to build a complete battery pack at a rate of about one per hour. Between the two cells we can produce 100 battery packs per week. I can increase the volume up to a point by adding shifts, but we have designed the assembly area to add in more cells. The set up is very modular and easy to replicate.
"We are planning to work with new partners in Asia, North America and India, who will be licensed to produce these battery packs. One of the big challenges with batteries is transporting them, so having production partners in these regions is a big advantage. We have made our assembly process transferable, very much a 'plug and play' set up. We give them what they need to build an identical line, all the work instructions and process flows.
"At this facility we could set a completely new line up and running with a trained operator in under five weeks, so we can expand production quickly as needed."
He adds: "The JCB packs have required some additional content but this has helped us develop and improve our standard packs."
The assembly process for the modular units consists of the battery cells that can be stacked into packs using compression plates and rods, the number of cells depending on the application. Rubber seals are fitted to prevent any moisture getting into the units. Once the stack is assembled, the bus bars and wiring are added. The lid for the pack also integrates the battery management system. As far as possible the company tries to standardise the packs and components, but the output connectors do vary according to the customer and application.
The tooling used in the assembly process is linked and controlled, so only the required tool head is unlocked from its holder following each assembly sequence. The major components are tracked. Each battery cell has a unique serial number that is scanned and recorded as part of what the company calls its 'birth certificate' for the completed battery pack. The control units are also recorded on to this, making it possible to track faults back to individual builds according to time and date. To support consistency and quality the company also uses a kitting system for each build.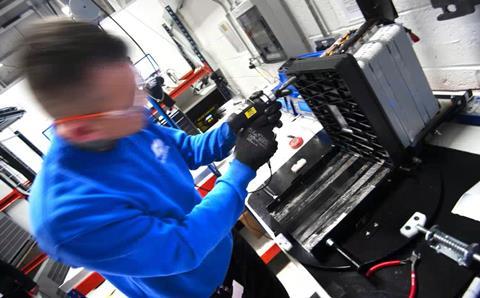 Adopting an automotive ethos
Hind observes that "standardisation is an ongoing process so we try to batch build as far as possible. As we expand production the intention is to have customer dedicated assembly cells. This assembly model could even be transferred to line-side operations at a customer's production plant. All our production operations are based around an automotive ethos in terms of structure, processes, training, etc."
The company currently operates one shift, five days a week to fit output with the requirement of its customer base. Hind notes that other production cycles have been tried: "We did try a four-day week with 10-hour shifts, with Friday being reserved for maintenance operations, but we finally decided it was better for production to run on the five-day basis. We have a small production team but our output relative to the size of the team is very good. This capacity fits with our demand from customers, but we have set up our production operation to be able to easily increase our output".
The stores area is the largest part of the site and was previously used for some of the production. The extra space is needed to store the 6-8 months' worth of Lithium Ion battery cells that are delivered at a time from company's Korean supplier Kokam. There are also deliveries from near neighbour Envision (formerly Nissan's battery operation). The deal with Kokam services production of AGVs.
Quality control is extremely important, so an area known as 'the workshop' is now the testing area. All the software and firmware is developed and tested here, along with the 100% of the battery packs produced. These are put through a charge/discharge cycle to ensure they are fully functional when they leave the factory.
The development of the electric excavator has been a success for both JCB (see box) and Hyperdrive and highlights another sector where the electrification of vehicles and equipment will grow. Hyperdrive expects to see demand and production increase, and the company's highly modular approach to both its products and manufacturing seems well suited to the off-highway sector.
Constructive development
Production of the 19C-1E, JCB's first fully electric mini excavator, takes palace at the company's Compact Products plant in Cheadle, UK. JCB says it has received orders from customers in Europe and North America, with over 50 machines already delivered.
The OEM says this machine is five times quieter than its diesel counterpart and can be fully charged in under two hours. When fully charged, the company claims the 19C-1E can put in a typical full day's shift for a mini excavator. The model is expected to be popular with companies working inside buildings and in emissions and noise-sensitive inner-city areas.
This year the company has been given the Dewar Trophy for 'Outstanding Technical Achievement in the British Automotive Industry' for the launch of the new 19C-1E.
Like what you've read? Then why not become an AMS online member!
As a member you will gain full and unlimited access to our global coverage of automotive manufacturing, including our in-depth coverage of technology, OEMs, regions, suppliers, and materials. Also included are our business intelligence reports and forecasts, and we hope you will also consider joining us at one of our webinars in 2020.
We'll also keep you up to date with regular newsletters and dedicated member only communications, so you'll be the first to know about our latest features, reports and webinars.
To gain unlimited access to the exclusive content and features of Automotive Manufacturing Solutions please SIGN-IN or REGISTER FREE today.