Sven Schulz, CEO of battery systems supplier Akasol, speaks to Gareth Price about the company's involvement with Daimler's next generation electrified bus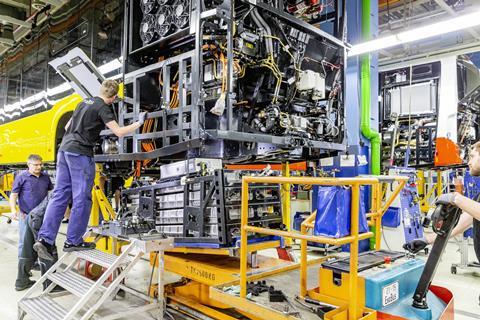 Next year, Mannheim-based Daimler subsidiary EvoBus will launch its eCitaro, the second generation electrified bus. Continuing in place as battery systems supplier, Akasol says the new bus will make use of 35% more energy from its powerpack than the outgoing model.
Crucially for EvoBus, the storage and range optimisation has been achieved with the same weight and the same space, installed both on the roof and in the rear of the electric bus. Installation of the improved system was possible thanks to the identical spatial design of the battery systems.
Upward compatibility, as Akasol puts it. The high-performance battery systems are manufactured in Langen, which Akasol officially opened at the end of 2017. The company origins sit with the Technical University of Darmstadt. At the beginning of the 1990s, a team comprising professors and students began designing solar-powered race cars. After winning three world championships, the Akademische Solar-Gruppe eventually switched its focus onto systems for propelling commercial and passenger electric vehicles.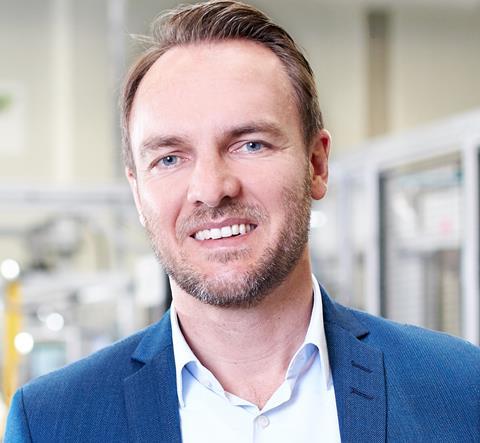 From R&D to P&L
Akasol evolved from a research group at the Technical University of Darmstadt looking at solar power in propulsion. It span off into a commercial set-up a decade ago when current CEO Sven Schulz stepped in to fund a commercial spinoff that could take two decades of research and development into the battery system market.
By 2016, Akasol was selected by Daimler EvoBus to become their battery supplier for the eCitaro. Next, a major vehicle manufacturer in Sweden took on Akasol to supply battery systems for both its bus and truck programme. We talk to Akasol CEO Sven Schulz to find out more:
AMS: In terms of the eCitaro battery systems, how would you characterise the process?
Sven Schulz: Daimler had a specification on the battery system in terms of size, in terms of energy content, in terms of voltage range. This is also where the shape comes from. Today, they would probably do it differently because they have a double decker installed where the combustion engine used to be. Even in the back they have four battery systems stapled on top of each other. They were thinking, in the beginning when they wrote their specification, that they needed to have smaller boxes. Today, they would probably double up those boxes and they would achieve more energy density within it. However, we stick to the specification. The customer takes those battery systems and places them into the vehicle design. They're doing the packaging on the vehicle side, and they're also testing the vehicle behaviour once the batteries are installed on the roof or in the back. All those kinds of things.
The customers sometimes say, okay, I want to have like 10 battery systems on the roof, or another one says I want to have 12. Then the next one comes and says four are good enough because I have the fast charging stations in my city and I don't want to have those battery boxes.
In terms of the construction of the battery cells themselves, is Akasol building those up from scratch?
Yes. We can handle the cylindrical cell, the prismatic cell and also the pouch cell. What you see in the buses from EvoBus right now is the version with a prismatic cell. Our high energy cylindrical cell solution comes in two versions. One is the small battery module, so it means the customer can actually do a retrofit if they want to and have more energy with those cylindrical cells in their battery systems. But we also go one step further in a very high energy focused solution. It's the 159 ampere-hour battery module that we're going to supply for a serial project that has already started for one customer. With this battery module we can achieve energy density that's better than solid state right now.
So you're technology agnostic?
We have the flexibility in terms of technologies – the single solution that you see from other battery system manufacturers who claim to have the one-size-fits-all solution, we don't do that.
You need to have access to different kinds of technologies. For example, not all of our solutions would not be good for the full electric eCitaro. Some solutions would be great for a fuel cell application because it's the high cycle application and you can operate that battery system with a fuel cell or any other hybrid powertrain very well.
We're looking always on the application itself, checking the requirements, the specifications, and then we find out the right solution for that kind of application. And since we have the IP for those modules and all the system design, we can configure it the way the customer wants it.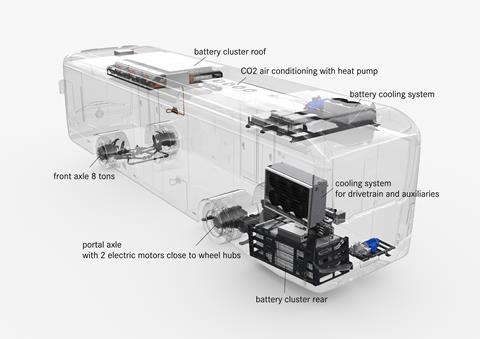 The lithium-ion batteries are split between up to 10 modules, each supplying around 25 kWh. Two battery modules are fitted on the vehicle roof plus four at the rear. The powertrain of the new eCitaro is based on ZF AVE 130 electric portal axle with electric motors at the wheel hub
To offer the variation is good, but it makes it difficult for you. How does that affect your assembly and manufacturing processes then?
Oh, yes, that's a challenge, definitely. Right now, the only battery system we're producing as a serial product is the OEM PRC. Now, with a new solution coming up, it's going to be a challenge. The battery system itself is a complex product, but when it comes to the system assembly it's not as complex as a passenger vehicle, for example. But the idea comes from the automotive industry that you have 100% flexibility in terms of operations.
How would you characterise the assembly process?
We're a strong believer of a good combination between manual operations and automated operations. Of course, we're using state-of-the-art automation machines and processes. It's a fast-moving, challenging industry. Just give you an example, a couple of years ago Akasol was building around 300, 400 battery systems per year. Right now, we're building more than 100 per week. So that growth is really demanding. If you commit to automotive at one time you really need to supply. You can't hold them back.
Are your suppliers innovating for you, for example on materials or bonding?
Yes, this is definitely happening. We wouldn't be able to develop this kind of products without the support of our suppliers. It's a very high and strong commitment that we receive from them, very entrepreneurial, and that helps a lot in order to push the development of that technology fast.
There are new technologies and it's a continuous improvement process on a product level. We're using different materials since we started compared to a couple of years ago. We're trying out different kinds of glue and mounting processes. We're using different kinds of cell connection processes. We're checking on laser welding.
However, if you have a released product you need to build it the way you developed it because it's validated and tested. You need to stick on that for a certain period of time. But when that is done you can shift, with the next generation, to maybe further improvements.