Electric vehicle designer ElectraMeccanica is set to merge with electric medium-and-heavy-duty commercial vehicle firm Tevva to create a "market leader in zero-emissions commercial vehicles".
The firms, which entered into a definitive agreement, will operate under Tevva's name and will focus primarily on the UK, market, followed by Europe and the US. The boards of both companies have unanimously voted to approve the merger, which is "intended to accelerate their combined ability to capture the growing opportunity in commercial electric trucks". It now needs to receive shareholder approval as well as approval from the Supreme Court of British Columbia before the transaction's expected close in the fourth quarter of this year.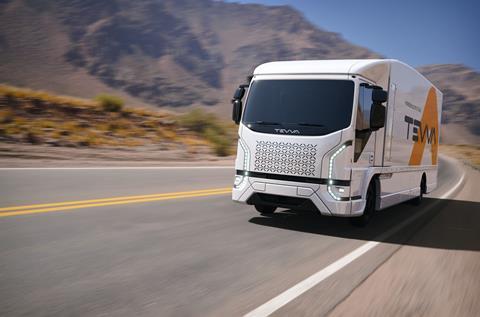 Tevva already has a strong presence in the UK, with an 110,000 sq. ft EV manufacturing facility in Tilbury. The firm recently commenced deliveries of its 7.5t BEV truck to commercial fleet customers focused on urban delivery, which it says is "a critical and high-growth segment of the overall commercial truck market for delivery-dependent urban areas". The company says its future product portfolio is being developed to include a "proprietary hydrogen range-extender technology". This is intended to extend the range on BEVs so that electric trucks will be able to drive for longer without running out of charge.
David Roberts, director, Tevva said: "Our vehicles have undertaken more than 300,000 miles of testing and operating experience in real-world conditions by demanding fleet operators. We are excited to merge with ElectraMeccanica and accelerate the growth of the combined company. Throughout the process, we have been impressed with ElectraMeccanica's management team and strongly believe that its complementary assets, skills and capital will further enhance our advantages in this large and rapidly growing market."
Upon the closing of the transaction, ElectraMeccanica shareholders will own 23.5% of the combined company, with Tevva shareholders owning the remaining 76.5%. The company expects to have a cash balance of $70-80m, with debt of around $26m. It's anticipated that the combined company and its shares will trade on the Nasdaq Stock Market.
In addition, ElectraMeccanica has approved the provision of a $6m credit facility to Tevva which can be drawn in whole or in part until the closing of the transaction to help accelerate the delivery of commercial vehicles to fleet customers.
Susan Docherty, CEO, ElectraMeccanica said: "We believe this is the right time and Tevva is the right partner with which to pivot from consumer vehicles to commercial vehicles and respond to commercial fleet customer demand for superior, reliable and cost-effective trucks. The complementary operations of the two companies and our similar values and mission give me complete confidence we can jointly create shareholder value."
She added that Tevva is "extremely well positioned" in the UK and European market and said ElectraMeccanica's senior executive team and balance sheet will "help take the combined company to the next level".