The companies will form a joint venture to grow chassis business for both ICE and EVs, leveraging ZF's production knowhow and Foxconn's reach in fast-growing markets in Asia.
Taiwanese electronics manufacturer Foxconn (Hon Hai Technology) has acquired a 50% stake in ZF Chassis Modules, a unit of the ZF Group specialising in passenger car chassis system development and production.
With an enterprise value of approximately €1 billion ($1.1 billion), the partnership is projected to unlock growth opportunities for both companies while expanding their respective product offerings and manufacturing capabilities in the ICE and EV space. The joint venture seeks to pave the way for innovations in automotive; opening up new horizons for ZF Chassis Modules while providing Foxconn with further entry points into the automotive market.
Foxconn's leadership pointed in particular to ZF's development and supply chain management expertise in helping to grow further in the automotive industry. "I am absolutely excited about this partnership. Foxconn's global network and supply chain management know-how, plus the expertise, diligence, and commitment that ZF Chassis brings, will result in a successful execution of value-added creation for both our shareholders," said Foxconn's chairman and CEO, Young Liu. "We are also keen to explore more partnership opportunities with the ZF Group in the broader transportation and mobility space."
ZF's CEO, Dr. Holger Klein, CEO of ZF Group, pointed to opportunities for further expanding its chassis business thanks to Foxconn's presence in sectors like electronics and global markets. "We aim to open new customer groups and expand our presence, especially in fast-growing markets. This strategic move is in line with our commitment to expanding specific business areas beyond current limits with the valuable support of external partners."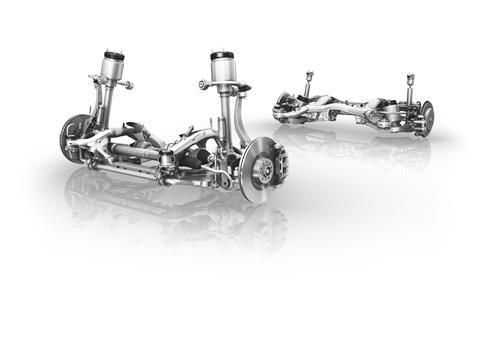 Foxconn generates most of its revenues today from China, where it is the primary contract manufacturer for Apple products.
The joint venture agreement is expected to become effective within six to nine months after signing, pending necessary regulatory approvals.
With operations spanning across 25 locations worldwide and a dedicated workforce of approximately 3,300 employees (including 100 in Germany), ZF Chassis Modules' projected sales for 2023 are estimated to exceed €4 billion ($4.5 billion).
Foxconn has already been making segues into the electric vehicle space, from components to EV manufacturing. For example, the company has partnered with Stellantis in a joint venture to design sell semiconductors for the automotive industry, called SiliconAuto.
Foxconn had also made moves to enter into vehicle manufacturing, although it has yet to realise production at scale. In 2022, it acquired a former GM factory in Lordstown, Ohio for $230m, a plant which had been owned by electric truck startup Lordstown. After initial plans to invest further in the startup, Foxconn withdrew funding and the OEM later filed for bankruptcy. In May 2022, Foxconn announced that it would produce Fisker's second all-electric model, the PEAR Urban Lifestyle EV, at the plant. Renovations to the factory are reported to be ongoing, but there is not confirmed start of production.