Scandinavian electric vehicle OEM, Volta Trucks, partners with ZF Commercial Vehicle Solutions (CVS) to leverage their expertise and tech, accelerating the advancement of the Volta Zero—a fully electric 16-tonne truck designed for urban deliveries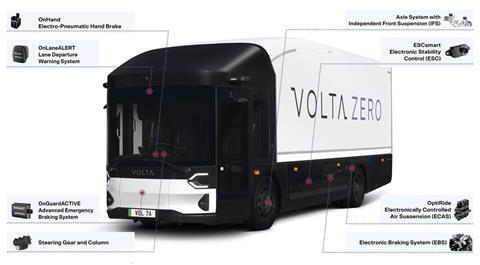 Volta Trucks, has recently announced a strategic collaboration with ZF CVS to expedite the development of its flagship model, the Volta Zero.
The Volta Zero, a fully-electric 16-tonne truck purpose-built for urban deliveries, will benefit from ZF's extensive expertise in driveline systems and electric vehicle technologies.
The Zero integrates a range of specialised ZF technologies tailored specifically for commercial vehicles, such as OnGuardACTIVE AEBS (Advanced Emergency Braking System), EBS (Electronic Brake System), ESCsmart (Electronic Stability Control), and OnHand Electro-Pneumatic Handbrake. The Zero also incorporates an independent front suspension axle system and steering system developed by ZF.
Speaking at the AMS Automotive Evolution conference in Munich Kjell Walöen, Co-Founder, Chief Manufacturing and Logistics Officer at Volta Trucks, noted that the company had adopted a strategy of sourcing standardised parts to speed up the time to market. "Standardisation and simplification are very important. I have seen other start-ups wanting to develop and create everything themselves. It's a different strategy, and I'm not saying it's wrong, but it takes so much longer. We decided that our product was good enough and wanted to deliver it as quickly as possible. Our manufacturing requirements were flexibility, speed and cost-effectiveness, so we have been buying parts off the shelf…"
In 2021 the company announced that its first vehicles would be manufactured at a plant in Austria at a former MAN production site acquired by Steyr Automotive, with production set to begin in late 2022. Volta, which also operates a facility to produce 'Design Verification' (DV) prototypes in Coventry in the UK, is developing Four electric truck models of different sizes and plans to produce more than 27,000 units annually by 2025. A company spokesperson said that this volume could either be achieved through the expansion of the Steyr Automotive facility or by bringing additional manufacturing facilities online, depending on the geographical spread of sales by that point.
In light of this recent partnership, Purchasing Director at Volta Trucks, Ellie Pittson, commented "As a disruptive all-electric manufacturer that is bringing a vehicle to market at an industry-setting pace, partnering with trusted automotive suppliers such as ZF will be a vital part of our success.
"Volta Trucks and ZF CVS have a shared commitment towards climate protection and sustainability, and lead the field for next-generation mobility, which makes this relationship a very important one for Volta Trucks."