E-mobility is increasingly changing Schaeffler from a component manufacturer to a full-system supplier. Matthias Zink, CEO of the company's Automotive Technologies division, talks to Ralf Bretting and Pascal Nagel about how the supplier is preparing for the powertrain mix of the future and why the discussion about electrification could do with more honesty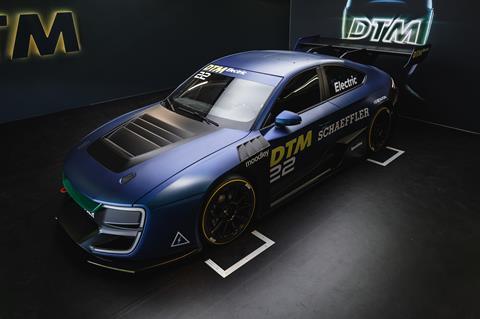 Mr. Zink, the automotive industry is still tense. How is this uncertainty affecting Schaeffler?
The situation is tense, that's true. However, we had a good fourth quarter and our orderbooks are full. It is actually more of a positive tension with us. But I cannot yet foresee in which direction this tension will ultimately play out.
In other words: there is no planning certainty for the year 2021?
We planned the year at a difficult time and proceeded very conservatively in our outlook. We are generally optimistic, but there are a number of risk factors that we need to consider.
Schaeffler CEO Klaus Rosenfeld has called for stronger synergy effects between the three divisions – Automotive Technologies, Automotive Aftermarket and Industry – as part of the company's 'Roadmap 2025'. Where exactly are you starting this collaboration with your colleagues from the other divisions?
We are already using many synergies today. These have always existed, especially between the two automotive divisions. But we want to dovetail even more closely with the industrial unit. One example is our hydrogen growth initiative for automotive and industrial applications. Based on our manufacturing and industrialisation competence, we consider this topic a great growth opportunity. Schaeffler components and systems can be applied both in hydrogen fuel cells as well as in the production of hydrogen through electrolysis.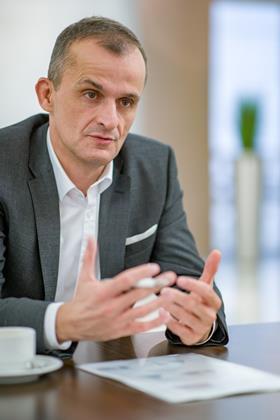 Another example is in digitalisation: networking factories and plants together allows for closer cooperation between the automotive and industry divisions.
Schaeffler is a technology group that serves a total of ten sectors with common production technology. There are more than enough points of overlap, from purchasing to pure research, just as we will, for example, in our planned central laboratory in Herzogenaurach [a new R&D centre at Schaeffler's headquarters that will consolidate labs across the Automotive and Industrial divisions scheduled for completion in 2023].
What role does digitalisation and networking of Schaeffler factories play in improving efficiency?
Even if we do not deal with data, but primarily with hardware, the topic plays a major role. It starts with the supply chain. This is where we see the greatest advantage in networking [of facilities], because it helps us to become more efficient overall. Especially in times of coronavirus, digitalisation is an essential component in being able to receive and react quickly to global information. The pandemic has pushed us even further in this direction and revealed completely different requirements that we needed. We are pushing the networking of our systems and controlling the movement of many precision mechanical parts. Networking our plants has made this considerably easier.
The big topic that moves the industry is electromobility. Schaeffler founded a corporate division for e-mobility three years ago. What percentage of sales does the unit have today and where do you want to go in the medium term?
E-mobility is growing significantly and today contributes over €600m ($718m) to the total revenue of the Automotive Technologies division [which were €7.8 billion in 2020]. We see a positive development in order intakes. Last year we wanted to book forward orders of €1.5 billion to €2 billion [in e-mobility]. We exceeded that and set ourselves the same goal again for 2021. From 2022, the annual order intake revenue is expected to grow to €2 billion to €3 billion. We're thus driving the division towards €2 billion in annual revenue.
Schaeffler produces the front- and rear-axle drives for the Audi e-tron electric SUV, builds the front-axle drives for the Porsche Cayenne hybrid and supplies hybrid modules for various Ford models. What consequences did these orders have for production?
Initially, that was a big change for Schaeffler as we suddenly became a system provider. When you deliver an entire system to your customers, that's a different role than supplying components and modules such as clutches, dual mass flywheels, synchronisers and bearings. The level of responsibility is many times higher. We notice this both in development and in production [of electrified vehicles].
But that sounds like a very healthy transformation. Your employees must feel good about this development …
The good thing about this transformation is that we do one thing but don't stop the other. We dive into the system provider level, but still produce components for our customers. It is from this combination that we draw our strength. Take the example of the hybrid module: we supplement technology that we already have – in this case a torque converter – with new elements, namely an electric motor with additional features and power electronics. It is an extension of the existing technology. Our employees appreciate that.
Schaeffler's transformation in recent years has also included strategic acquisitions in the field of electromobility. Are you currently still missing a piece of the puzzle?
We'll have to see. So far, we have successfully taken steps towards becoming a system partner in e-mobility. By acquiring Compact Dynamics and Elmotec Statomat, we specifically strengthened our position in the field of electric motors, for which we'll start series production this year. Partnerships are still important for Schaeffler in order to remain competitive in future across challenging markets.
At the moment, one has the impression that the e-mobility hype is marginalising other powertrain types. How is Schaeffler preparing for the drive mix?
As far as the powertrain mix is concerned, we have been planning for 30-40-30 scenario for some time: by 2030 we assume 30% [of new vehicles] will be fully electrified, 40% hybrid and 30% internal combustion engine. We formulated that aggressive outlook about three years ago in order to force ourselves to transform as well. Today I see electromobility on the verge of a breakthrough, driven by a large proportion of hybrids. If look at our customer Toyota, for example, you will see high sales figures for hybrid variants in the European market. Some models are only offered as hybrids. In the future, however, the proportion of hybrids will decrease [in favour of electric vehicles].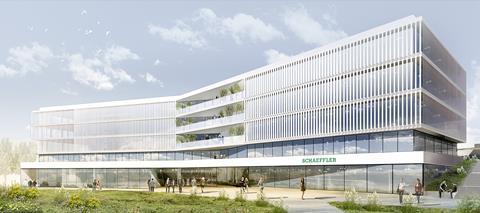 If someone bet you today that the internal combustion engine would see a renaissance, would you take it?
No, I wouldn't take that bet. All signs point to e-mobility although we will probably still see a final generation of the internal combustion engine. However, we are seeing clear signals that the technology will gradually disappear from the market afterwards. Nevertheless, there are still challenges in e-mobility to overcome, for example with regards to storage capacities and charging infrastructure. I don't think it's going to be completely disruptive.
So that we understand you correctly: electromobility will come, but not for all applications?
Even if I am convinced that electromobility is the solution, I would like a discussion that still includes all technologies. There are currently 1.4 billion cars driving on the planet. Reducing CO2 emissions through new battery electric vehicles alone would take a very long time and, in my opinion, would not make sense. I'm a big advocate of transitioning to electromobility over time. But we need sensible steps and an honest discussion. Hydrogen can also play an important role in some mobility fields.
You've already cited Toyota as a positive example for hybrids. In your opinion, have other car manufacturers been asleep at the wheel when it comes to hybrid drives?
I can still remember when we analysed the first Toyota Prius and marvelled at the technology. At that time [around 1997], both car manufacturers and automotive suppliers were very focused on sophisticated competing technologies to hybrid, such as efficient diesel engines and high-performance automatic transmissions. Schaeffler had repeatedly presented hybrid concept vehicles, but the market for this technology simply wasn't there at the time. I wouldn't say car manufacturers were sleepy. But many did ignore hybrid powertrains because other technology was just as good. In recent years, the industry has caught up to hybrid at galloping speed. There are many solutions now ready for mass production.
But time is also of the essence. You yourself spoke of the last generation of combustion engines …
There are still markets such as Brazil, India and Southeast Asia in which internal combustion engines are likely to be available for quite a while longer. But essentially, I do see the last generation, that's true. I already spoke about our expectations for a 30-40-30 powertrain mix by 2030. We recently enhanced this outlook for the year 2035, when we assume that 50% of cars will be purely electric vehicles, 35% will be hybrids and 15% will have combustion engines.

In the chassis area, you are preparing explicitly for the autonomous driving era. How are you going about this?
Basically, the chassis is precisely the central focus area in the car for autonomous driving: it is about steering and lateral guidance. The drivetrain is initially subordinate. The Space Drive, a steer-by-wire technology [from Schaeffler Paravan], can be a central element of autonomous driving. If the steering wheel in a self-driving vehicle folds away and the passenger can work on the screen, for example, then we have to mechanically decouple the steering from the steering activation. This is where Schaeffler comes in.
We have been a manufacturer of mechanical and mechatronic chassis components for a long time. Going back to the puzzle pieces we spoke of earlier, one key piece for us is the joint venture we founded with Paravan about three years ago, Schaeffler Paravan. The company already has extensive experience with mechanical decoupling in vehicle conversions for people with disabilities. On this basis, we believe that we can make the highly tested and highly redundant steer-by-wire technology suitable for series production.
Does this arouse interest from car manufacturers? Wouldn't the OEMs rather develop this themselves?
Both. It's a very exciting question: do you approach the topic bottom-up or top-down? From above we will probably first talk about a cloud, then about lidar and radar to software and finally about ethical and legal issues. There are many tasks that a car manufacturer has to solve. The list is very long on the way to autonomous driving. This requires a bottom-up partner who has the courage and the know-how to decouple the steering. A finished package, secured by electronics and software – that will find buyers, we are sure of that. Not every vehicle manufacturer will want to develop this themselves.
China is the most important market for many car manufacturers. Is this also the case for Schaeffler?
In 2020, we generated 26% of the Automotive Technologies division's revenue in China, which corresponds to around €2 billion. We have over 1,000 developers on site and six factories in China. We work with both European and American vehicle manufacturers that are strong in the market. But we are also involved in series projects with local OEMs such as Great Wall or Geely. Over the past few years, we have seen a real boom in terms of modernisation with these manufacturers in particular. The speed with which technologies are being developed in China impressive.
Is there also the reverse case: Chinese suppliers which dare to make the leap to Europe and which are competing with Schaeffler?
There are also individual cases, yes. I think that we as automotive and industrial suppliers have the great advantage that we are very broadly diversified, and our products are flanked by a pronounced understanding of systems and engineering know-how. Many local companies [in China] cannot necessarily offer that. Today, not only car manufacturers, but also many suppliers are trying to refine their products with digital value-added services.
Will Schaeffler also develop into a software-driven company in the future?
I do believe that we will see significantly more software at Schaeffler in the future, such as for autonomous people movers or mobility ecosystems. Digitalisation is paving the way for new, more powerful solutions in many areas. In product development, for example, there are new possibilities in development processes on the one hand and completely new product ideas on the other. However, I do not see that that the Automotive Technologies division will enter data trading in the foreseeable future.
Curriculum Vitae: Matthias Zink, Schaeffler
· 1994. Degree in mechanical engineering with a focus on automotive engineering at the University of Karlsruhe
· 1994. Starts his career as a test engineer at the automotive supplier LuK
· 2006. Head of the Clutch Systems division at LuK
· 2012. Head of Schaeffler Automotive Asia Pacific based in China
· 2014. Managing Director of the Transmission Technologies division
· 2017. CEO Automotive, responsible for the transmission systems division and the research and development division of the Automotive Technologies division
· 2018. Adds responsibility for the e-mobility division established in January 2018
· 2019. Adds responsibility for the engine and chassis systems business units and global key account management
This article also appears in AMS sister publication Automobil Produktion