As global demand for electric vehicles ramps up, OEMs are increasingly looking to develop their own battery chip-making capacity. Through partnerships and in-house development, carmakers are also seeking to be less reliant on complex supply chains and produce essential equipment closer to their customers.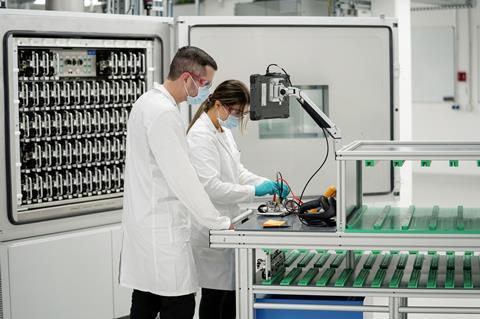 Volkswagen Group Components has confirmed that battery cell development, analysis and testing are set to take place at four laboratories by 2024, at the new research and development site in Salzgitter.
Volkswagen is investing around €70m ($83m) in constructing new facilities and this move marks a huge leap towards developing and producing its own in-house battery cells for electronic vehicles.
"With the new, state-of-the-art laboratories, we are further expanding our development, process and production expertise for the battery cell – the heart of the battery electric vehicle. Volkswagen's Salzgitter site demonstrates how the transformation of the German automotive industry from conventional drive systems to e-mobility can succeed. We are attracting cutting-edge researchers and, as a pioneer in the industry, create the jobs of tomorrow," says Thomas Schmall, Group Board Member for Technology at Volkswagen AG and Chairman of the Board of Management of Volkswagen Group Components
The competence centre in Salzgitter will be responsible for group-wide material testing, release testing, quality assurance and series monitoring of cells for electric car batteries.
Around 160 of the 500 employees at the Center of Excellence (CoE) Battery Cell plant in Salzgitter are currently involved in cell development. By the end of 2022, the CoE is expected to expand to over 1000 employees, including around 250 experts working in research, analysis and development of cell materials and formats.
"In the future, innovations for the cells of today and tomorrow will be created in Salzgitter," explains Frank Blome, head of the Battery Cell and Battery System Division. "Its equipment makes the new laboratories one of the most modern facilities for cell research in Europe."
At first, the new labs will cover 2,500sq m and enable extensive cell testing programmes with up to 200 different analytical procedures and the development of new formulations.
Each lab will play its own role in the production and examination process.
Firstly, components and raw materials of the cells are disassembled, and competitive analysis and quality assurance are conducted at the analytics lab.
In the environmental and safety laboratory, the cells undergo endurance testing in six special chambers. Research into new test methods is also conducted here.
At the electrical test field laboratory, series cells of all formats and power classes are measured electrically. Their performance is analysed, along with ageing phenomena and long-term robustness.
In May last year, the VW-Northvolt joint venture invested €450m total in constructing buildings and infrastructure for a battery cell factory in Salzgitter.
Alongside bringing the process in-house, VW has also been using the Salzgitter site to make their battery cell production more sustainable and recover raw materials from lithium-ion batteries in a closed-loop process.
Batteries are now being analysed to determine their suitability for a second life. If they cannot be re-used, then essential materials such as lithium, nickel, manganese and cobalt along with aluminium, copper and plastics will be recycled.
Read more on production and development of the lithium-ion batteries.