Digitalisation is the word of the day when it comes to streamlining the production process and making data more transparent. While cars themselves have rapidly developed and become more advanced, the manufacturing process is now following suit.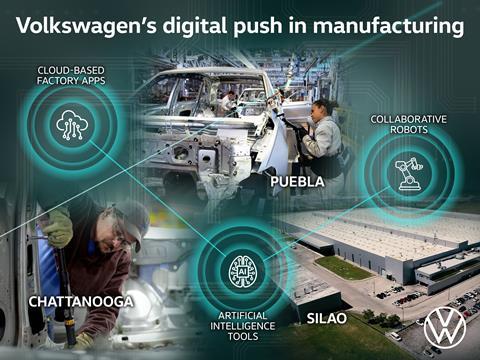 Volkswagen announced on August 10 that it would be launching a digital transformation push across its manufacturing base in the United States and Mexico, extending its cloud-based industrial network, run together with Amazon Web Services (AWS), beyond Europe for the first time.
The German carmaker estimates that $1 billion will be invested in electric mobility and digitalisation in North America, seeing technologies such as artificial intelligence, cloud-based industrial software, intelligent robotics established under factory operations.
By 2025, the OEM expects to see a 30% expansion in electric vehicle (EV) and large-scale car assembly manufacturing in Chattanooga, TN, and Puebla, Mexico. Volkswagen is also looking to increase on-site training for its workforce in North America.
With this transformation, three main aspects of Volkswagen's productive process are being targeted for development.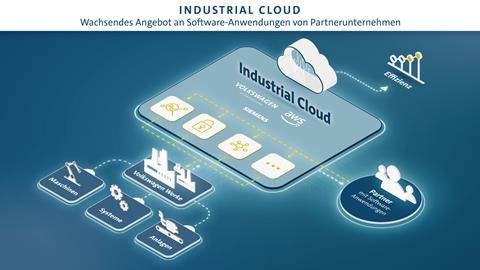 Industrial Cloud
The OEM's cloud-based IT platform will be utilised to raise global manufacturing performance through sharing data connections, real-time information, and software apps for industrial machinery from all connected Volkswagen and supplier facilities.
Twenty-one plants and 13 global suppliers have already joined this integrated IT platform for Volkswagen, with regional suppliers in North America being encouraged to sign up. Volkswagen's North American sites are already preparing to roll out software applications from the Industrial Cloud.
More than 50 projects are currently underway, ranging from shop floor management to quality assurance and internal factory logistics.
These developments will aid in the entire process, such as using an intelligent conveyor motor monitoring app to reduce downtime and aid with predictive maintenance technologies. Also, cameras with machine vision technology could be used to quality-check engine components.
Intelligent Robotics
Volkswagen has recently been using collaborative robots (cobots) to aid its workforce in production.
Cobots have become responsible for carrying out final inspection checks and determining gap precision. At the Tiguan line in Puebla, a cobot measures 26 checkpoints in under a minute, the first time this technology has been used in the global Volkswagen Group.
They will also be involved in future projects and improving Volkswagen manufacturing quality. For example, when the ID.4 electric SUV begins assembly in Chattanooga in 2022, it will assist with spot-checking welding patterns.
Artificial Intelligence
To help supervisors manage factory Chattanooga, a new artificial intelligence tool has been developed in-house at Volkswagen's AI Detroit centre.
This technology is intended to reduce supervisors' overall time balancing inputs like training levels, time off, and other factors. Within minutes, the AI scheduler can examine all key variables and provide suggested schedules.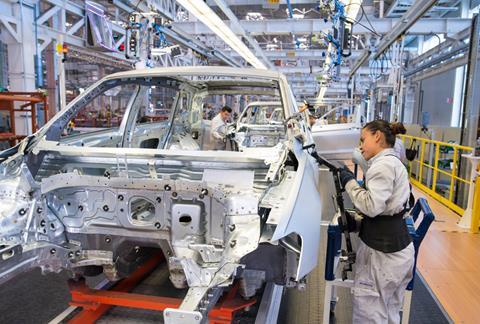 What does it mean for the OEM?
Susanne Lehmann, Senior Director Production, Volkswagen de México, said that the production network has to become as advanced as the vehicles set to be rolled out for North American markets in the future.
"Through our work we already see not only the value of what's been implemented, but the promise of what's to come," she added.
Launching developments in AI, software, and robotics at once allows the OEM to maximise collaborative efforts and improve the general assembly process and employee and supplier's workplace atmosphere.
This potentially means more effective coordination of management of material flows, improved use of machines and systems, and more efficient energy consumption in manufacturing.