Local battery production is an important factor for its electric vehicle strategy, says Mercedes, and it is gradually increasing its production capacities at the Kamenz plant in Saxony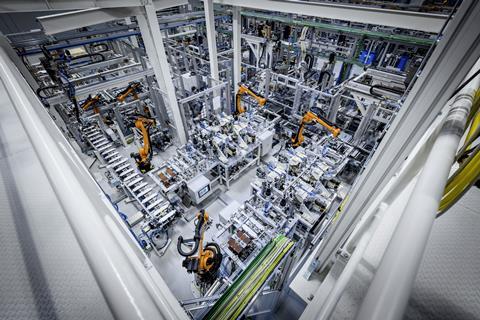 Operated by Accumotive (a wholly owned subsidiary of Mercedes-Benz) and based 50 kilometres from Dresden, the company has two factories at the location that manufacture drivetrain batteries for electric and plug-in hybrid vehicles, as well as batteries for 48-volt systems.
"With the plant expansion and successive production ramp-up, we have now expanded production in Kamenz to such an extent that we will soon exceed an annual production volume of more than half a million lithium-ion batteries – and that number will rise. Together with our colleagues in research and development and many partners and suppliers around the world, we ensure that the batteries for our electric and electrified vehicles meet the high-quality standards of Mercedes- Benz. We are also getting ready for the next generation of EQ models in Kamenz: electrical variants in the compact segment are not that far away," says Jörg Burzer, Member of the Board of Management of Mercedes-Benz AG, Production and Supply Chain Management.
The second battery factory at the Kamenz facility (opened in 2018), which produces battery systems for the OEM's EQC brand, features multiple, 170m long production lines, each with more than 30 production stations. The manufacturing process has a high number of production steps and the company notes the need for absolute precision to manufacture the battery systems consisting of 384 battery cells and many other components. The battery cells, for example, are welded with a laser with a tolerance of only 2μm using modern automation technology.
Global battery production network
Mercedes-Benz is investing more than €1 billion into the establishment of a global battery production network within its worldwide vehicle manufacturing activity. This will consist of nine factories at seven locations on three continents. Together with its local partner Thonburi Automotive Assembly Plant (TAAP), Mercedes has set up a battery production facility in Bangkok (Thailand), which started operations in 2019. In China a local battery production facility at the existing plant location in the Yizhuang Industrial Park in Beijing, has been set up with JV partner BAIC. Production at a battery factory in Jawor, Poland, will start in 2020 and in Germany, battery factories are currently being built at the Brühl and Hedelfingen locations with a new battery factory also planned at the Sindelfingen plant. A battery factory is also currently being built near the existing Mercedes-Benz plant in Tuscaloosa, US.
"The Kamenz plant is one of the pioneers in battery production worldwide and, in its function as the competence centre, it is a blueprint for the plants in our global battery production network. After Kamenz, Bangkok and Beijing, the next location to soon start battery production will be Jawor in Poland, followed by plants around Stuttgart as well as Tuscaloosa in the US. Each new plant will benefit from the experience of the other plants," says Burzer.