Scania has signed an agreement for the supply of robotics solutions from ABB for its new battery assembly plant in Sweden.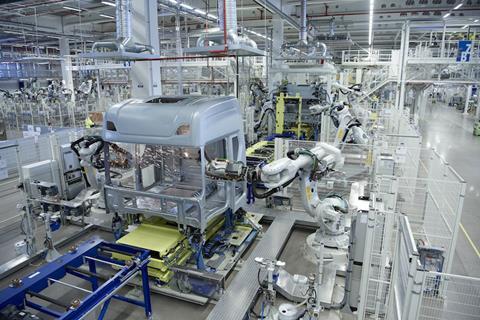 More than one billion Swedish kronor ($108m) has been invested in the new facility, scheduled for completion in 2023.
The site will extend to 18,000 square metres and be adjacent to the chassis assembly plant in Södertälje. Scania first announced the project in November 2020, with construction scheduled to begin early last year.
Battery modules and packs will be assembled from cells supplied by Northvolt's battery factory in Skellefteå. The finished products will then be transferred to the vehicle assembly line.
According to ABB, the plant will be "highly automated from delivery to production to delivery". A large number of ABB robots will be involved. Robots IRB 390, IRB 4600 and IRB 6700 are equipped to the plant and the production processes will be supported by "other ABB solutions".
This marks the first instance of the IRB 390 model, which was initially developed for the packing industry, used in a battery plant.
Jörg Reger, head of the Automotive business line at ABB Robotics, said that the electrification shift across the industry poses new challenges in manufacturing processes.
He highlighted how the company could develop and implement flexible manufacturing required by companies such as Scania to facilitate their decarbonisation efforts.
Scania and ABB recently agreed to develop charging solutions for heavy commercial vehicles that Northvolt batteries will also power. This follows more than four decades of working together. The Northvolt plant was also developed jointly with ABB.
The supply agreement between Scania with Northvolt since May 2019.
ABB is supporting automotive companies and critical component and technology suppliers with manufacturing solutions to aid the roll-out of a new generation of electrified powertrains. It recently announced a major joint venture with China's leading automotive parts supplier, HASCO, to help develop smart manufacturing with environmentally sustainable automation solutions.
Later this year, it will also open the world's most advanced robotics factory in Shanghai, accelerating innovations in product development, artificial intelligence, and automation solutions.