The company is building an exclusive small series with a limited edition of just 50 models. The assembly process for one vehicle will take almost two weeks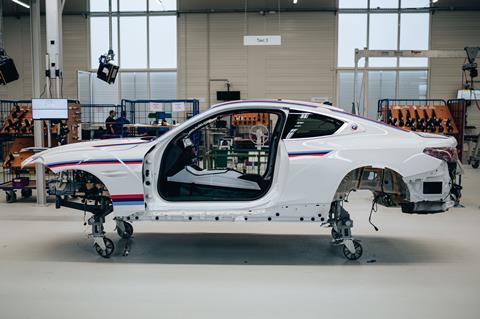 BMW M is building an exclusive 'reinterpretation' of the classic BMW 3.0 CSL at BMW Group Plant Dingolfing this spring to mark its 50th birthday.
The body of the BMW 3.0 CSL, which is based on the standard-production body of the BMW M4 CSL, is being modified in a dedicated work area of the Dingolfing bodyshop. For example, the wheel arches are being widened using special beading and welding processes and are prepared for assembly.
The body then makes its way through the paint shop's regular standard production process. Dingolfing's paint finishing specialists will use stencils to manually apply the 3.0 CSL specific livery with the three M colour stripes on.
Special mounted parts for the vehicle, such as the front side panels and bumpers, the bonnet and the carbon-fibre roof, are given a special paint finish in the plastic exterior section of the neighbouring BMW Group component plant in Landshut.
The BMW 3.0 CSL will be assembled in a craft workshop set up specifically for this purpose in Moosthenning, an external site operated by BMW Group Plant Dingolfing, close to the main Dingolfing vehicle plant.
Here, the vehicle is assembled in stages by a team of 30 from the parts of the special edition. The interior elements will be individually crafted in workshops in Garching and Dingolfing.
BMW M says the assembly process for one vehicle will take almost two weeks. There are eight major assembly cycles, each with a duration of one working day. Various mounted parts, such as CFRP side panels or the CFRP bonnet, are fixed upstream. At the end of the process, the rear section and other exterior parts are assembled at a separate station.
Once work in Moosthenning is completed, the vehicle will go back to the vehicle plant in Dingolfing where it undergoes extensive standardised testing. Each model will then go through an additional final inspection process with a required driving programme on the plant's test track.
BMW says the location in Lower Bavaria is showcasing its expertise in building exclusive small series and BMW M vehicles. Production of M vehicles, including the M Performance models, reached around 50,000 units in 2022.