The company is planning to source aluminium with significantly reduced CO2 emissions from Rio Tinto's hydro-powered operations in Canada, starting next year. Compared to conventionally manufactured aluminium, this approach can save around 70% of CO2 emissions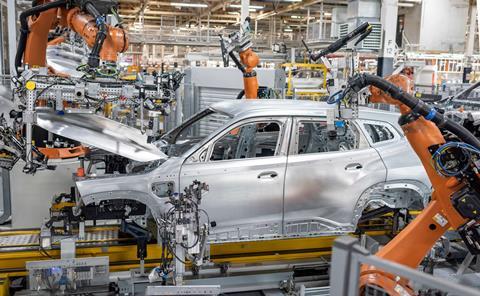 The BMW Group is to source aluminium from sustainable production in Canada, starting in 2024.
The company says it is continuing its efforts to systematically reduce CO2 emissions in the supply chain, with a particular focus on CO2-intensive materials like aluminium, steel and plastics.
Last year, BMW announced agreements for the supply of less carbon-intensive steel for the cars it makes in the US and China, extending a supply initiative it has already put in place with some of its suppliers in Europe. For the US Spartanburg plant and in Mexico where BMW now makes cars in San Luis de Potosi plant, it has reached a deal with Steel Dynamics and Big River Steel for the use of renewable energy in their production processes.
The BMW Group now intends to source aluminium with reduced CO2 emissions from Rio Tinto's hydro-powered operations in Canada and has signed a memorandum of understanding to this effect.
This approach can save around 70% of CO2 emissions, compared to conventionally manufactured aluminium. The planned supply volumes will be used in vehicle production at BMW Group Plant Spartanburg in South Carolina, in body components like the bonnet.
Joachim Post, member of the Board of Management of BMW AG responsible for Purchasing and Supplier Network, said: "We have clear goals for lowering CO2 emissions in the supply chain. By using innovative materials, we can reduce our vehicles' carbon footprint – even before handing them over to customers.
"The agreement to supply low-carbon aluminium is based on several pillars: in addition to hydroelectric power and a high percentage of secondary material, we also want to lead the automotive industry by ramping up our use of aluminium with no direct CO2 emissions from the smelting process."
The ELYSIS technology developed for aluminium production generates oxygen instead of carbon dioxide. The method uses carbon-free anodes to eliminate all process-related CO2 emissions and was successfully tested at industrial level for the first time in 2021. The BMW Group intends to become one of the first customers to use this technology in standard production.
The agreement also covers aluminium alloys produced using electricity from renewable energy sources, with CO2 emissions that are only a third of the industry average, says BMW Group. The aluminium production facilities in Quebec run almost entirely on electricity from six local hydroelectric power stations.
The use of Rio Tinto's blockchain technology also guarantees full traceability of the aluminium, all the way back to the original bauxite mine.