Under Harald Gottsche, plant director and CEO of the OEM's San Luis Potosi facility, BMW has launched new models during the pandemic, navigated supply disruptions, integrated new technology and maintained staff levels – and it's ready to integrate more production to serve global markets.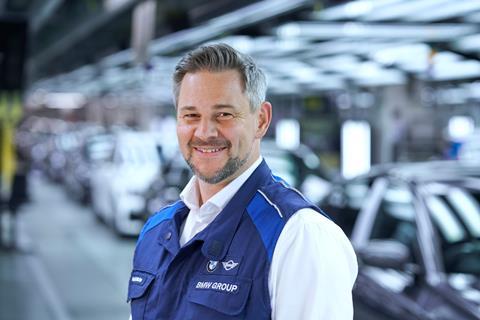 Harald Gottsche must be the envy of his peers. The electricity supply at the San Luis Potosi plant he oversees about 200km north of Mexico City is all renewables-generated while assembly technology is some of the automaker's most advanced, with space aplenty to add more vehicles and expand.
The plant has just received an award for its progress in the UN Sustainable Development Goals Challenge, which highlights companies with excellent and sustainable results in all areas of the EFQM excellence model.
After the start of 3-series production in 2019, the plant successfully launched the 2-series coupé during the pandemic – including managing pre-launch prototyping and validation on-site with minimal direct help from its headquarters in Munich. When the plant starts serial production of the second generation M2 sports car in December this year on the same line as the 2 series, it will be one of just four plants to produce the M series, along with Munich and Dingolfing, Germany, and Spartanburg, South Carolina.
There is also ample space at the site for future expansion including equipment to quickly implement models from BMW's X series of crossovers and SUVs – the largest models currently built in Spartanburg. The plant also has the necessary space and weight-handling requirements on its assembly hangers to add electric vehicles without a major overhaul in the way that the carmaker is currently updating its plant in Munich, for example.
The plant has had numerous successes in training and retaining its people, including through an apprenticeship programme. It has quickly ingratiated itself with the Mexican authorities and its workers, including in administering more than 100,000 Covid-19 vaccinations in 2021.
Over the past year, BMW has not laid off a single worker during the production stoppages, while it has paid direct workers 65% of wages during shutdowns compared to the 55% required by Mexican law. It has attempted to support the community during such shutdowns, including sending workers out to paint local schools.
Opening just a few months before the onset of the coronavirus pandemic, the plant has operated through a period of ongoing crises, from lockdowns to significant component and logistics bottlenecks. Today, uncertainty in the supply chain means production planning isn't possible more than 10 days in advance and a 2022 target to produce 90,000 units now looks unreachable. And even though the plant was built with flexibility in mind, any decision to build EVs in San Luis Potosi would still likely require three or four years to launch serial production.
But with supply chain pressures abating somewhat, and Mexico's favourable cost and trade structure – including tariff-free agreements across major markets in North America and Europe, and high-potential markets in South America – the factory's model portfolio looks set to grow.
Gottsche, who hitherto forged his two-decade career at BMW's Plant Munich headquarters, gave Automotive Manufacturing Solutions this exclusive interview about San Luis Potosi's infancy, its strategic importance within BMW's manufacturing network and where it is headed next.
AMS: Mr Gottsche, what have been the main challenges and achievements for San Luis Potosi since its inauguration in 2019?
In December, I will have been here for two years, and the highlight last year was definitely the launch of the 2-series coupé because we had little support from Germany frankly due to the pandemic situation and limited travel. We had not built prototypes [of this model] before that in Munich so the first cars really were produced here and the validation of the product happened here. A lot of that effort was dependent on the team not only production but also on product validation. I'm super proud that right after launch we were awarded with the JD Power award on the IQS (initial quality study) as the best quality car in the small premium segment. That the team here did that with that short history of launching cars is, I think, the biggest achievement.
Are you on track to meet your target of 90,000 units of production in 2022?
That was our goal at the end of last year and we were quite optimistic after the pandemic. But the semiconductor shortage really hit us hard so we will not be able to achieve that goal this year. We've gotten used to being able to plan production only for the next 10 days. That's how crazy the situation is so we have basically a task force at BMW central [in Munich], which allocates semiconductors from one plant to the other all over the world. It's really a daily challenge and this will affect our production numbers for this year.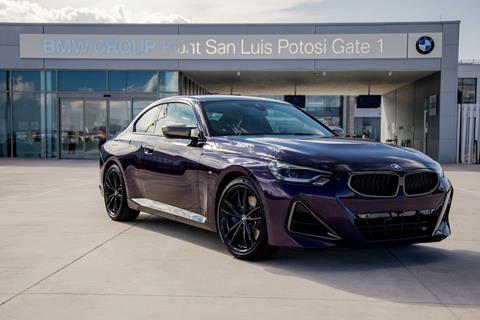 Sometimes we know only five days in advance whether we will produce the next Monday or not so [the transfer of semiconductors] is really, really critical. We are in close contact with the tier-2, tier-3, tier-4 suppliers who produce those chips and currently it's really working quite well. Over the last few months, we were also able to validate new chips so we can use different chip suppliers in our steering or control units, which was a great relief. Currently, we have a quite positive outlook. But it's not over yet.
Are such stoppages from chip and component shortages becoming less frequent?
The peak basically hit us in the first half of this year. We had several shutdowns in April, May and again in July. Since August we are running on a five-day schedule. We have even run six days to catch up some of the missed volume of the first half year. For the next three weeks [in early October] we know that we will produce and after that we have to see. But I'm quite optimistic now for the rest of this year that we will not lose many shifts. But again, in the first half we really have been hit hard.
What does the task of producing a sports model, the M2, entail for San Luis Potosi?
We are excited to become an M plant. As the M celebrates its fiftieth anniversary, the M2 model has the highest volume. We will start series production as of December, and it is running really well so far. Dealers are eligible now to accept pre-orders from customers. As with the 2 series, I'm very satisfied that we are in good shape and we are looking forward to have a really good launch.
BMW production is all about flexibility, as we plan from the outset to integrate different models. We will produce the M2 on the same production line [as the 2 series]. We have a lot of specific parts in the body shop for it, for example we have a specific side frame and fenders. In the paint shop we will also add specific colours for the M2. Current demand signals are quite positive, and we are looking into increasing production capacity. We have some quite specific equipment that is new for production of the model, for example we will offer a carbon fibre roof, for which we have installed a specific station.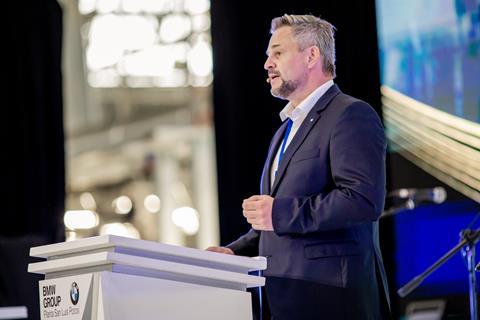 Harald Gottsche: a career in production innovation spanning Munich to Mexico
Harald Gottsche started working at BMW 23 years ago after graduating in automotive engineering from Munich's University of Applied Sciences. He has held a number of roles in production and R&D at BMW's plant in Munich and its headquarters. Notable roles held in Munich include head of validation and product integration, head of production project 3 series and head of global production concepts. His last role before his move to Mexico was as director of assembly for Plant Munich, where he helped to oversee the integration and launch of the first full electric vehicle at the plant, the i4.
Plant Munich is the mother plant for San Luis Potosi in BMW's global production network, which means the plants share key technologies, processes and models. However, while Munich is a 100-year-old plant in a city centre site with space constraints and buildings that cannot always handle the weight and size of all equipment and vehicles, Gottsche has more space to grow and be flexible at San Luis Potosi. Since taking the reins in Mexico in December 2020, he has overseen the launch of production of the 2 series and M2.
Was flexibility an important consideration in the design of the San Luis Potosi plant?
If you look at current BMW factories, especially in Munich, which is in the centre of the city, but also Dingolfing and Leipzig, they are basically full. There is not much room left for expansion, so it was important for us to really have a long-term investment here in San Luis Potosi.
We have 300,000 square metres, which is about five times the size of plant Munich area. If you look at the layout you can see that the body shop, paint shop, assembly and logistics are separate from each other, which means we can keep the same value stream even as we increase the volume. We would be able to at least triple the production capacity that we have here and also integrate different models. For example, the hangars in the assembly, and the paint booths, are designed to integrate the X7 SUV from the size perspective and they are also designed to carry cars up to 3.2 tonnes. That was part of the design in the initial set up.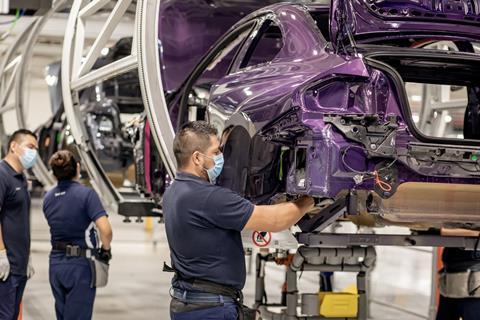 BMW CEO Oliver Zipse has said he can envision crossovers coming to SLP, and you have the space ready to expand. How quickly can these models be integrated?
We are basically ready. It depends on the market, on the trends we have seen over the last years with people moving more out of sedans and more into 'X' models [SUVs and crossovers], so San Luis Potosi is also a flexible option for the future.
How quickly could you integrate electric vehicle production in SLP?
The big picture is that the automotive industry is moving to electric vehicles. That is quite clear. BMW has said that by 2030 significantly more than 50% will be fully electric cars. That means we have to transform our production sites to produce fully electric cars. This has happened already in Germany. Munich, Regensburg, Leipzig, Dingolfing – all of them are able and flexible to produce combustion engine and also electric cars. In China, we are producing the iX3 and now also the i3 in Tiexi. The question is not whether it will happen but when will it happen. And of course, we have to follow markets. We know that electrification will come at different speeds. It is very fast in Europe based on legislation and incentives. It will be also quite fast in the USA especially in the coastal regions. It will happen in China in the big cities quite quickly, and not so quickly in other areas. It will not happen that fast in Mexico, looking at the size of the country and the lack of incentives currently for electrification. Where is the sweet spot? Once we take the decision, it will take three to four years to implement it.
If you look at the layout you can see that the body shop, paint shop, assembly and logistics are separate from each other, which means we can keep the same value stream even as we increase the volume. We would be able to at least triple the production capacity that we have here and also integrate different models.
-Harald Gottsche, BMW
Does production of a hybrid model help in that preparation process in terms of experience with electric?
On the one hand, it helps. We have experience in how to handle electric cars and electric batteries. We have a specific system for training our people. However, frankly there are significant differences between plug-in hybrids and full electric vehicles. If you look at the plug-in hybrid battery pack of the 3-series we produce here, it's about 100-120kg. An 80 KWh battery pack is about 500 or 600kg. That is a different type of weight, which frankly was one of the big challenges in Plant Munich, where the buildings date back to the 1930s or 1940s. The carriers in assembly were not designed to carry that load. Before I came to Mexico, I was head of assembly in Munich and that was one of the huge challenges to change all those carriers within six weeks to a fully automated battery installation system able carry up to 3 tonnes. That is much easier here because we can carry 3.2 tonnes.
How complex would it be to integrate production of vehicles built on the EV-dedicated Neue Klasse platform in San Luis Potosi, which will be produced in Munich and BMW's upcoming plant in Hungary?
Here, because the structures are new, modern, flexible and designed to carry heavy loads, it would be possible and it would be much easier than in Munich [which required a major overhaul, see AMS video with Munich plant director Peter Weber] and we wouldn't have to build everything new from scratch. If we were to take that decision, we would integrate it into our existing structures. There would be some areas that needed updating, for example in the body shop, where we need to build a different underbody to house the battery. I would expect separate lines in the body shop for front and rear sections. We would be able to integrate the side frame lines into existing lines.
To learn more about how BMW's iFactory strategy and how it will integrate its new EV platform into production, watch plant director Peter Weber speak to AMS at Automotive Evolution Europe
How has the San Luis Potosi plant benefitted from renewable electricity supply and digital power consumption control in terms of energy security and cost?
Green energy supply is key for future investment. BMW has committed itself to do its share to fulfil the requirements of the Paris climate agreement. Currently we are not fully carbon neutral, but our electricity is 100% green. We produce about 13% on-site with solar panels and we are in a process to double that so all our electricity baseload can be supplied here. The rest comes from a certified solar production facility, but we are still using natural gas for heating and in the paint shop. We are currently looking for substitutes, especially biomethane, which is not so common in Mexico, and hydrogen usage.
We aren't looking at these changes to save on cost. In the short term it is more expensive to use biomethane. In the mid-to-long term it will become cheaper and you are less dependent on sources where you might not have independence. If you look at Germany for example and the rising prices for electricity and natural gas due to the stopped supply from Russia, it is a good investment in the long term.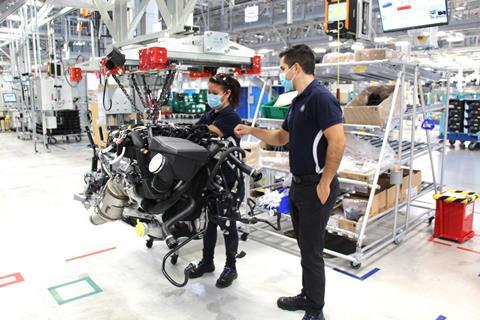 How about the labour market? Are you exposed to the same difficulties staffing your factory that automakers are facing in the United States?
Currently in the plant we have no issues. We have a waiting list of more than 1,000 names created by referrals of our current workforce and finding blue collar workers is not an issue in availability, in quality, in discipline, or motivation. I'm really proud of the blue-collar workforce here.
And how about in terms of competition for staff with strong digital skills?
We're in a good position here. Firstly, the average age is 32 years so we have really a young workforce. It is important that we invest in the training. We also have a dedicated program where we select students who, during their studies, go into specialised fields for example, big data and specialised electronics. So, with that we get really good people. It's not easy to find big data specialists. We would like to have more of them, especially coming out of the region here in San Luis Potosi. But overall, the investments we do in these programs really pay off. There is one downside. Our people get offers from companies in the USA. I will not name them, but especially electric car producers are really hunting for our people because they are really good.
What are your most important priorities for ensuring the plant in Mexico grows strongly in the BMW global production network?
The SLP plant is in a strategic position. We are very close to the US market, where we send 60% of our production. We also have a lot growth potential in the Latin American market, which puts us in a good position. Our quality is great and we have talented, motivated people, which is why I see a very good future for the plant.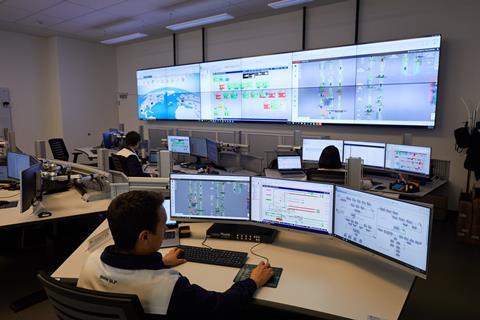 Digital management of maintenance, logistics and energy at San Luis Potosi
BMW's Mexico plant is embracing the carmaker's iFactory concept of lean, green and digital being rolled out to all of its manufacturing sites.
One of the key innovations at the plant is a single control centre that gives an overview of all of the technology in operation. That enables the plant, for example, to adjust the assembly line in response to a problem in the body shop or paint shop, according to plant director Harald Gottsche. The plants also use systems that highlight unnecessary energy consumption to reduce waste and generate savings.
The plant is currently establishing a digital control room to give it greater visibility over the arrival of components.
"We basically created a clear overview of what is being packed into containers at suppliers or in Germany at the packaging plant and where these containers are," Gottsche said.
This makes significant savings possible in shipping as the hire of returnable containers for carrying parts results in additional charges after day 14 of continuous use.
"We created these indicators on where the containers are, where the consumption is and we also used that to put into cloud data and also created artificial intelligence algorithms. So now today if the container is being put onto the ship in Europe, we can predict up to four weeks before with an accuracy of 99% whether this container will be at risk of us having to pay extra rent or whether this container will be on time and we do not have to pay rent.
"And with that we could basically reduce our monthly rental cost for these containers from €120,000 ($117,000) to less than €30,000," Gottsche said.
The plant also makes use of radio frequency identification (RFID) to ensure that cars are always fitted with the right parts to avoid the risk of mixing up of specifications.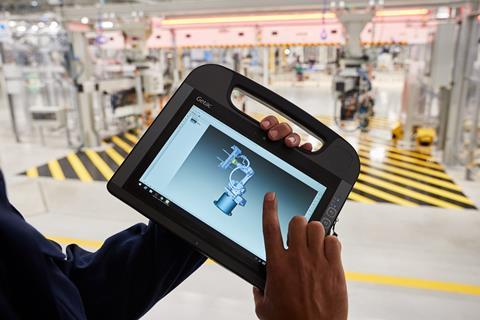 "The major effect of the RFID tags that we use on part numbers is that we have full quality control, we can fully check and are 100% sure that the right part is in the right car," Gottsche said.
"Looking at our product complexity with different cars for almost 70 markets with a high variety of options, this is very useful and also for the product life cycle, in order to have all the data necessary for any quality actions [such as recalls]."
Individual pieces of equipment at the plant can be scanned with a QR code that makes it possible to pull up instruction manuals and maintenance records as well as photographs of their individual components to ensure that the faulty part is being replaced with exactly the right replacement.
Data retrieved from equipment also enables more precise predictive maintenance, Gottsche explained.
"We try to use all the data that the equipment is giving us and to look for abnormalities. Today's equipment has lots of sensors and data in it, current consumption, temperature, to predict failures," he said.
"It's not as easy as it seems. We have to put a lot of knowledge into it, and you also have to collect a lot of data. But we're doing that especially for the critical equipment, paint shop for example. There really it pays off. It doesn't pay off on the standard equipment like torque drives."
BMW Mexico's vice-president of logistics, Siegfried Jung, shared more on how the carmaker is digitalising and advancing production control and supply chain with AMS sister title Automotive Logistics and Supply