An agile approach has enabled BMW to revamp its downtown Munich factory in anticipation of a new EV architecture without halting production lines, Peter Weber tells the AMS Automotive Evolution Summit.
BMW is choregraphing a partial reconstruction of its Munich factory to integrate forthcoming electric-only vehicle architectures, a feat it will undertake while keeping production lines running.
While an old paint shop is demolished and on-site engine production is wound down to make way for a new body shop and press line, the factory, which is celebrating its 100th year in 2022, is still churning out more than 900 new cars a day.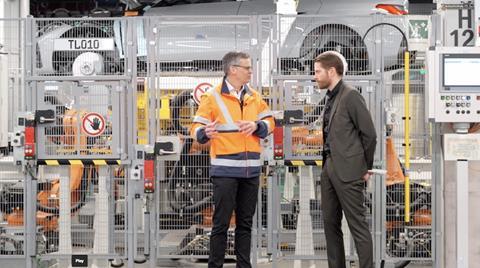 As veterans of this compact plant know, major change here is challenging thanks to its unusual city centre location, which means limited availability of space.
"It's a very intensive cooperation between our construction partner, our planning department and production to ensure that we can do both jobs in parallel," Munich plant director Weber told Automotive Manufacturing Solutions (AMS) Editor-in-Chief Christopher Ludwig during a walk around the plant for the AMS Evolution Summit taking place from May 17-19.
Driving the latest overhaul at Plant Munich, which has produced the brand's premium cars since 1952 after a few decades of airplane and motorcycle production, is the integration of the Neue Klasse EV platform, a new electric vehicle architecture upon which BMW will base multiple models from the middle of the decade. BMW has so far revealed that the Neue Klasse will be used for production in Munich, as well as at BMW's plant in Debrecen, Hungary, which will open by 2025.
The Munich plant currently produces ICE, plug-in hybrid and battery-electric models on the same production line including the i4 sedan introduced in autumn 2021, as it strives to have electrified products account for at least half of its output by 2023.
Adaptations have already been made for Plant Munich's flagship i4, whose battery module arrives from BMW's Dingolfing plant 100km northeast of the factory. The pack is bolted on to the underside of the i4 by robots after high-resolution cameras scan its surface to ensure it is clean and free of potentially harmful debris or contaminants.
While most of Munich's existing equipment and facilities are used for the i4, the Neue Klasse architecture will require significant changes to facilities and tooling. As a result, BMW is changing the layout and structure of production flows in body, assembly and logistics areas, as a part of a process that Weber says will ultimately make the value chain even more compact and agile.
"We consider the limited space within our neighbourhood a big advantage to install a very condensed value stream across all technologies, from press shop via body shop and paint shop to final assembly including all logistic processes. We are able to run a flexible as well as efficient production in an urban environment," Weber said.
In introducing the new platform, BMW will cease ICE production in Munich in 2023, handing this to its Steyr plant in Austria and its Hams Hall factory in the UK. The vacated space in Munich from this and the demolition of the old paint shop will be used for assembly and warehousing plus a new body shop right beside the new paint shop "to realise the most compact value stream within our plant."
Accelerating digitalisation
Weber, who previously worked at the Oxford, UK plant setting up production of the electric MINI, said the company is striving to leverage technology to reduce complexity in the production chain, even as it adds more equipment in Munich to integrate production of dedicated-electric models alongside those with other powertrains.
"We have one common approach in technology clusters – reduce complexity in production system and reduce complexity in supply chain."
"We consider the limited space within our neighbourhood a big advantage to install a very condensed value stream across all technologies, from press shop via body shop and paint shop to final assembly including all logistic processes. We are able to run a flexible as well as efficient production in an urban environment." Peter Weber, BMW Group
BMW's approach is part of its strategy to develop its 'iFactory' strategy, which will aim to make all production 'lean, green and digital' and embed digitalisation into all aspects plant management. Whilst BMW is aiming to make its new plant in Hungary a lead example of the iFactory strategy and the first with net zero CO2 emissions, the changes in Munich will also strongly support this approach.
"We are accelerating the digitalisation of all processes across the entire value stream including all technologies," Weber said.
"We are developing a digital twin of the structure and processes. New buildings have digital models of those body shop, assembly and logistics structures and this platform offers the opportunity to integrate the digital twin of the production structure and new models of new structures. We are able to realise a fast, precise update based on the digital twin."
BMW announced in April that it will use the Omniverse platform from U.S. artificial intelligence leader NVIDIA to digitally model its plants' operations in "photorealistic" detail, a simulation which will enable it to plan and optimise processes with high precision.
BMW is making significant investments to decarbonise the production process and logistics for production in Munich. Weber revealed that the carmaker is using EV and LNG-powered trucks to transfer components between factories.
BMW's overhaul of the plant amid ongoing shortages of parts like semiconductors and supply challenges arising from Russia's invasion of Ukraine have made it critical to adapt quickly:
"Flexibility is really a success factor for a high performing production. We are as flexible as possible in our production," Weber said. "We are able to shift volume of different car models quickly and manage a variety of shift patterns to scale up or down our production volume."
"This flexibility is the foundation for our task force … comprising purchase, engineering department, sales department, planning as well as production to define what are the right measures to react to those impacts."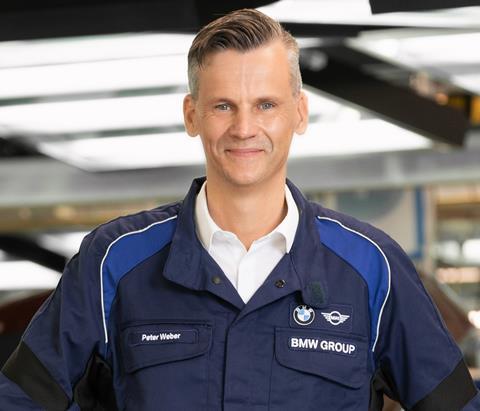 Peter Weber spoke to AMS editor-in-chief Christopher Ludwig as part of the online AMS Automotive Evolution Summit May 17-19. The interview and plant tour in Munich is available to view on-demand. Click here to watch the full interview with Peter Weber on-demand


Sneak preview: the AMS Automotive Evolution Summit is coming in person to Munich! We will host a hybrid event this autumn at the SV Hochhaus in Munich. Dr Peter Weber will be among the keynote speakers at the event.
Interested in participating? Get in touch with our team:
Christopher Ludwig, editor-in-chief
Ahmo Saric, senior content producer